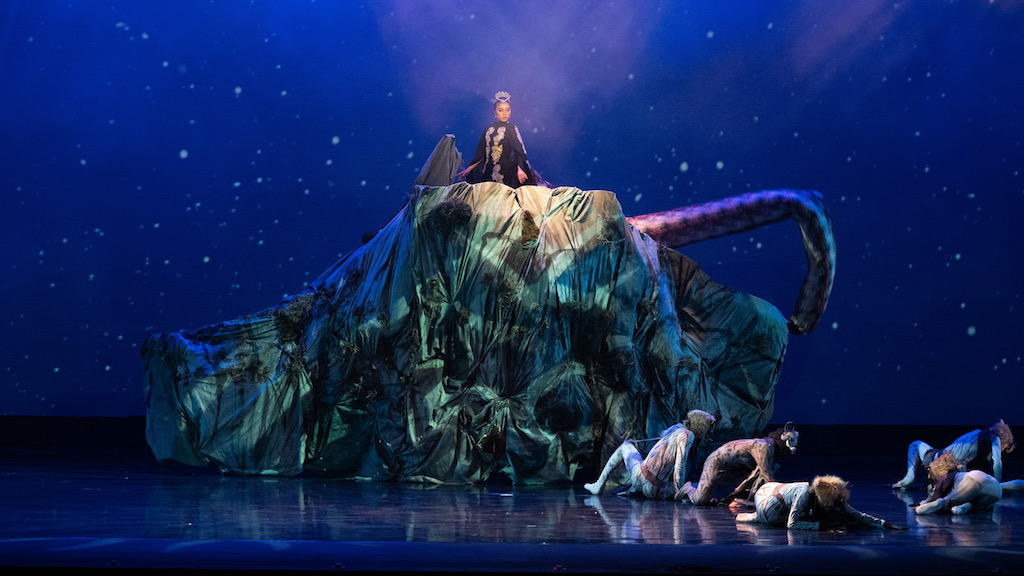 REVIEW: 'Ibalon' is indigenous-adjacent ballet that takes one's breath away
Ballet audience members come for the joy of spectacle and the ecstasy of beauty that moves, literally and figuratively. Philippine Ballet Theater (PBT) gave audiences what we had been craving, and then some more, with an incredible display of their young members' athleticism and tireless stamina.
A Love Story that Transcends Culture, Geography, and Time
You know an epic is a big deal when there exists an annual festival featuring its characters parading through the streets of Legazpi, Albay, up to the present day.
The last time the Bicolano epic was brought to the stage was in 2013, with Tanghalang Pilipino's Ibalong, a musical by Rody Vera. While the pre-Hispanic epic has three main heroes, PBT's ballet focuses on the love story of one of the warrior princes, Handyong (Matthew Davo), and the half-snake, half-woman monstress, Oryol (Jessa Tangalin).
Manila-based audiences unfamiliar with the original epic will find delightful parallels between ballet classics such as The Nutcracker and Swan Lake. Add a sprinkling of aswang, baboy damo, and taong lobo. Then change the swan to a snake that changes form depending on night or day, and we get this beautiful blend of East-meets-West in an unforgettable ballet.
Like the beloved Tchaikovsky ballet, Ibalon gave us a frame narrative for different dances from various peoples of the Philippines, such as the Igorot and the Waray. The highlight was, of course, the Singkil-inspired dance featuring dancers Gabrielle Jaynario and Jimmy Lumba. People audibly held their breath as the original folk dance's rhythms pounded out in ever-increasing tempo by four sets of bamboo poles, but with a different melody that was specially written by composer Paulo Zarate. Audiences gasped in delight upon beholding the beautiful costumes by costume mistress Shena Dimapilis.
En pointe and not purist
The traditionally chanted epic from Bicol that this ballet was based on survived in large part due to Spanish friars' written transcriptions. Ibalon, therefore, is an amalgamation of cultures from its very inception. And the PBT ballet, by extension, honors this in an indigenous-inspired tribute to all cultural streams that comprise the ever fluid, fantastic flow of the river that is the Filipino artist's soul.
This is ethnic-adjacent dance, with choreographer Ronilo Jaynario taking inspiration from famous folk dances from Luzon, Visayas, and Mindanao. Musical composer Paulo Zarate also borrowed the rhythmic elements and some instruments (like the kulintang) when he put together the score. Whatever musical expressivity in the sound that was cut out by the canned music was more than made up for by the dancers' commitment to the physically arduous choreography by Artistic Director Ronilo Jaynario. 
Artistically Ambitious
PBT features a majority young cast, with corresponding near superhuman reserves of stamina and strength, and they were certainly put on full display. 
I lost count of the number of times I held my breath as a female dancer would leap, only to be caught mid-air at the last possible moment by her partner. There were many other injury-or-death-defying dance moves as well, a lot more than the usual amount one encounters in other ballets!
The extreme difficulty level was so demanding, that there were some moments that the artists onstage failed to nail that perfect landing after several turns, or an unfortunate ballerina's toes got pinched (twice) during the infamous Singkil. Then again, to focus on the few imperfections in an otherwise extraordinary display of discipline and skill would be to ignore the very nature of live performance. 
A Strong Comeback
If the first act seemed overly long due to a twenty-five minute voyage filled with dances that seemed to have no narrative purpose apart from showcasing the ensemble's considerable athletic gifts, the second act more than made up for it in terms of pacing.
Who can forget seeing a stage full of monsters like the aswang, baboy damo and taong lobo?
A visual highlight of the evening was the transformation of Eloisa Jessa Tangalin from half monster Oryol to enchanting princess Bulanon, atop a hill framed by a projection of gorgeous animated graphics by Enrico Navarro, Fortunato Co, and Joseph Francis Borromeo. One couldn't help but sigh in sheer appreciation as the night turned to flaming dawn, and the snake extension was thrown off in one of the most beautiful onstage costume changes ever!
This reviewer woke up the following morning with the theme music playing in her head, and gorgeous mental snapshots of breathtaking tableaus. If this first pandemic performance is the quality one can expect from PBT's successive shows, then the other local ballet troupes have fierce competition indeed as fans will surely be lining up to snag PBT tickets.
Tickets :

 P350 - P2,500.00


Show Dates:

 July 28 and 29, 2023 (8:00 pm)


Venue:

 Samsung Performing Arts Theater, CPAT, Circuit, Makati


Running Time:

 1 hour 45 minutes (including a 15 minute intermission)


Credits: 

Ronilo Jaynario (Artistic Director and Choreographer), Paulo Zarate (Composer), Joel Alagao (Concept Design), Mark Joseph Pineda (Associate Artistic Director and Rehearsal Master), Michael Gregorio (Production Manager), Roldan Lozano (Technical Director and Lighting Designer), Renz Sevilla (Stage Manager), Aimee Anne Reyes and JT Martin (Assistant Stage Managers), Enrico Navarro and Fortunato Co (Animator and Special Effects), Joseph Francis Borromeo (Graphic Designer), Shena Dimapilis (Costume Mistress)


Cast: 

Matthew Davo (Handyong), Eloisa Jessa Tangalin (Oryol / Princess Bulanon), Dominador Delmo and Justine Joseph Orande (Friends of Handyong), Joel Matias (Gatibal), Ace Christian Emmanuel Polias (Aswang), Julafer Fegarido and Gladys Baybayan (Lead Igorot Dancers), Joanne Tangalin and Ace Polias (Lead Waray Dancers), Gabrielle Jaynario and Jimmy Lumba (Lead Singkil Dancers)
Comments