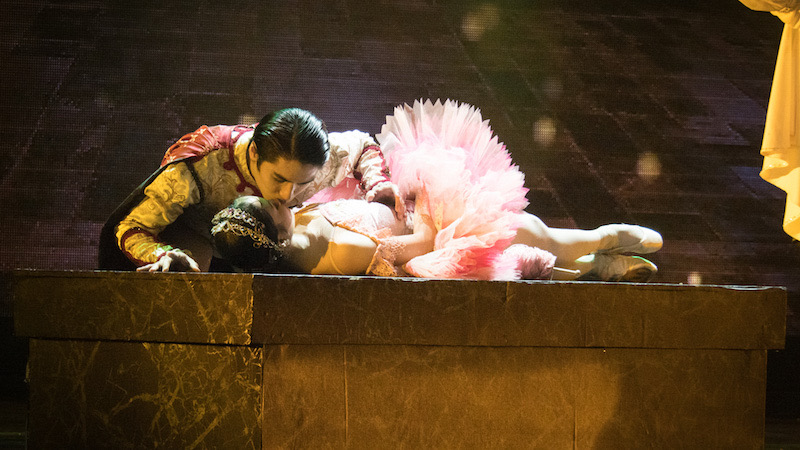 REVIEW: "Sleeping Beauty" is a Ballet Manila triumph against all odds
In the last six months, Ballet Manila was confronted with the most unexpected of hurdles. They lost a few of their quality dancers like Rudolph Capongcol, they lost their home theater, and a typhoon and a volcanic eruption disrupted their preparations for their world premiere of Lisa Macuja Elizalde's "Sleeping Beauty". The nearly 25-year-old ballet company needs a glorious win to renew their dampened spirits, a 'happy ending' to their roller coaster story, if you will.
A story retold
Elizalde's revamped "Sleeping Beauty" is largely based on the original choreography of Marius Petipa and the Konstantin Sergeryev version. Her version retains some of the more popular pieces,  but the same glorious music of Pyotr Ilyich Tchaikovsky were repurposed to fit the new libretto. In this version, King Stephan and Queen Leah invite the royal families of different kingdoms and kindred folk to celebrate the christening of their Princess Aurora. During the preparations, a new character is introduced. The Keeper of the Golden Plates explains that there are eight fairies but only seven golden plates. It was decided that Maleficent would not be invited. 
In the festivities, the character of a young Prince Phillip is established. The future Prince for the Princess with his two royal friends attend the party. Following the usual storyline, the fairies deliver their gifts. Before the Lilac Fairy is able to give her gift, the offended Maleficent appears and threatens the kingdom with her own gift for the princess: a curse of death with a touch from an enchanted spindle. The Lilac Fairy casts a spell of protection ensuring the Princess would only slip into deep slumber until true love's kiss saves her. 
In this version, Prince Phillip and Princess Aurora develop a deep relationship from childhood. The two are already betrothed by the time she turned sixteen. As they celebrate her birthday in the courtyard, Princess Aurora and Prince Phillip dance with their royal friends Cinderella and Snow White, with their respective princes. Maleficent puts a spell on Princess Aurora luring her by use of a magnificent cape. Maleficent successfully pricks her with the spindle and Aurora falls asleep while her prince and his gallant friends fight Maleficent. With the help of the Lilac Fairy's enchantments, Prince Phillip is able to defeat Maleficent. She saves the princess with a kiss. The kingdom has a royal wedding and they happily ever after.
Altered classic
The additions and deletions seem minor but its effect really did alter the essence of the story. Sleeping Beauty has always been about the perfectly crafted Princess blessed in the original staging with beauty, generosity, happiness, passion, and grace. However, this version focuses on a well-brewed love story. The royal characters are introduced as equals. The princess was not looking for a prince, neither was she being sold off to another kingdom. The story was about a childhood friendship that turned to love over time. 
In the original staging, the prince rescues the princess because the Lilac Fairy promises that he will find love. In this version, he rescues her because they were already bound by love. It was instinct to protect his princess.  In this respect, the iconic words "They lived happily ever after" became more plausible. With sincerity in the mix, you can evidently see that true love, (more than just a kiss or a promise) is really what can save us all.  
The additional characters, however, did not add much value. The significance of the golden plates was not explained at all through dance or mime, making it a petty reason for Maleficent to not be invited. This lack of explanation made the king and queen seem like unfit parents risking the wrath of a fairy over some plate.
The dragon created by Maleficent to fight the Prince was a welcome surprise but how it died was a mystery, dissolving in the LED screen without any visible choreographed strike. Maleficent's death was questionable too because even with a ferocious pet, she was killed with a single strike of the Prince's sword.
Cinderella and Snow White were incorporated into this ballet. Appearing conveniently as Princess Aurora's royal friends, they adequately replaced the literary characters in the original staging. However, I doubt anybody knew they were Cinderella and Snow White until the finale where the step sisters and the dwarves surprisingly made an appearance. In Act 1, there were no references to Cinderella and Snow White. Both were in simple non-characteristic tutus dancing to the tune of Blue Bird pas de deux. If not for the verbal introduction made during pre-show talks, I would not have associated the ballerinas to their characters. Despite these little artistic choices, the story was still an enjoyable fairy tale.
Undeniable technique
The real magic in this ballet lies in its dancers. Unfamiliarity could breed doubt and fear, but this Company was fearless, having to perform without a production week and in an unfamiliar and huge theater to boot. 
Leading the company was Jasmine Pia Dames as Princess Aurora, and Romeo Peralta as Prince Phillip. With unmistakable confidence, Dames took on the challenge and displayed technical proficiency. With sustained balances, elongated lines, and furious fouettes, she seemed unperturbed by the obstacles. Against the grain of her usual bravura self she performed with softness in her eyes and delicate grace. Partnering her, Peralta performed his princely duty in a refreshing manner. He was not the alpha male prince. Instead, he was gentle and protective. 
In this retelling, the King and Queen was given a lot of air time. Risa May Camaclang as Queen Leah and Mark Sumaylo as the King were truly wonderful. Camaclang's dancing has always been consistently magnetic. She always adds a breath to every extension making the steps look so much more regal. The simplest of steps were transformed into special moments on stage. Partnered ably by Sumaylo, they stole quite a few scenes to establish that they are a pair to watch out for. 
The Maids of Honor and Groomsmen were performed by a highly competent quartet made out of Akari Ida with Joshua Enciso and Sayaka Ishibashi with Elpidio Magat. Their technical arsenal was in full display. At one point, the ladies had to do a difficult arabesque fouette series (extended leg to the back whipping into a turn). Both men and women also did a series of fouettes and grand ala second turns (turning in one place) which is already hard enough to do individually. This step is even harder if you have to synchronize with a partner, yet they all did it beautifully– a testament to good technique. 
This ballet was grandiose and I was happy that Tchaikovsky's music was not meshed with any other composers. Instead, there was an effort to glorify the music with elaborate patterns that simulate flowers blooming (done opening up in canon). Sleeping Beauty, in its distilled form, is already a very difficult ballet and Elizalde keeps it this way, even adding a few more challenges in the ballet. This keeps the audience excited for more things to come.
If there is anything that I found odd in the ballet, it's the insistence to add comedy. The ballet was filled to the brim with visual treats and it was enough to satisfy a balletomane. Geri Francisco, a seasoned ballet comedian held his own as the Keeper of the Golden Plates. He was paired with Rafael Perez as Catalabutte. Perez, who was very technical in his leaps and turns, was a good dancer but could not keep up with the comedy. Together they were lackluster. Even the inclusion of "Tala" steps was awkward. In my observation, the audience was not as receptive to the comedy.
Love conquers all
The great thing about claiming to make a reinvention of a story is that it can't be compared strongly to another person's work. Ballet Manila's last addition to Elizalde's Princess Trilogy is a light and beautiful ballet that showcases a strong command of the ballet technique. Despite all odds, they showcased a company who danced with their hearts on their sleeves. They showed the audience how much they loved their craft. They were willing to fight for their art no matter what.
Great opportunities were lost such as the grand sets that they envisioned, the costumes supposedly designed from Rajo Laurel and many more chances to collaborate and refine the ballet. However, they grasped the opportunity to dance and made it work. In this ballet, love conquers all. Just like the Prince saved the Princess with his mature love, this company conquered the ballet with their obvious love for dance.
Comments