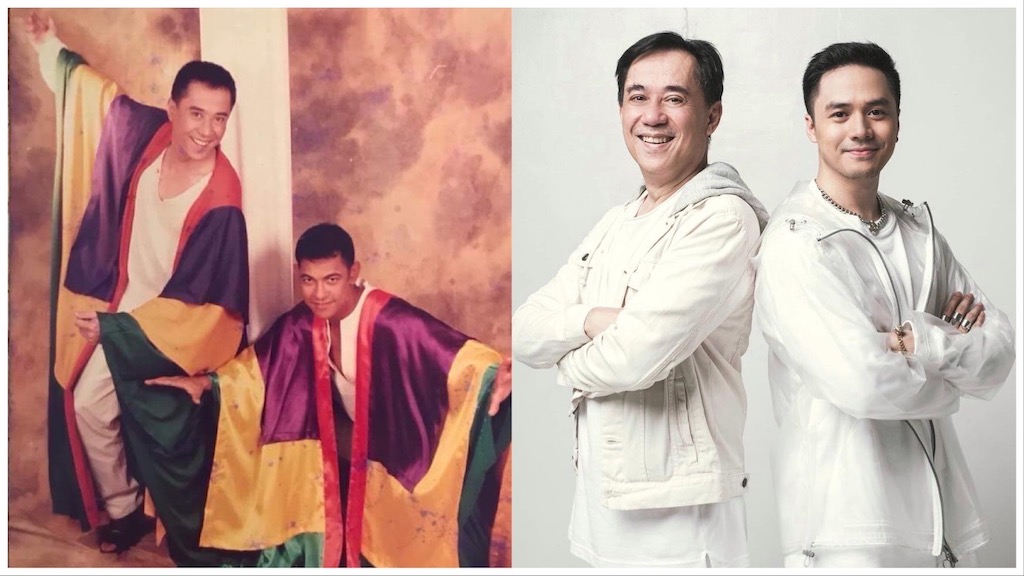 "Joseph the Dreamer", from 1989 to 2020
Since its most recent production of The Horse and His Boy in 2015, Trumpets is coming back full circle as it re-stages its maiden production 30 years later. Joseph the Dreamer, which originally opened in 1989 at Cebu's St. Theresa's Auditorium, has had one of the longest (if not the longest) runs in Philippine theater history. Two years later, Trumpets was officially founded, with the vision of becoming the first professional Christian theater company.
Trumpets Artistic Director and original Joseph Audie Gemora recounts how it all started with Gina Sybico, a woman who had a choir in Cebu. Sybico wanted Freddie Santos, who at that time was the number one concert director, to direct the show based on Cam Floria's famous cantata (choral music with narration), Dreamer: What Really Happened to Joseph. But Santos, being a man of the theater, took the material, wrote additional lines, and turned it into a full-blown musical. He also took charge of the costumes and set design.
 "He got some of us, some from the theater and some from the concert scene, to be part of the cast," says Gemora. "We sort of rehearsed it here, pero hindi talaga na-buo iyung show until we got to Cebu, kasi pinagsama kami sa choir. He basically formed the show in two weeks." In spite of the limited rehearsal time, the 500-seater theater was packed. 
1989:
[slideshowck id=24523]
For its original run, Gemora played the titular role, with Bo Cerrudo, Jeffrey Coronel, Carlo Orosa, Jeffrey Aquino, and Jake Macapagal playing his brothers. The rest (Joseph was one of 12 siblings) were boys picked out from the Cebu choir. Santos himself originated the role of Joseph's father, Jacob, while Carla Martinez played the role of Mrs. Potiphar. The cast members choreographed the dances themselves.
1990:
[slideshowck id=24526]
In 1990, after returning to Cebu for a run at the Cebu Plaza, the show was brought to Meralco Theater for its first Manila staging. Accompanied by a choir called The Covenant Singers, Santos cast Manila-based performers, which included concert/gospel singer Ray-An Fuentes (who replaced Bo Cerrudo), Mari Kaimo, Steve Cadd, Viking Valasote, Roden Araneta, Lito Villareal, Jocel Evangelista, Carlo Magdaluyo, Paeng Altavas, Joey Aracama, Mio Infante, Mylene Rosal, Pia Vicente, Sweet Plantado, Khalil Kaimo, and Sheila Francisco, among others, with Gemora playing the role of Joseph for the next 10 years. Uriel Policarpio, one of the founders of the Manoeuvres, did the choreography. The show ran for around 24-30 packed performances. "We knew we had a hit on our hands," shares Gemora.
90's:
From 1989 to 1999, the company would go back and forth, from Manila, to Cebu, to Davao, to Bacolod, to Iloilo, and to Pampanga. The venues included the Cebu Plaza Ballroom, Waterfront Ballroom, Cebu Coliseum, the Ultra, San Agustin Gym in Iloilo, Bacolod Convention Center, Davao Convention Center, Dagupan Coliseum, and the Cuneta Astrodome.
1999: 
[slideshowck id=24530]
In 1999, Gary Valenciano agreed to take on the titular role, with Gemora serving as his alternate. With the help of Rene Sagaran from the Manoeuvres, the choreography shifted from jazz-modern ballet, to hip-hop. Valenciano's musical director, Mon Faustino, also gave the music a new R&B sound. There's a clip of Valenciano performing "Praise His Name and See It Happen" on YouTube.
00's:
[slideshowck id=24528]
The musical also had several school runs in the early 2000's, and a 2006 and a 2009 run in SM cinemas. Franco Laurel and Alvin de la Peña alternated as Joseph, while Raymund Concepcion played Jacob in 2006. They were joined by Jaime del Mundo, Boyd Tinio, JC Gotinga, Johann dela Fuente, PG, Ems Bolaños, Ashley Imler, Ring Antonio, Butch Montejo, Felix Rivera, Jepoy Ramos, George Gabriel, Maita Ponce, Shanda Lim, June Veras, Jandy dela Cruz, Lloyd Young and Moon Cairo Peralta. 
In 2009, Laurel and Concepcion reprised their roles opposite cast members Sheila Francisco, PJ Valerio, Pam G, Analin Bantug, Meynard Peñalosa, Boyd Tinio, Viking Valasote, and Butch Montejo.
2020: 
Valenciano's son, concert director Paolo Valenciano, will be directing the upcoming staging. Nelsito Gomez is serving as Associate Director, while Myke Salomon is serving as musical director. Gemora shares that the young creative team has reassigned, re-sequenced, and rearranged songs, giving the reimagined version deeper layers and a new context in 2020.
The cast is composed of 22 actors, led by Sam Concepcion in the titular role. Gemora will now play Joseph's father, Jacob. Kayla Rivera will be playing Joseph's wife Asenath, and returning cast members Bituin Escalante (1999 production) and Carlo Orosa (1989-1999 production) will be playing Rachel, Jacob's wife and Joseph's mother, and the Pharaoh respectively.
Also in the cast are RJ Dela Fuente (Reuben), Carlos Canlas (Levi), Paul Anthony Valdez (Judah), Neo Rivera (Dan), Jim Ferrer (Napthali), Renz Bernardo (Gad), Edrei Tan (Asher), John Paul Fausto (Issachar), Joshua Ade Valenzola (Zebulun), Guido Gatmaytan (Benjamin), Aldo Vencilao (Potiphar), Alys Serdenia (Potiphar's wife), Elai Estrella (Mannaseh), Eli Luis (Mannaseh), Matthew Barbers (Simeon), Mitzi Lao (Chorus), Jo Mari Logdat (Chorus), Coleen Paz (Chorus), Samantha Libao (Chorus), and Kathleen Francisco (Chorus). 
The creative team also includes previous cast member Mio Infante (scenographer), Dong Calingacion (lighting director), Rards Corpus (sound engineer), and A Team's Mike Arda (choreographer).
Joseph the Dreamer will run from February 21 to March 6 at the Maybank Performing Arts Theater.
You can buy tickets
HERE
. 
Photos courtesy of Audie Gemora and Franco Laurel.
Comments