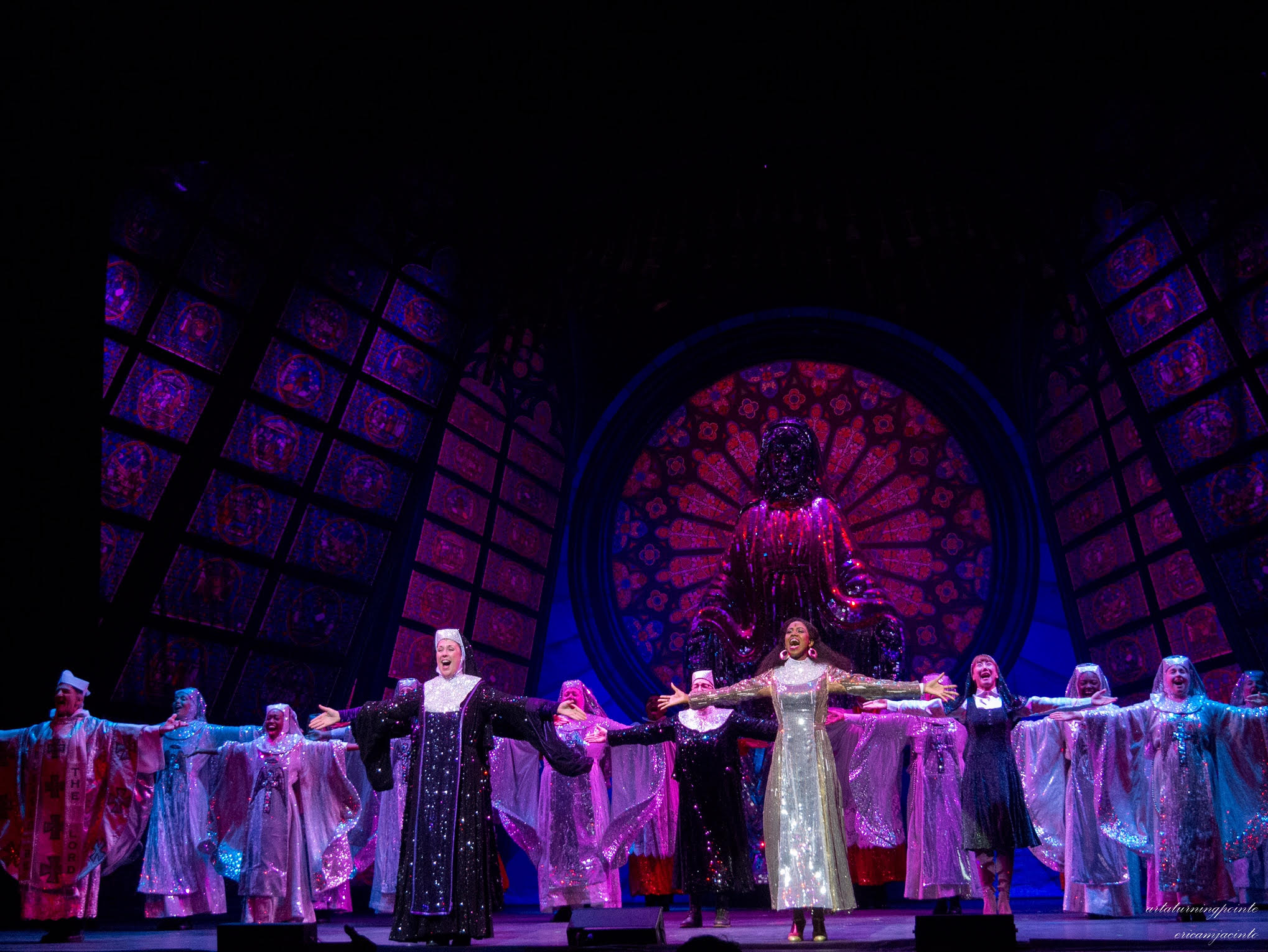 REVIEW: "Sister Act" could use a miracle
A woman seeking asylum in a convent after witnessing a murder isn't an ordinarily funny premise, but the 1992 hit Whoopi Goldberg comedy certainly proved the world wrong. Known for bringing hit tunes like "I Will Follow Him", it was always destined for musical theater treatment. The film's "gloriously Broadway" counterpart (with music from Alan Menken, no less!) tried to up the ante; but glittery habits, disco-Disney music, and the giant Virgin Mary dressed as a disco ball were not enough to dress up the flimsy plot and the lightweight production.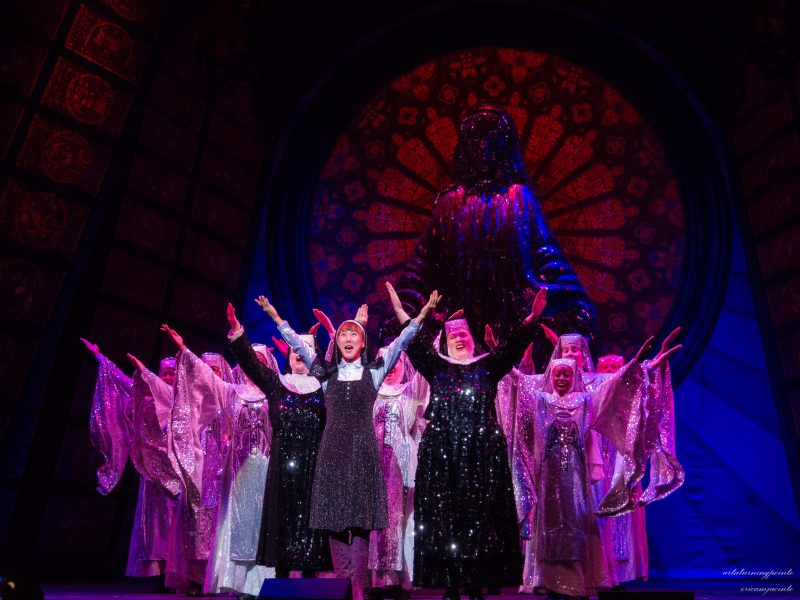 Deloris Van Cartier (Dene Hill) is a singer with dreams of making it big. Her dreams come to a halt after witnessing her gangster boyfriend commit a murder. She is then sent by small-town cop—and eventual love interest—Eddie (Will Travis) to hide out in a convent in lieu of witness protection.
The nunnery is on the brink of closing, and its long-suffering Mother Superior (Rebecca Mason-Wygal) is at wit's end. In comes Deloris, who is sassy, brazen, and entirely much too loud for the very pious nun. While there is immediate disdain from Mother Superior, Deloris finds easy friendship with the other nuns. She starts to coach their hilariously tone-deaf choir, and in one single song—"Raise Your Voice"—turns them into the 70s equivalent of viral sensations.
It's a ridiculous, boisterous story, compounded by slapstick antics and tired stereotypes that date the material far more than reimagining it into the disco era. There's the stern and staid white Mother Superior, a plump and happy nun, a meek Asian postulant, people of color playing baddies, and of course the out-loud African American woman at the center of it all.
This musical had the makings of a very fun, campy romp, had the performers any lick of comedic timing. Hill—most fatally—lacked the attitude and commanding stage presence required to carry such a character. She gave a mannered performance that felt almost too rehearsed. Beautiful as her voice may be, she was missing the natural vivacity that was needed of Deloris.
Equally, the show's main antagonist (Brandon Godfrey as Curtis Jackson), was just as weak that not even the deliciously menacing song "When I Find My Baby" could bring out any ferocity that would've raised the stakes just a little. His cronies, too, were largely superfluous and seemed to exist simply to take up space, or add some testosterone to the predominantly female ensemble.
It was up to the rest of the cast to pick up the slack. Mercifully, Mason-Wygal—albeit too young for the role—gives a good go as Mother Superior, delivering genuinely affecting and grounded performances for her big ballads—"Here Within These Walls", and the show-stopping "Haven't Got a Prayer" in act 2. Even Sophie Kim's solo as Mary Robert ("The Life I Never Led") is a highlight, as was her performance. The ensemble of nuns livened up the group numbers, injecting energy into an otherwise tepid show.
The set design, however, felt lean: overly relying on uninteresting backdrops and the singularly spectacular Virgin Mary that shifts from ordinary statue to disco ball in one turn.
Menken's melodious music lulls you into a false sense of whimsy and charm that simply didn't translate on stage. While the music might be the show's shining aspect, it often felt ill-fitted to the subject matter. The effort to meld together his Disney-esque tunes, the show's very un-Disney-ish premise, and the comedic narrative resulted in a hollow, colorful ruckus of a show that is unevenly paced and missed its many opportunities to strike a chord.
"Sister Act", far from taking audiences to heaven, rests in a mundane limbo: it's not sacrilegious enough to be memorable, nor profound enough to be inspiring. It does offer moderate laughs and a few songs you'll be singing on the way home. There is that.
*Photography by Erica Jacinto
Comments