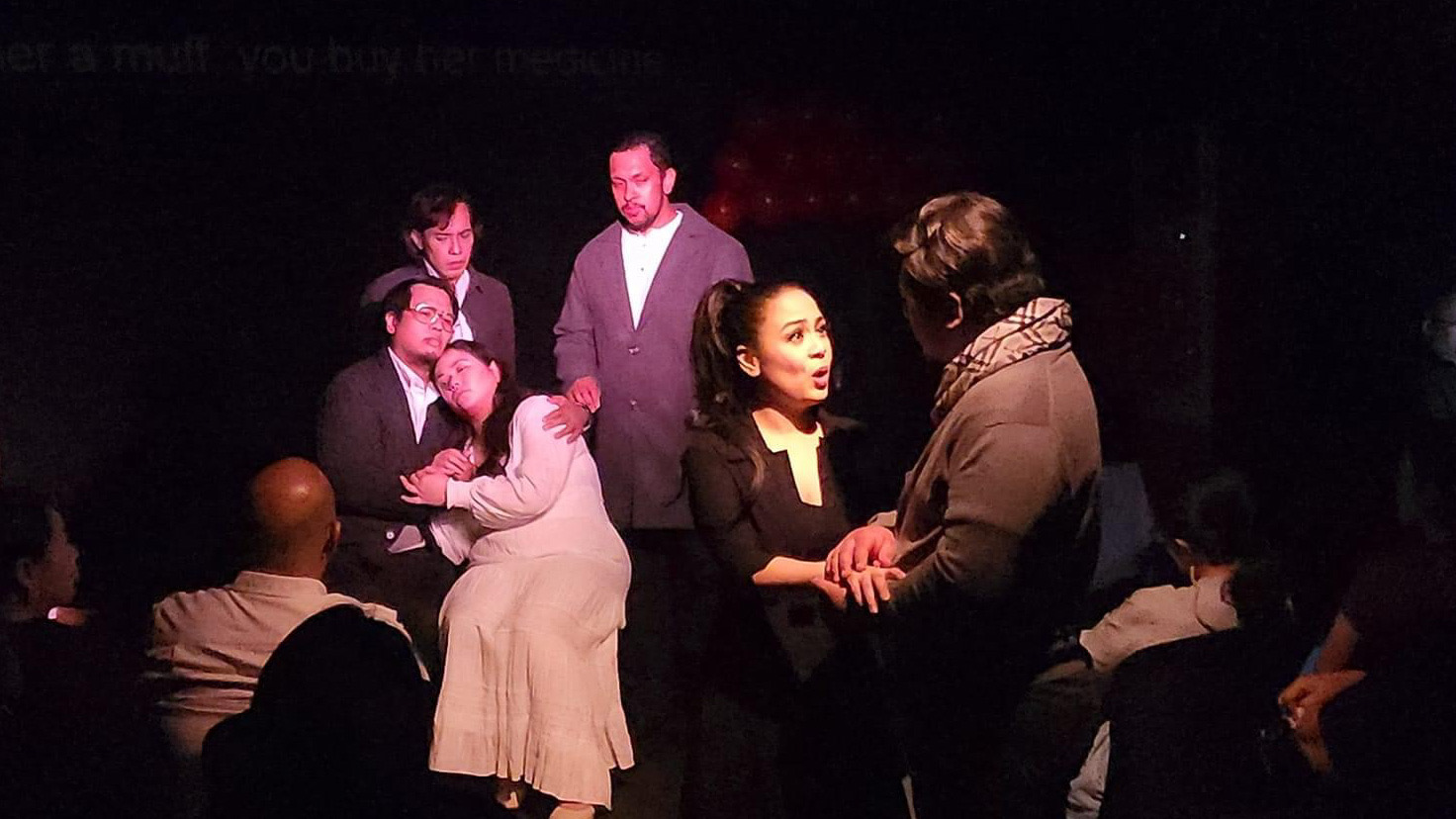 REVIEW: 'La Bohème' highlights the essence of opera
This popular Puccini opera has been staged in Manila most recently in 2008 and 2014, and countless times in music conservatories and colleges' recitals. Something about the doomed love affair between a consumptive and a poor poet appeals to hopeless romantics everywhere. As a tribute to the bohemian way of life, it has inspired other works like Moulin Rouge! and Rent.
It is a first that this opera is being performed in a venue as intimate as the Mirror Studio, a black box theater. And this is a revolution unto itself: paving the way for a more democratic approach to this very old art form, while staying true to the essence of what opera is all about–soul-splittingly beautiful singing of arias that capture humanity's most heightened ecstasy and torment. 
Operas in the past were intimidating affairs, invariably sung in Italian (sometimes French or German) and staged in huge venues like CCP, because there has always been that thinking that opera should be grand, with socialites dressed to the nines making beso during intermission with fellow Patrons of the Arts. 
But if we take a look at music history, we will find that opera started out in smaller theaters before growing into grand affairs. 
Director Nelsito Gomez proved in this production of La Bohème, that an opera's truth can be performed in a smaller venue with more affordable tickets so younger audiences can see it. His direction made incredible use of the limited performance space, and we really felt like we were fellow bohemians freezing in an attic on Christmas Eve. 
Communication Is Key
The challenge with seeing operas in Manila previously meant appeasing ourselves with mere melodic appreciation, absolutely dependent on visual cues to understand what was going on plot-wise unless we might be the odd Filipino fluent in Italian.
But Artistic Director Camille Lopez-Molina's generous choice to display the well-timed surtitles (English text of the sung Italian displayed over the performer's heads) allowed a degree of comprehension local opera fans rarely get to experience. The surtitles also allowed us to understand the many lines being sung at the same time. 
In La Bohème, sometimes we had seven characters all singing different lines simultaneously, but instead of cacophony, we heard the most beautiful harmonies. Had these lines been spoken out loud, we would have understood nothing but shouting. But when sung, and with the aid of the text, all the different characters' motives and thoughts were clearly discernible.
Verismo
There is something utterly wholesome and refreshing about being in a room, serenaded by the best classical singers in the country, with nothing but a grand piano. Now this is real music: all truth, no artifice.
Viva Voce's female singers were in top form that evening, as the assured technique of the two leading ladies displayed a rare polish they had honed on the stages of Guildhall and the Royal College of Music in London. Every note was pure gold, every aria a delight as the two sopranos demonstrated acting chops seldom seen in classically trained singers. Anna Migallos' beauty merged with a powerful voice brought a unique frailty to the doomed Mimi, while Myramae Meneses positively dazzled as the seductive vixen Musetta.
Tenor Nomher Nival successfully roared out all those high notes in the infamous role of Rodolfo, which is devilishly infamous for its high tessitura, however, his face lacked the same expressivity demonstrated by his leading lady. I was only genuinely moved by his acting in the death scene. Carlo Falcis as Marcello was reliably delightful to hear and watch in every scene, and while the two tenors were nearly musical equals, Falcis' acting was far superior.
Raymond Yadao's role as the cuckold Alcindoro was short but well sung. Kevin Jeremy alternated for Roby Malubay on the night I watched, as overthinking philosopher Colline. His singing of the beautiful aria "Vecchia zimarra senti" left much to be desired, however. Fritz Rivera as Schaunard was arguably the best actor that evening, and we would have wanted more stage time with him, as his reactions to the tragedy onstage largely helped this writer feel the appropriate emotions.
But the real MVP was pianist extraordinaire Farley Asuncion. His ten fingers ably wove the magic of an entire orchestra around the piano reduction, doing justice to Puccini's beautiful score.
Don't Expect Verisimilitude
Watching La Bohème, or any opera, and in such a new setting can be intimidating for a theater fan, but if you go and watch this opera without any preconceived notions based on musical theater or straight plays, then you are in for such a treat! 
As a gateway to the art form, I can't think of a better production.
Tickets :

 P800.00


Show Dates:

 April 21, 28, 30, and May 5


Venue:

 The Mirror Studio, SJG Centre, Kalayaan Avenue, Makati


Running Time:

 2 hours (including a 20 minute intermission)


Credits: 

Nelsito Gomez (Director), Camille Lopez-Molina (Musical Director and Vocal Coach), Pablo Molina (Vocal Coach), Farley Asuncion (Pianist), Rafael Paolo Jimenez (Assistant Director and Cafe Momus Musician), Sarah Facuri (Scenic Designer and Poster / Ticket Design), Kat Gamban (Stage Manager)


Cast: 

Nomher Nival, Anna Migallos, Carlo Falcis, Myramae Meneses, Kevin Jeremy, Fritz Rivera, Raymond Yadao, Juan Alvaro Molina


Company: Viva Voce Voice Lab 
Comments