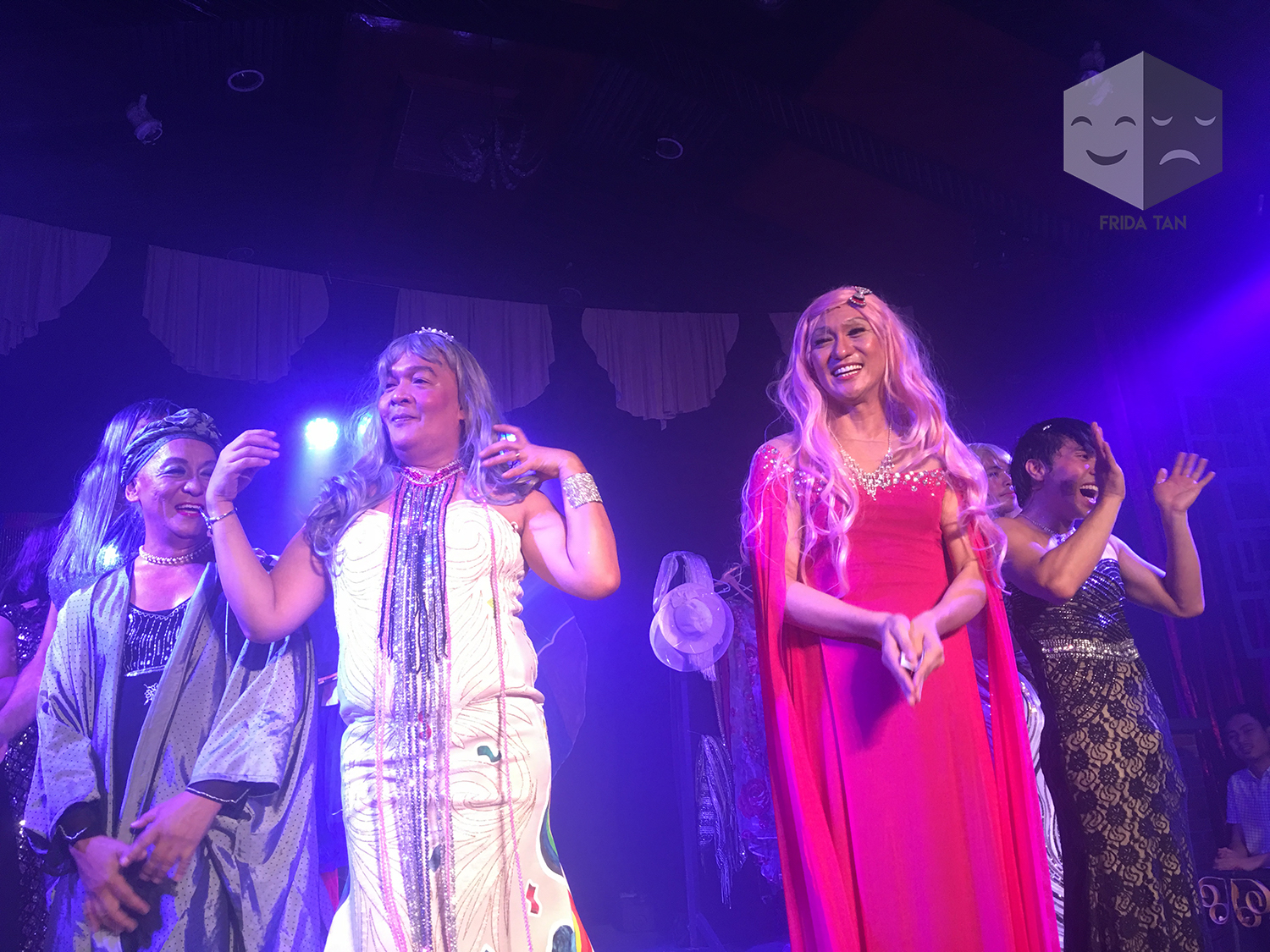 REVIEW: It's reigning men in "Gee-gee at Waterina"
Walter Dempster Jr. suffered plenty in the hands of the Japanese army in World War II. A "comfort gay", he was forced into sexual slavery. Even so, he lived to tell the tale. To Dolphy, no less, and the comedian turned his story into a feature film that earned Dolphy accolades abroad.
Playwright Jose Dennis Teodosio's "Gee-gee at Waterina" goes a different route. In the wide breadth of stories to tell about a man's unique life and experiences, the musical instead is a thought experiment: what would've Waterina done to the money paid to him for his life's rights?
As it turns out, for Teodosio, Gee-gee (Roeder Camanag) and Waterina (Norman Penaflorida) would have used it on men.
The musical is a conversation between two old friends, lamenting about their lives and what they would do with the money that has fallen within their grasps. They joke around, in a manner that only two familiar friends do: a lot of teasing, a lot of banter. Teodosio's dialogue never steers away from this tone. Whether the pair are singing about the men they want to sample, or how they want to die, there's always a punch line waiting at the end of it.
It's an entertaining way to tell a story, but a baffling method to share a truth. Waterina had a harrowing life, used and abused for a time and yet Teodosio begins and ends the show with the protagonist objectifying a young man, and plenty more objectification happening in the middle.
Maybe this was his way to cope, but for a show concerned with asking what this man's life was worth, whether he will only be remembered as a "matandang bakla", a huge chunk of the hour-long one-act is about how he was exploited by men and how he continues to love them. The most entertaining and memorable songs (music by Jesse Lucas) were those that were upbeat, and called for the ensemble of men gyrating in manners of ways on stage.
Camanag and Penaflorida, playing the protagonists, had the banter and the comedy down pat. It is when the story called for the weight of their understanding and empathy did their performances lack. There was drama there, but not a lot of depth.
The true brilliance of this iteration of "Gee-gee at Waterina" is how De Real and Artist Playground were able to contain so much pomp and spectacle in a tiny stage: like trying (and succeeding) in mounting a full-blown musical in a cabaret space. Set Designers Ira Ruzz, Miel Bulaong, and Lawrence Victoriano did it with a rack of dazzling clothes and Luis Galang's lighting. Leslie Dailisan's choreography gave the numbers a feeling of unadulterated entertainment which worked almost too well, with the ensemble nearly stealing the spotlight every time they're on stage.
Comments