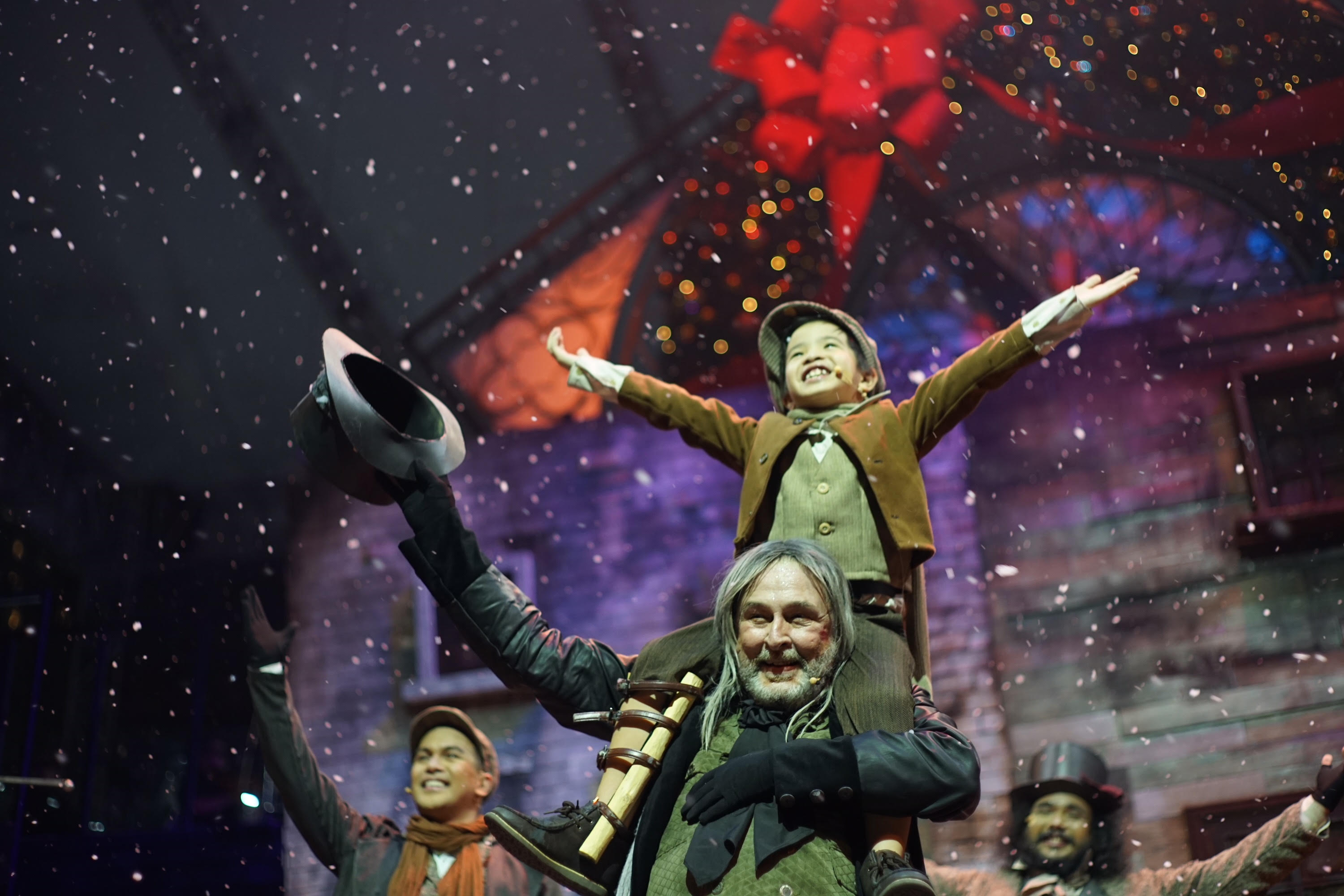 REVIEW: "A Christmas Carol" is a joyous exhibition
It's beginning to look a lot like Christmas at Bonifacio High Street, with Globe Live and 9 Works Theatrical's (9WT) production of "A Christmas Carol" being mounted in the once open Globe Iconic theater. With the Charles Dickens classic as ubiquitous as the birth of the baby Jesus himself, it's no surprise that 9WT is staging it for a second time.
If you've somehow never seen or read the actual story, Lynn Ahrens and Mike Ockrent's book is a straightforward depiction of its source material, and Robbie Guevara directs it with just as much clarity and family-friendly joy.
Ebenezer Scrooge (Miguel Faustmann) is not feeling the holiday spirit. He refuses to give his employees leave, donate anything to the unfortunate, nor accept gifts and invites to join any festivities. "Bah! Humbug!" he infamously cries. He thinks the season is a hoax, and while there's some merit to his disdain (he's a frugal man and the holidays were not made for frugal men), he is more importantly, unpleasant.
First visited by the ghost of his old friend Jacob Marley (Noel Rayos, has carved out a mastery of playing larger than life characters), he is told that he will be visited by three other ghosts who will attempt to inject some compassion into his cold heart. The Ghost of Christmas Past (Franco Laurel), the Ghost of Christmas Present (Nico Dans), and the Ghost of Christmas Future (Rissey Reyes).
The story meets a triumphant end with Scrooge not just feeling the season, but giving old Saint Nick a run for his money. Scrooge fits Faustmann like a glove, he portrays his character with formidable meanness, and later on, exuberant and open-hearted kindness.
Despite being family-friendly fare and set to Alan Menken's music, the show is quite ghoulish for a Christmas musical. While the story is essentially about a man being haunted, Guevara does lean into the material's more haunting elements, especially during the ghosts' introductions.
Lavish numbers, overpowering costume and makeup (especially for Laurel's Ghost, who is reminiscent of a silver Lumiere from Beauty and the Beast), drown out the more dramatic and nuanced performances, though it isn't to the show's complete detriment. A Christmas Carol is meant to be big, and spectacular, and entertaining. The show has no shortage of dance numbers that position 9WT as a strong, reliable source of musicals with dance (there is a tap number that is especially exhilirating) and PJ Rebullida's knack for engaging choreography.
Set Designer Ed Lacson Jr.'s Dickensian London is beguiling though very brown, with crooked houses serving as backdrop and allowing Mio Infante's costume designs, Myrene Santos's hair and make-up, and Shakira Villa Symes's lighting to pop, especially for the show's many big production numbers.
The Globe Iconic Ampitheater is still much too loud for the group numbers, and undercuts the potency of many of the show's emotional moments. Still, by the time the whole company sings its final song, and (fake) snow falls down the stage, the whole production has summoned up a warmth akin to Christmas morning.
Comments