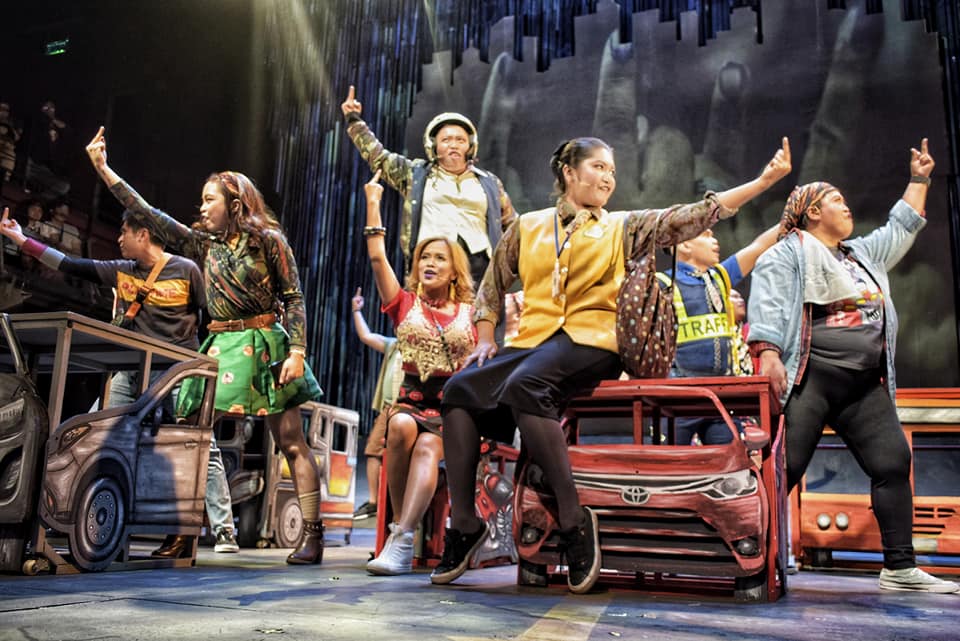 REVIEW: "Charot" is a crash course on federalism
Serving a more important objective of educating the masses, Philippine Educational Theater Association (PETA) might have put together its most specific show yet. "Charot", written by J-mee Katanyag and Michelle Ngu, is a crash course on Federalism, wrapped up in a 'comedy play with music', as self-described.
It's a not-quite musical, set in not-quite Manila, ruled by a not-quite Duterte figure attempting to shift not-quite Philippines into federalism. The citizens are up for a very important vote, and just their luck, a typhoon and flash flood makes an already terrible traffic jam into a dire situation necessitating emergency boats and choppers to rescue the stranded whose only goal is to get to their voting precinct on time.
Katanyag and Ngu situate their ragtag team of characters in the rooftops of cars, giving each one distinct personalities that are archetypal to the point of stereotypical. There's the retokada with the heart of gold, the vapid social media influencer with bouts of self-awareness, the well-meaning, patriotic saleslady, the cop who is also the president's fanboy, the sosi well-connected tita, the enterprising nanay, the apathetic millennial, and so on. It's curious that the writers didn't bother to give their characters names either, leaning well into these archetypes and letting the audience's knowledge of these archetypes to carry the characterization.
This isn't to the show's complete detriment. It is still very enjoyable, with humor that captures the pulse of the masa— but this humor and comedy is also something we've seen PETA do before, and better. The show gives ample time for the writers to flesh out its many characters– the entire first act is basically an introduction–and opts instead to build this fictional 'Matila' that is no different from Manila whatsoever. It's line after line of reinforcing archetypes, with the occasional implication of how politicking affects these everyday not-quite Filipinos.
The show finally gets to its point by the 2nd act, in one long, descriptive musical number (featuring first-time musical director Vince Lim's arrangements) that gives the audience a crash course on Federalism. There's an attempt in showing both sides of the coin, but Katanyag and Ngu's lyrics do lean heavy on the 'anti' side. Of course, the show doesn't purport an even-handed approach, but the overall takeaway is that it is a terrible idea.
While the plot feels like an afterthought to the raison d'etre of the show, this Maribel Legarda-directed comedy is not afraid of exploring new ways to engage its audiences. This show features real-time voting, where people can connect to PETA's wifi (how novel for a theater experience!) and vote online, with the outcome potentially changing the course of the story. It's not quite Bandersnatch, but it's a device that opens interactive theater to so many exciting possibilities. Boni Juan's set design also features video and animation (by Ellen Ramos) that helps differentiate Matila from Manila when the writing doesn't seem to show as much.
The triteness of the writing may be a boon for a show such as Charot— making its message as overt and as cut and dry as possible. You will learn a thing or two about Federalism, it's effects on the Philippines, and when it's something this crucial, clarity is key.
Tickets:

 Php 600.00 - Php 1,500.00


Show Dates: 

Feb 8 ' 19, Feb 9 '19, Feb 10 '19, Feb 15 '19, Feb 16 '19, Feb 17 '19, Feb 22 '19, Feb 23 '19, Feb 24 '19, Mar 1 '19, Mar 2 '19, Mar 3 '19, Mar 8 '19, Mar 9 '19, Mar 10 '19, Mar 15 '19, Mar 16 '19, Mar 17 '19


Venue:

 PETA Theater Center, 5 Sunnyside Dr., New Manila, Quezon City


Running Time: 

approx 2 hours and 20 mins (w/ 10-min intermission)


Credits: 

Maribel Legarda (director), J-mee Katanyag (writer), Michelle Ngu (writer), Vince Lim (musical director and arranger), Ian Segarra (choreography), Boni Juan (set design), JonJon Villareal (light design), Gio Gahol (costume design), Gerhard Daco (technical director), Ellen Ramos (video and animation) 


Cast: 

Jack Yabut, Meann Espinosa, Kitsi Pagaspas, Norbs Portales, Teetin Villanueva, Gardo Vicente, Bene Manaois, CJ Navato, Jason Barcial, Gie Onida, Gio Gahol, Lemuel Silvestre Gold Villar Lim, Jimma Nariz, Icee Po, Rhapsody Garza


Company:

 Philippine Educational Theater Association
Comments