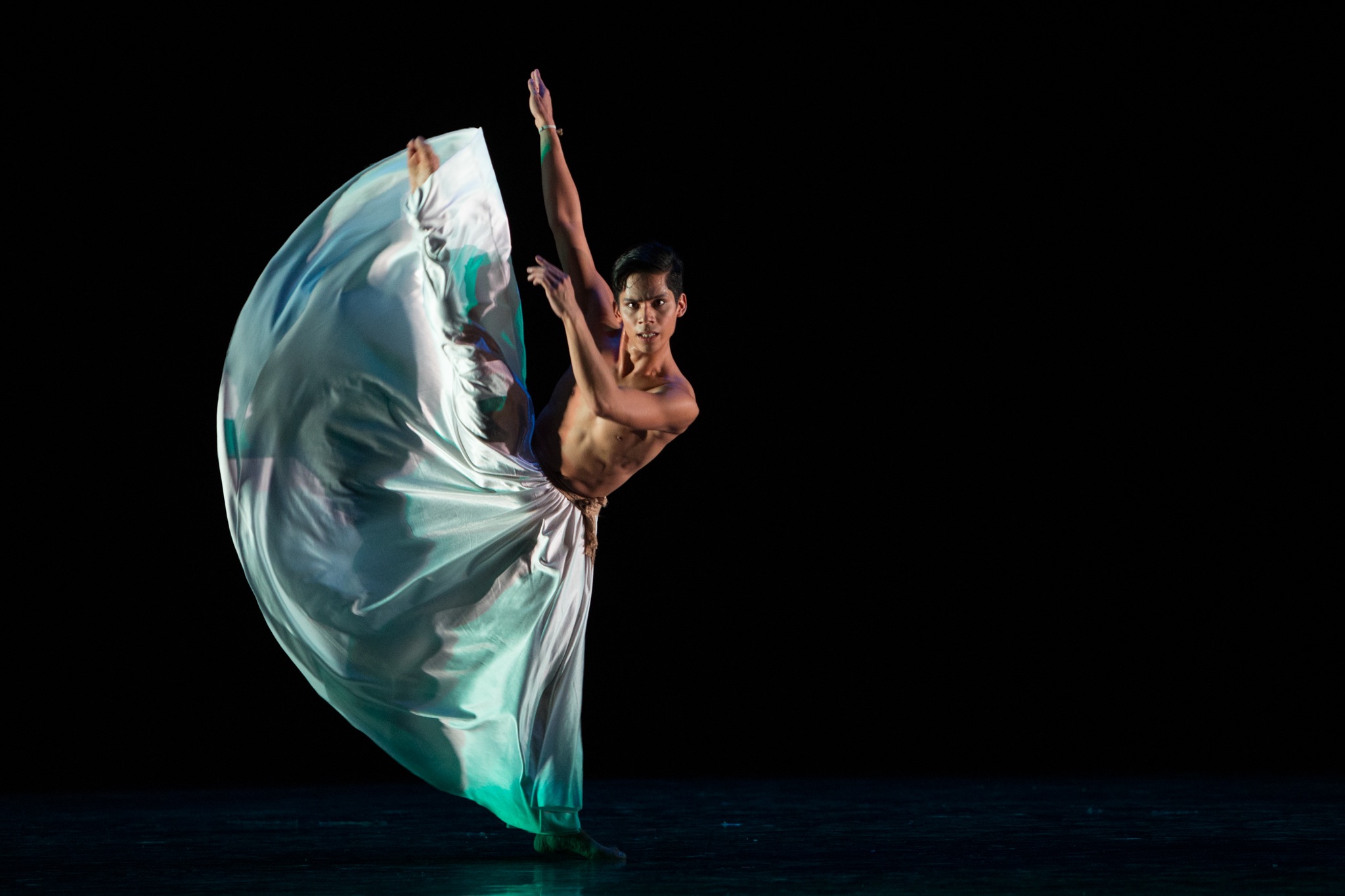 Review: Ballet Philippines' "A Gala Celebration" is a lesson in dance appreciation
It was all about the dance.
It wasn't so much about staging or spectacle; it wasn't about the lighting (though it was used to full effect in the moodier pieces like 'Moon' and 'Vision of Fire'), or even the costumes (though the ballerinas' flowing pastel skirts in the opening 'Bungkos Suite' wonderfully evoked scenes out of a Fernando Amorsolo painting). Ballet Philippines' season opener, 'A Gala Celebration', was a tribute to dance itself, in its purest form, and as an expression and extension of the dancer.
'A Gala Celebration' is a collection of Ballet Philippines' best works, featuring mostly modern pieces like Bam Damian III's 'Minamahal, Sinasamba', John Neumeier's 'Spring and Fall', and Paul Ocampo and Chie-Ying Wang's 'Equanimity'. There were also classical pieces included in the show, like the Grand Pas Classique along with the Raymonda Variations.
From start to finish, the stage was left completely bare with no props in sight, and only a blank white screen as a backdrop for subtle lighting changes. The one exception was the classical ballet Raymonda, with its sweeping curtains and sparkling chandeliers fit for a grand ball.
And as the previews promised, 'Gala…' showcased Ballet Philippines' world-class artists, who were each given a chance to shine. Former Principal Dancer Jean Marc Cordero and Rita Winder, now with Germany's Ballet Kiel, returned to the stage in the sublime and romantic 'Summer's End', while Marcelino Libao, now with the Hamburg Ballet, danced with such exhilaration and freedom in 'Spring and Fall' that even on his own he was able to fill the stage. Kris-Belle Paclibar, formerly of Cirque du Soleil, was simply stunning in Agnes Locsin's 'Salome'. Dressed in fiery red, she commanded the stage and demonstrated incredible strength and athleticism, at one point standing up from a full split propelled solely by her unbent legs.
The show, however, seemed to lose its momentum whenever the dancers performed with no musical accompaniment. At these moments, the audience seemed not to know what to do, or how to process the scenes before them. The discomfort was palpable in the theater. It was as if the show was asking too much from us, replacing emotional engagement with an intellectual appreciation. There is nothing wrong with that, of course, and pieces that challenge you as a theatergoer sometimes turn out to be the best experiences. But for fans of more traditional ballets, the Gala may not have necessarily met expectations.
Conversely, there was an almost audible gasp when the curtain opened on 'Raymonda', the first act's finale. It was as if the audience recognized what was on stage and was able to find comfort in the familiar. The piece put Candice Adea front and center. Adea is one of the more esteemed alumni of Ballet Philippines (and is incidentally joining the company as a guest artist this season). In this performance she was much more self-assured than when we saw her last in the previous season's 'Swan Lake', as if the weight of performing such a hallowed piece had lifted. Her confidence was more obvious as she leapt and pirouetted masterfully on stage.
Three of Ballet Philippines' current stars demonstrated that the company is safe in their hands. Denise Parungao was a joy to watch because you could see strength behind her vulnerability. Whether in her 'Dandansoy' solo or as part of the company in the finale 'Vision of Fire', every movement – even a simple flick of the wrist – was measured and important. Jemima Reyes also demonstrated impeccable skill in the Grand Pas Classique. But her partner, Victor Maguad, who also soloed in the powerful 'Moon' – showed a different level of energy and stage presence that outshone everyone else.
There was a sense of watching a highlight reel as the company looked inward and mined its best, which seems in keeping with National Artist for Dance Alice Reyes taking over the post of Artistic Director. Reyes founded Ballet Philippines, and in her return at the helm, it's understandable to look back on highlights from the past forty-eight years.
Taken as a whole, there is not much of an overarching theme to 'Gala' as classical and modern dances alternate – the playful and pastoral 'Bungkos Suite' gives way to the traditional Grand Pas Classique, which is followed by the unorthodox 'Equanimity'. But perhaps the intention is to simply look back and celebrate the past. And with Edna Vida's 'Nutcracker' and 'Don Quixote' scheduled in the following months – along with the milestone 50th season in two years – it may well be a way to look forward to Ballet Philippines' future.
Comments