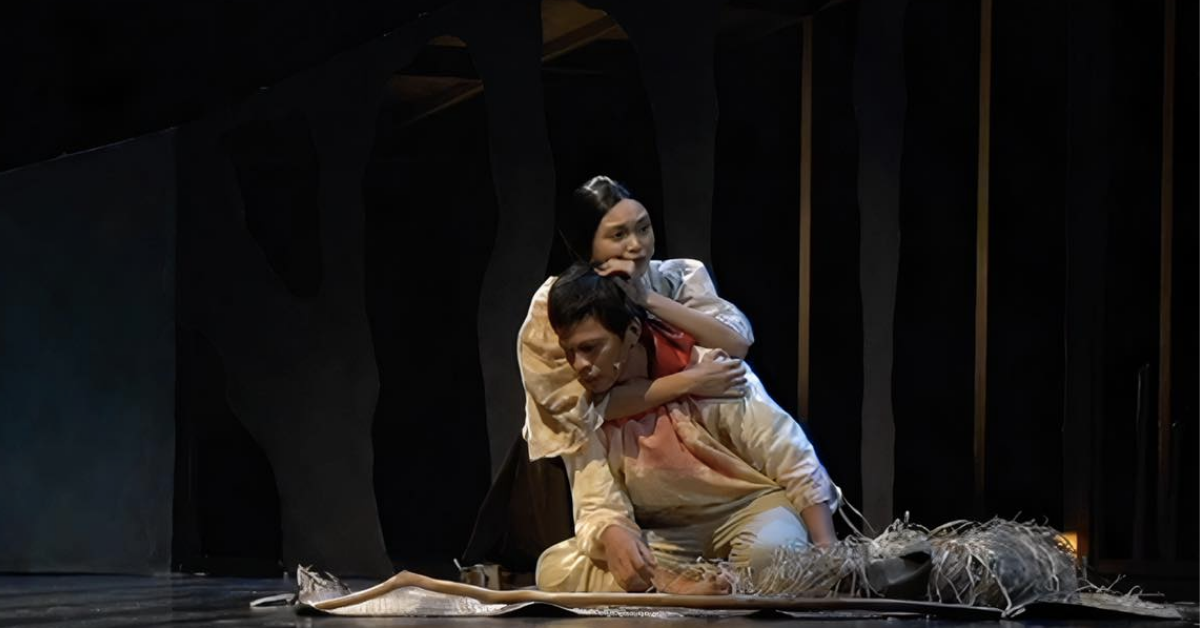 REVIEW: '²Bayani' is a Bonifacio text book set to music
Titled in full with "isang rock operang alay kay Andres Bonifacio," this musical makes no bones about how it feels about Bonifacio, which is that the man had been handed the short end of the stick throughout his life and throughout history. Whether this is true or not, it's certainly the musical's apparent, if not singular goal: to celebrate Bonifacio to an all-encompassing extent.
If Bonifacio had been a complex man, or if he had been any sort of character at all apart from angry revolutionary, one would not glean it from this musical (directed by Ricardo Abad). This is not the Bonifacio story that paints a portrait. It doesn't start at the beginning, nor at the middle. It starts at the very end and mostly stays there. It is predominantly set during the time of his capture and imprisonment as he awaited his fate, the story jumping back into haphazard moments in the past that led to him languishing in that prison cell at the mercy of Aguinaldo.
We are shown that he met his fate because of party politics. He is the opposition to Aguinaldo's establishment and he was nevertheless executed even though he was a primary figure in our freedom from the Spaniards. This musical, when on form, gives you a glimpse of how today's politicking has been going on for over a century, that the things today's Filipinos are fighting for, and are dying for, are the same things our lauded national heroes have been fighting and dying for–but these moments in ²Bayani, lamentably, were rare to come by. 
Most of the time, it went by as a highlight reel of historical moments set to music. A lot of moments, with little changes to their staging that you're not quite sure how it slots into the overall story, or who the players are, what their motivations are. It requires of its audiences to remember their Philippine History classes with some degree of detail just to keep up. 
Perhaps we need to be reminded of the nitty gritty moments of which our Republic was built, but in order for its bigger themes to hit home–in order for us to remember, and learn, and say "Never again," the audience needs that emotional connection which this musical plainly lacked. Maybe in the recording of this stage adaptation for the screen (director of photography is Glen Charles Lopez), the emotionality of the scenes, or any tension at all over what was occurring had been left on the Areté stage–but maybe the camera also can't capture what hadn't there to begin with.
It's a missed opportunity that the cast, most egregiously Bullet Dumas as Andres Bonifacio, came up short when it came to portraying the depth or complexity of emotion that you would think would come with betrayal, or rape, or death. As a result, it felt like you were merely being carted along from scene to scene, occasionally engaged by the excellent music (Zosimo Qubilan Jr and Khavn) that accompanied the proceedings.
These are the days where we need to remember our history the most, and when revisionism and disinformation are cloaked with tantalizing lies, true history need also to evoke–to engage, to seep into the psyche of its witnesses so that they never again forget and therefore never again repeat. Now that might be a worthy offering to our greatest heroes.
Tickets:

 Php 450.00 



Show Dates: 

Apr 9 '22, Apr 10 '22, Apr 11 '22, Apr 12 '22, Apr 13 '22, Apr 14 '22, Apr 15 '22, Apr 16 '22, Apr 17 '22, Apr 18 '22, Apr 19 '22, Apr 20 '22, Apr 21 '22, Apr 22 '22, Apr 23 '22, 



Venue: 

KTX.ph



Running Time: 

2 hours and 30 minutes (w/ a 10 minute intermission)



Credits:

 Ricardo G. Abad (Direction), Zosimo Quibilan, Jr (Music and Lyrics), Khavn (Music and Lyrics), Jose Y. Dalisay Jr. (adapted from his "Ambon sa Madaling Araw"), 

D Cortezano (lighting design) Adriane Mark E. Ungriano (set design), Tata Tuviera (costume and make-up design), Jared Jonathan Luna (choreography), Matthew Chang (vocal direction), John Robert B. Yam (sound design), Glen Charles Lopez (Director of Photography), Winter David (Property Design and Execution), Rio Reyes (Graphic Design), JJ Agcaoili (Projection Design)



Cast:

 Bullet Dumas, Alyana Cabral, Larissa Buendia, Ali Figueroa, MC Dela Cruz, Greg Abelardo De Leon, Angelo Galang, Matt Gador, Gabo Tolentino, Pat Libao, Norvin De Los Santos, Meyanne Plamenio, Jam Binay, Nashvie Magracia, Lance Soliman, Pio Bagnol, Austin Gonzales, Michael D. Fernandez, Tara Jamora Oppen, Jamie Papa, Nanding Josef



Company: 

Areté
Comments