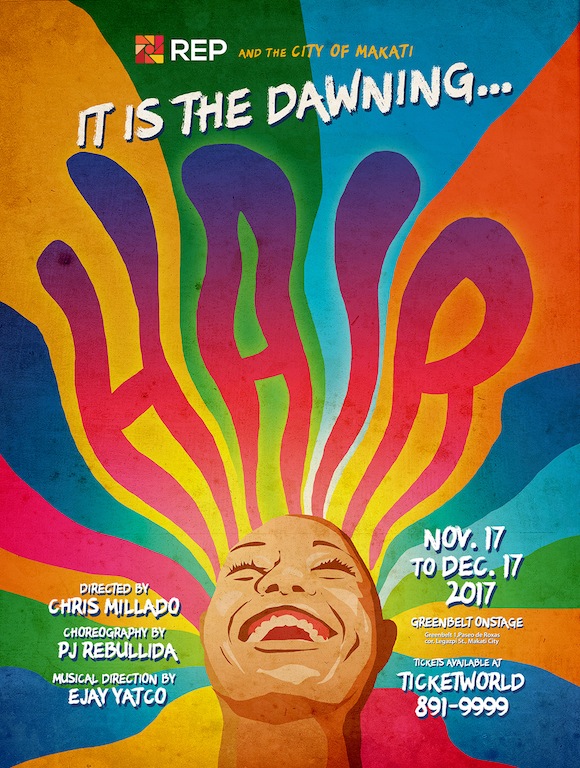 REP Stages Love-Rock Musical 'Hair' this November
Hair, the first ever tribal love-rock musical on Broadway, is the year-end grand musicale of Repertory Philippines' (REP) 2017 season. Relive the rocking spirit of the 60's in this iconic production from November 17 to December 17 at the Onstage Theater, Greenbelt 1, Makati City.
Set in the tumultuous 1960's, the twenty-somethings of New York City band together to form a tribe – the hippies – as a cry of protest against the Vietnam War. The story follows native Oklahoma farm boy Claude, who meets the energetic, irrepressible tribe of Central Park hippies on his way to enlist in the US Army. This free-spirited tribe, led by the charismatic Berger, inspires Claude to rebel against the war, his parents, and society, and to assert love, peace and freedom.
From its groundbreaking use of rock music in theater to its fearless depiction of the decade's stark realities—from the bohemian underground, the sexual revolution, and the violent anti-war movement—Hair is an unforgettable and iconic production that is truly a product of its time, and continues to be a relevant piece of theater up to today.
The angst and energy of the era is captured in the show's amazing musical score with classic hits like "Let the Sun Shine In," "Aquarius," and "Good Morning Starshine." Hair even won the 1969 Grammy Award for Best Score from An Original Cast Show Album, while its 2009 Broadway revival earned the Tony Award for Best Revival of a Musical.
In REP's version of this award-winning production, Markki Stroem alternates with Topper Fabregas as Claude with George Schulze as Berger, Caisa Borromeo as Sheila, and a stellar cast of young performers. Chris Millado directs the grand musicale with Ejay Yatco as musical director.
You won't be able to resist getting pulled into this phenomenon with book and lyrics by Gerome Ragni and James Rado, and music by Galt McDermot.
Don't miss REP's final offering for the season. You can buy tickets HERE.
For more details about what's happening in the Manila theater scene, please view our Theater Calendar.
Comments