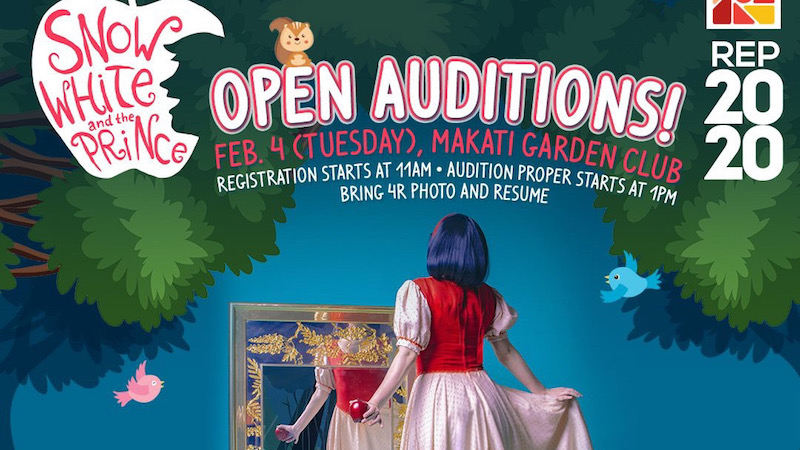 REP Announces "Snow White and the Prince" Open Auditions
Repertory Philippines has just announced auditions for Janes Yates Vogt and Mark Friedman's Snow White and the Prince, the company's Theater For Young Audiences offering for 2020. It is also their second musical and fourth production for the year.
Auditions are set for February 4, 2020 at the Makati Garden Club. Registration will be open from 11am-3pm, while audition proper will begin at 1pm. Interested participants should bring a 4R photo and a resume.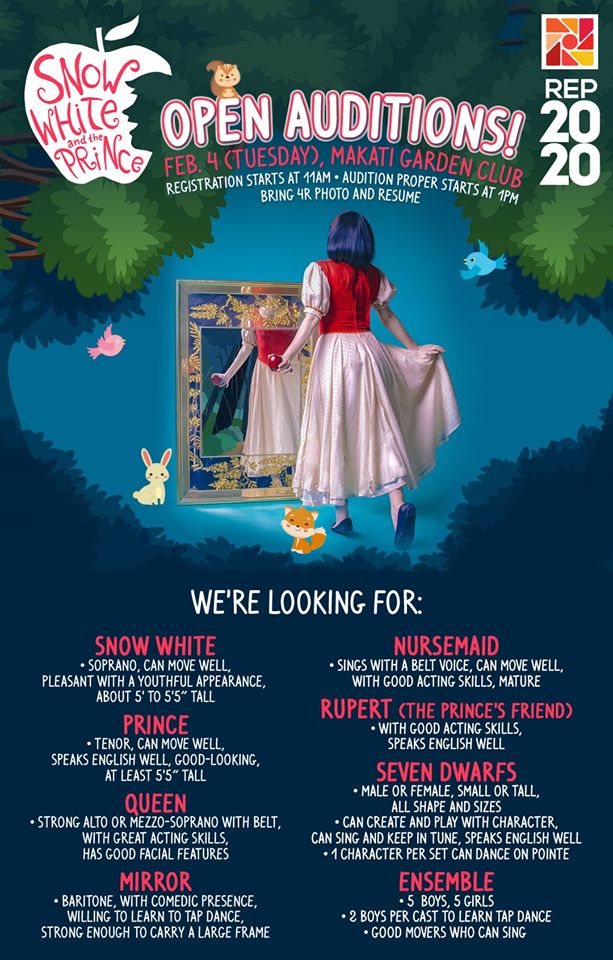 Available roles with their corresponding requirements are as follows:
1. Snow White- Soprano, can move well, pleasant with a youthful appearance, about 5″ to 5'5″ tall
2. Prince- Tenor, can move well, speaks English well, good-looking, at least 5'5″ tall
3. Queen- Strong alto or mezzo-soprano with belt, with great acting skills, has good facial features
4. Mirror- Baritone, with comedic presence, willing to learn to tap dance, strong enough to carry a large frame
5. Nursemaid- Sings with a belt voice, can move well, with good acting skills, mature
6. Rupert (The Prince's Friend)- With good acting skills, speaks English well
7. Seven Dwarfs- Male or female, small or tall, all shape and sizes; can create and play with character, can sing and keep in tune, speaks English well
8. Ensemble- 5 boys, 5 girls; 2 boys per cast to learn tap dance, good movers who can sing
Songs/lines to learn for the auditions:

Snow White: "Dancing"
Prince: "Dancing" (His part)
Queen: "The Fairest of Them All"
Dwarfs: "They Call Us Dwarfs" (Choose the character you want to play and learn the spoken lines of the scene.)
Mirror: "I've Got the Queen"
Nursemaid: "I'm On My Way"
Rupert: Scene with the Prince
To get a copy of the songs/script, email marketing@repphil.org with the role/s you'll be trying out for. Snow White and the Prince's songs are also available on Spotify.
Artistic Director Liesl Batucan describes the show as "a quirky and fresh retelling of a beloved classic." Joy Virata, founder of REP's Theater for Young Audiences, returns as director.
Comments