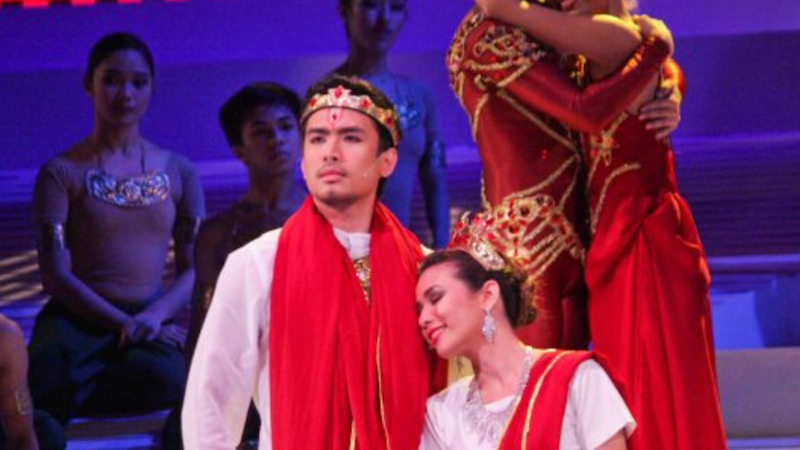 "Rama Hari" 2012 Production Will Stream Online!
The 2012 production of Ballet Philippines' Rama Hari will be streaming online this May!
The production stars Christian Bautista (who alternated with OJ Mariano) as Rama, and Karylle (who alternated with Kalila Aguilos) as Sita. Ballet dancers Jean Marc Cordero and Richardson Yadao alternate for the part of Rama, while Carissa Adea and Katherine Trofeo alternate for the part of Sita.
Also part of the musical theater cast are Robert Seña, Noel Rayos, Christian Rey Marbella, Lani Ligot, Amparo Sietereales, and Brezhnev Larlar.
Inspired by the Ramayana, Rama Hari is an ancient Sanskrit epic that follows Rama in his pursuit to rescue his wife Sita from Ravana. Through the help of an army of monkeys, Rama sets out to save his beloved and reclaim the throne that rightfully belongs to him.
Rama Hari is remarkably unique for having five national artists in its creative team– Ballet Philippines Founder and Artistic Director Alice Reyes (National Artist for Dance), Ryan Cayabyab (National Artist for Music), Bienvenido Lumbera (National Artist for Literature), the late Salvador Bernal (National Artist for Theater Design), and the late Rolando Tinio (National Artist for Theater and Literature).
The production was first staged in February 1980 for Ballet Philippines' 10th season. It was then re-staged in November of that same year for its 11th season, and in 1983 for its 30th season. The ballet was also set to run from March 20-29 earlier this year, but was halted due to the Covid-19 outbreak.
The ballet will be streaming on CCP's YouTube channel as part of the CCP Online line-up starting on May 2 at 3pm. Just like the shows prior, it will only be available for one week.
CCP Online is bringing HD and archival recordings in theater, dance, visual arts, film, literary, and workshop events from CCP's Cultural Content Digital Archives to audiences online.
Comments