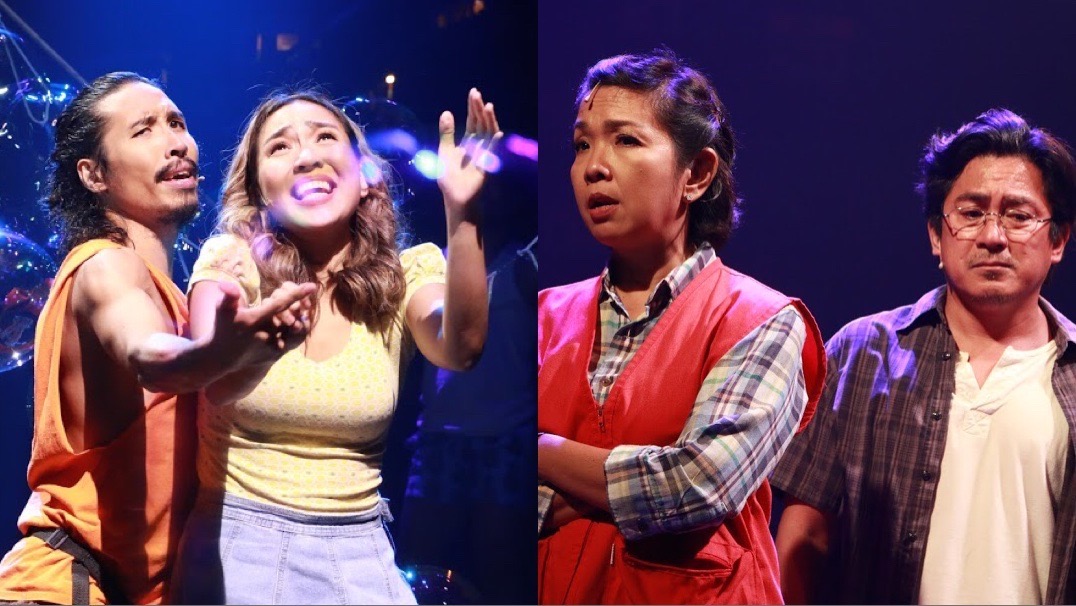 'Rak of Aegis' Streaming Cast Announced
As previously reported, PETA's Rak of Aegis is set to stream online for two weekends via ticket2me.net on July 31, August 1, 7-8, 2021. It is a recorded performance from the show's latest run.
The online initiative is presented by PETA together with Organisasyon ng Pilipinong Mang–Aawit (OPM), the Philpop Musicfest Foundation (Philpop), PLDT Home Fibr, and Foodpanda. It is part of the Linggo ng Musikang Pilipino (LMP) 2021 celebration, and the banner project of the #TakePETAbeyondCOVID campaign, a fundraising drive that aims to help PETA survive this unprecedented time.
"This streaming is available globally, so anybody from anywhere in the world can watch this proudly Pinoy musical!" says PETA president CB Garrucho. "Every ticket sold helps us gather funds to sustain our operational funds and activities so that in turn, we can give more jobs to our artists, teachers, and production and technical staff."
The Rak of Aegis streaming cast includes Aicelle Santos as Aileen, Pepe Herrera as Tolits, Poppert Bernadas as Kenny, Isay Alvarez-Seña as Mary Jane, Robert Seña as Kiel, Joann Co as Mercy, Jimi Marquez as Jewel, and Gie Onida as Fernan, together with John Moran, Matel Patayon, Marynor Madamesila, Lemuel Silvestre, Teetin Villanueva, and Rafael Sudayan as members of the ensemble.
The show is written by Liza Magtoto and directed by Maribel Legarda, with musical direction and arrangement by Myke Salomon, choreography by Gio Gahol, set design by Mio Infante, lights design by Jonjon Villareal, costume design by Carlo Pagunaling, and shoe design by Maco Custodio. 
Tickets are on sale starting May 7, 2021 via www.bit.ly/rakofaegisstreaming. Audiences can choose from the following viewing options: 
Livestream at Php 350 – 8:00 P.M to 11:00 P.M. (Philippine Standard Time)

Video On Demand at Php 500 – 24-hours streaming from 10:00 A.M. to 10:00 A.M. the next day (Philippine Standard Time)

Video on Demand Premium at Php 1,000 – 24-hours streaming from 10:00 A.M. to 10:00 A.M. the next day (Philippine Standard Time) plus exclusive access to the Rak with Aegis LIVE virtual concert on August 8, 8:00 P.M., featuring the Aegis Band and select cast of Rak of Aegis.
Audiences can also make an additional donation to PETA through www.ticket2me.net (for donations 500 and up), or through PETA's Gcash account. 
Featuring songs from the popular 90's band Aegis, the musical tells the story of Aileen, a young girl with a big voice who dreams of becoming a YouTube sensation. As she tries her hand at fulfilling her dream, she also finds herself in the position of helping her barangay battle health hazards and livelihood conditions amidst unceasing flood water.
The musical first opened on January 31, 2014 and ran for a whopping 7 seasons, with its most recent run closing on September 29, 2019.
For bulk tickets and partnerships, contact Mitch Go, mitchgo@petatheater.com, 0917-5391112. For more information, follow PETA's social media pages: Facebook www.facebook.com/petatheater; Instagram @petatheater; Twitter @petatheater; YouTube  www.youtube.com/petatheateronline or visit www.petatheater.com/rakofaegis.
Comments