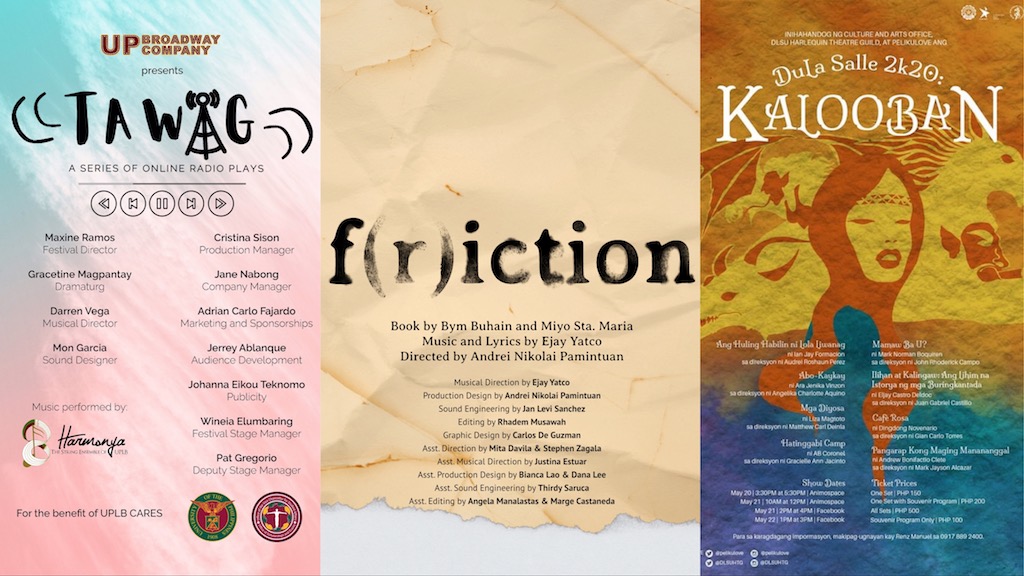 3 University-Based Theater Productions Online this May 2021
These students organizations will be staging their productions online this May.
1. TAWAG: A Series of Online Radio Plays by UP Broadway Company
UPLB's UP Broadway Company goes online with its first-ever radio drama festival, TAWAG: A Series of Online Radio Plays. The festival features six new original radio plays, each highlighting today's societal issues amid the pandemic, ranging from mental health and sex work to LGBTQ+ rights.
The festival is for the benefit of UPLB Connectivity Assistance for Remote Students (UPLB CARES), an assistance program that aims to provide learning resources to students experiencing difficulties in the transition to remote learning. 
TAWAG begins on May 14, running a duo of plays each weekend until May 30. Catch Theraputa and Among Our Bubble on May 14-16; Kiss and A Half Of It and Unica Hija on May 21-23; and Pamamaalam and Late Na Late Na on May 28-30. Festival passes are also available for those who want to catch all six plays.
Tickets start at P150 and can be availed on www.ticket2me.net.
2. DuLa Salle 2K20: KALOOBAN by DLSU Harlequin Theater Guild
For its 54th Season, the DLSU Harlequin Theater Guild presents its second online production. 
DuLa Salle 2K20: KALOOBAN
features 4 sets with 2 plays each, inspired by Philippine myths and legends:
SET A- Ang Huling Habilin ni Lola Liwanag by Ian Jay Formacion and Abo-Kaykay by Ara Vinzon
SET B- Mga Diyosa by Liza Magtoto and Hatinggabi Camp by AB Coronel
SET C- Ilihan at Kalingaw: Ang Lihim na Istorya ng mga Buringkantada by Eljay Deldoc and Mamaw Ba U? by Mark Boquiren
SET D- Pangarap Kong Maging Manananggal by Andrew Clete and Café Rosa by Dingdong Novenario
The production will run from May 20-22. Click HERE to register for tickets. For more information, contact Renz Manuel 0917-889-2400 or Bryle Dayacap 0995-144-9660.
3. F(r)iction by Ateneo blueREP
F(riction), 
written by Bym Buhain and Miyo Sta. Maria (book), with music and lyrics by Ejay Yatco, is Ateneo blueREP's 29th season finale. The musical follows the story of a brilliant emerging fiction writer who seeks help from a stranger that challenges his entire idea of reality. With a worrying fiancé and a baby on the way, he meets a man who inspires him to write his book to completion. The tension among him, his fiancé, and the man build up until the friction is too much and he cracks.
The production will run from May 24-30. It is directed by Andrei Pamintuan. For tickets, go to ticket2me.net.
Comments