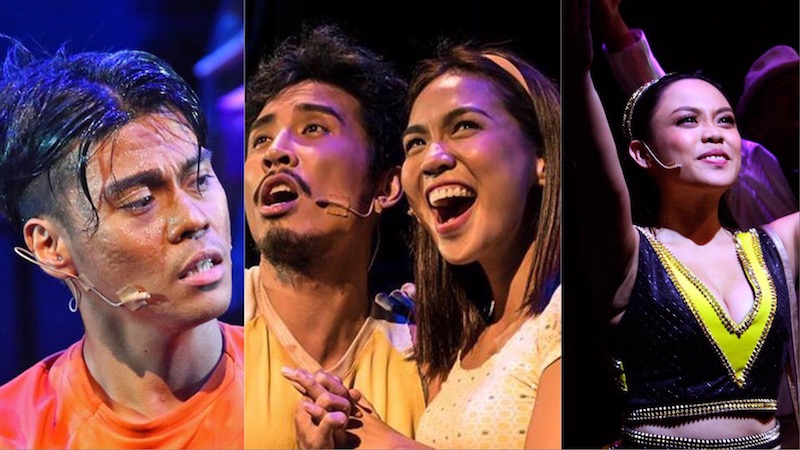 "Rak of Aegis" Reveals Returning Cast for 7th Run!
As previously reported, PETA's smash hit "Rak of Aegis" is coming back to the PETA Theater Center from July 5 to September 29 for its 7th run!
Announced last month is the return of Aicelle Santos and Kim Molina as Aileen. Santos originated the role in 2014, while Molina has played the role since the show's second run. Other principal cast members returning from the original run are Jerald Napoles and Pepe Herrera as Tolits, Isay Alvarez Seña as Kapitana Mary Jane, Robert Seña as Kiel, Kakai Bautista and Neomi Gonzales as Mercy, Myke Salomon and Poppert Bernadas as Kenny, and Ron Alfonso as Jewel.
Shaira Opsimar (Aileen), Sweet Plantado-Tiongson (Kapitana Mary Jane), Renz Verano (Kiel), Joshua Bulot (Tolits), Vince Lim (Kenny), Gie Onida and Rody Vera (Fernan), and Jimi Marquez (Jewel) are also returning. Ensemble members coming back for this run include Gimbey Dela Cruz, Abi Sulit, Gab Pangilinan, Matel Patayon, Gold Villar-Lim, Teetin Villanueva, John Moran, Gio Gahol, Paeng Sudayan, Roi Calilong, and Carlon Matobato.
New cast members who have been cast for principal as well as ensemble roles have yet to be announced.
Featuring songs from the popular 90's band Aegis, the musical tells the story of Aileen, a young girl with a big voice who dreams of becoming a YouTube sensation. As she tries her hand at fulfilling her dream, she also finds herself in the position of helping her barangay battle health hazards and livelihood conditions amidst unceasing flood water.
The show is directed by Artistic Director Maribel Legarda, with a book by Liza Magtoto and musical direction, arrangement, and vocal direction by Myke Salomon. Other members of the creative team include Gio Gahol (choreographer), Mio Infante (set designer), Jonjon Villareal (lights designer), Carlo Villafuerte Pagunaling (costume designer), Maco Custodio (shoe designer), and Jo-ann Pamintuan (accessory designer).
You can watch Jerald Napoles and Kim Molina sing "Mahal na Mahal Kita" from the 2014 run in the video below.
Comments