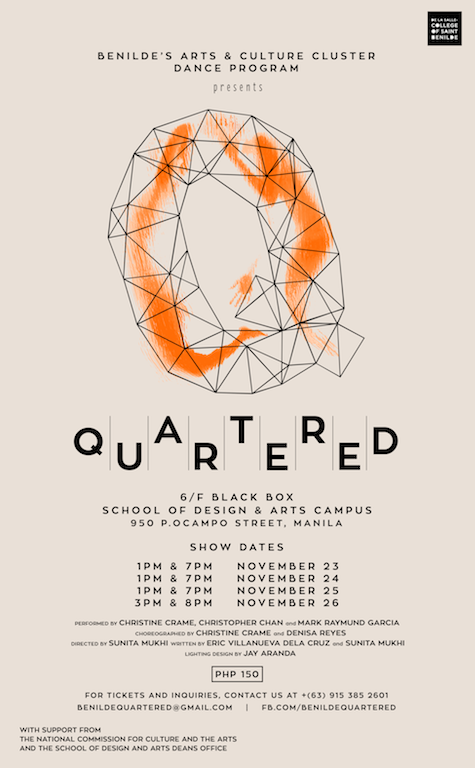 Quartered: Dance in 8 Parts by Benilde
Every person has a dream they want to reach. A person will go through hardships, encounter rejections and even compete with others who stand in the way; one does everything to find his passion and achieve his dreams. But what happens if at the end of the road the result is not what you expected? Artists long to find their passion… to follow their dreams… to find their bliss. What happens if the very dream is a nightmare? If the star you try to reach, is a black hole sucking you in?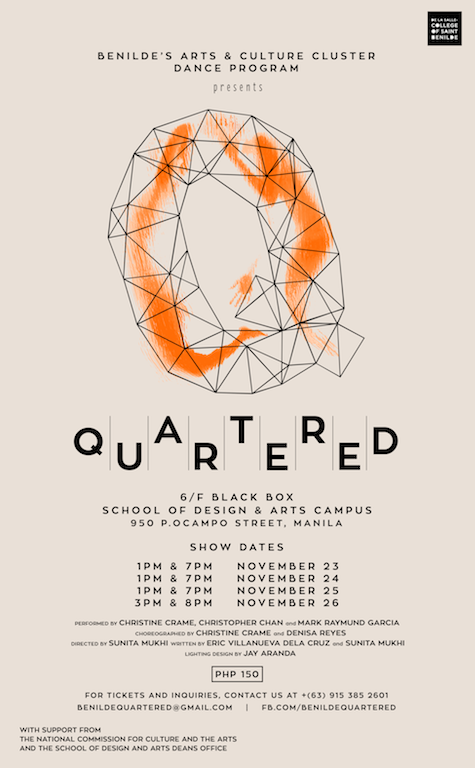 "QUARTERED" revolves around the different stories of artists as they discover their identities in the art scene. It will take you through the journey of the creative person. You walk hand in hand with their struggles, in continuous contention against expectations, labels, rejection, commercialism, and other forces compelling these artists to question whether the undulation between fulfillment and failure is worth it!
You help them decide by joining us in this unusual interactive performance where you are at center stage and the artists surround you with their difficulties and triumphs, with their misgivings and joys. You come and give them hope.
QUARTERED is a dance production presented by the Department of Dance in the Arts and Culture Cluster of De La Salle-College of Saint Benilde, with support from the National Commission for Culture and Arts, Philippines and the School of Design and Arts Dean's Office.
The show opens at the 6th Floor, Black Box of Benilde's School of Design and Arts on November 23, 2016 (Wednesday), with runs until November 26 (Saturday). There will be different show times per day (November 23 (Wednesday, 1pm & 7pm), 24 (Thursday, 1pm & 7pm), 25 (Friday, 1pm & 7pm), and 26 (Saturday, 3pm & 8pm). Tickets are priced at Php 150.00 each and can be purchased by contacting Dianne Vallo at 0915 385 2601 or by visiting our official Facebook page.
Collaborators
Christine Crame is ballet dancer/performance artist and a multidisciplinary scholar. She performs with great skills, discipline, grace and prowess. Her craft has brought far in her career. She has won countless awards and has directed many performances. Today, she continues her passion for dance, theatre performances, and passion to create as the Artistic Director of Saint Benilde Romançion, Seven Contemporary Dance Company, and as the current Chairperson of Dance Program in Benilde's School of Design and Arts.
Denisa Reyes is a renowned choreographer, director, and mentor. She is the founder of NEOFILIPINO, a platform for Filipino choreographers to air experimental and provocative works that speak of inquiries about Philippine contemporary life through dance. She is the former Artistic Director of Ballet Philippines, and is known for her work on Hubad (2008), Sandalang bahay (2005) and Agaton & Mindy (2009). In 2015, she received the Cultural Center of the Philippines' Para sa Sining Award for Dance. While she is more remembered for her dance choreography and the Neo-Filipino dance series that has served as the platform for Philippine contemporary dance, she aspires to direct more plays and dance theater productions.
Christopher Chan is a former theatre actor at the Performance Laboratory Inc. and is now sharing his talents by being a member of Airdance Philippines. He started exploring his talent as a Hip-hop dancer in Bacolod City then later joined Dance Pull School of Performing Arts that is known for the contemporary dance style. He also won various competitions such as Contemporary Dance Competition National, Wifi-Body Independent Contemporary Dance Festival, WiFiBody.ph Choreographers Competition and in Singapore Dance Festival.
Mark Raymund Reyes is an AB Communication graduate of University of St. La Salle-Bacolod and now an intern in the Arts and Culture Cluster of De La Salle-College of St. Benilde. Aside from theater, performance art, and productions, he is also a writer. He was also an assistant faculty member in the Bacollywood Workshops directed by Gabby Fernandez and taught Children's Theater for two years with Mary Irmin Ang.
The stage has been his second home and having a career related to theater and performance is his dream. Quartered is his first project under the SDA Arts and Culture Cluster and he hopes to make this a venue to improve his skills in acting and dancing, as well as learn more through the mentorship of the director, as well as his fellow actors.
Sunita S. Mukhi is a theater/film/performance artist, writer, cultural programs curator and an interdisciplinary performance scholar. She writes and performs her poetry, stories, monologues that espouse the redemptive power of the arts with dynamic women as central characters. She continues her curatorial work, arts advocacy, education and practice as the Associate Dean for Art and Culture cluster at Benilde's School of Design and Arts, and as the Artistic Director of DeviDiva Productions.
Joaquin Jose Aranda is a lighting Director, and Technical Theatre director. He has tied up with multiple productions such as "Aladdin", "Rock Of Ages", "Rigolletta", "San Andres", and many more. He has won many awards with his line of work and has directed for many productions. His works focus on ensuring that the production set is balanced with the theme and concept of the performances he has worked with. Today, Mr. Aranda continues his passion with technical theatre as a Profressor in De Lasalle College of Saint Benilde's for Technical Theatre; he too is their Director for DLS-CSB's Center for Theatre Operations, in addition, he is the Proprietor/Consultant of JJZA Media Production Services, and is the Technical Consultant of GBA Events Asia.
Eric Dela Cruz is a graduate from University of Santo Tomas with a degree in Physical Therapy but later on took the road towards theatre and performing arts. He started to mold his talent under New Voice Company Summer Acting Workshop then entered Tanghalang Pilipino's Intermediate Acting Workshop. After all his hardwork in strengthening his talent he became a Senior-Artist Teacher in Philippine Educational Theater Association (PETA) then took his Masters in Theater at the University of the Philippines Diliman. He participated in almost all art form experience including producing, writing and directing in theatre productions; appearing in several TV shows such as GMA'S Hanggang Kailan, La Vendetta and Marimar, and ABS-CBN's Hiram and Maalaala Mo Kaya; and acting in numerous theatre performances. He is the founder of TAXI Theater. His latest work was the restaging of the horror play, Mulagat.
For more details about what's happening in the Manila theater scene, please view our Theater Calendar.
Comments