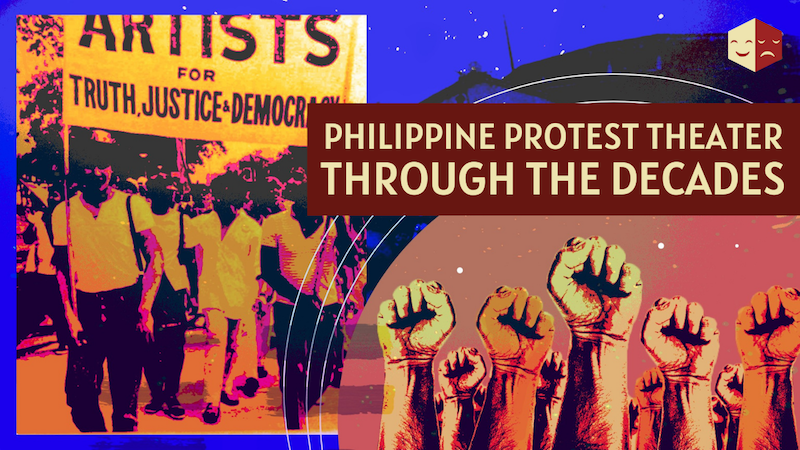 WATCH: Philippine Protest Theater Through the Decades
"Philippine theater has never hesitated to go to war," wrote cultural historian Doreen G. Fernandez. In times of political struggle, Filipino activists have used plays to express their vision for a better world and give the ordeals of the oppressed a place at center stage. To this day, shows like Black Box Productions' Dekada 70, PETA's A Game of Trolls, and Dulaang UP's The Kundiman Party have been staged and restaged, empowering younger audiences to confront social realities. 
In honor of Independence day, we revisit the roots of protest theater in Philippine history—how our nation's storytellers served as harbingers of hope, voices for the voiceless, and the citizens' conscience, even as censors threatened to stifle them.
1900's: "Seditious" plays of the Philippine-American War
In 1901, the Sedition Law was enacted under the Taft Commission, criminalizing the advocacy of Philippine independence. Any protest art was considered a rousing threat to American rule. Still, playwrights took their anti-American sentiments onstage, risking not just their own arrests but those of cast, crew, and audience members. 
Juan Matapang Cruz's Hindi Aco Patay was about the love between Karangalan (honor) and Tangulan (the defender) as they resisted the usurper Macamcam (who symbolized the American insular government). During a performance on May 8, 1903 in Malabon, a drunken American soldier hurled a beer bottle at a Katipunan flag prop, proceeding to tear the scenery apart. Cruz and ten of the play's actors were soon arrested. The renowned playwright Aurelio Tolentino also suffered nine imprisonments in his life, one of which was for a staging of his equally patriotic play, Kahapon, Ngayon at Bukas. 
Their works—while labelled 'seditious' then—are now recognized as some of the first nationalist plays of the country, marking the advent of revolutionary drama.
1940's: Secret messages in the Japanese Occupation
The ban on American films in Japanese-occupied Manila allowed live shows to take their place on the stages of movie theaters. This gave rise to what National Artist Daisy Hontiveros-Avellana called 'The Golden Age of Philippine Theater', when Filipino plays were much in vogue. The efficient censorship of scripts, however, did not allow for the obvious symbolism seen in the nationalist plays that preceded them. 
Instead, stage shows carried subtle messages of hope to those shaken by the war. "Darating si Mang Arturo," an actor uttered in one skit, alluding to General Douglas MacArthur's famed promise. 
Theaters also reportedly served as message centers for guerrillas, where they could furtively meet with friends and supporters. If the Kempeitai (Japanese police) entered the theater, a vocalist would suddenly go onstage mid-show to perform a signal song, alerting the rebels that they had to bolt.
1960's: Proletarian theater groups and the tide of nationalism
The return of the American presence in the forties restored the use of English in local theater. Western classics (such as Shakespeare and Broadway) ruled Philippine stages even after independence in 1946, making theater a bourgeois art appreciated only by the fluent, upper-class minority. By the early sixties, many thespians acknowledged this problem, prompting a huge shift: Where at first, the Filipino tongue was called baduy, by the end of the decade, it had become the language of the stage.
Companies like PETA and playwrights like Rolando Tinio started staging more original Filipino works and translations of Western plays. The rise of student activism also led to the formation of cultural groups like Panday Sining, Gintong Silahis, Tanghalang Bayan, and Samahang Kamanyang. They popularized 'proletarian theater', devising spectacles from real-life experiences of oppression and exposing the injustices that hounded the era's political landscape.
Through their 'dulansangan' in basketball courts, churchyards, and rice fields, these groups laid the groundwork for theater activism under Marcos' martial law regime.
1970's: Camouflaging political intent under martial law
Under Proclamation No. 1081, theater could not be as propagandistic as before. While some commercial theater troupes stuck to 'harmless' zarzuelas, comedies, and musicals, activists strove to resist indirectly through their art. They staged plays around history and tradition, depicting past issues that mirrored those of their dark present. Nicanor Tiongson's Pilipinas Circa 1907, for instance, was a politicizing spectacle disguised in an anti-American Christmas play.
UP Repertory's Bonifacio Ilagan also used the cover of religion in Pagsambang Bayan. But because of the more blatant criticism it contained against the tyrannical Marcos administration, director Behn Cervantes was arrested after a 1977 staging of the play. Many other cultural workers and political actors simply 'disappeared'.
"Political will and a keen sense of the power of the medium drove us to learn theater through actual and urgent theater work, like learning warfare through warfare…No rally was complete without activist theater," Ilagan later wrote.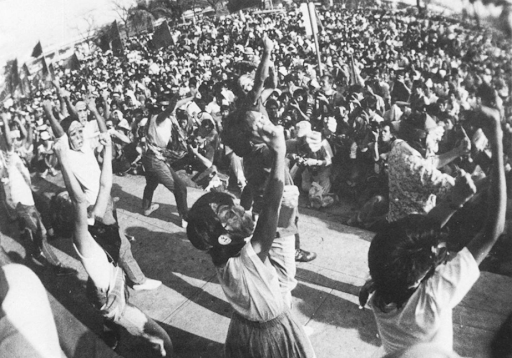 1970's—1980's: People's theater in Visayas and Mindanao
As performance activists grew louder with increasing human rights violations and the Aquino assassination, some left Manila to bring people's theater to outlying regions. Former participants of PETA's Basic Integrated Theater Arts Workshop (BITAW)—a three-day course that empowered thespians to stage their stories of exploitation—in the early seventies relayed their knowledge in Davao, Lanao del Norte, Negros, Leyte, and Samar. 
Playwright and Mindanao Community Theater Network founder Fr. Karl Gaspar was among these BITAW organizers. Although he was arrested twice for the protest plays he produced, he continued to write behind bars and even established a theater program for his fellow detainees in 1983. Meanwhile, members of the police intelligence chased actors around the stage in a Christmas play from Samar's Makabugwas theater group. This blossoming of regional theater came with such 'necessary evils' of thespian harassment. 
Protest theater has gone a long way since colonial years. In every stage, it has proven to be a powerful weapon—an art of resistance and emancipation that flourished when others tried to muzzle it. 
With their ingenuity and guts, these pioneering activists remind us to continue making noise on the stage of the nation.
Comments