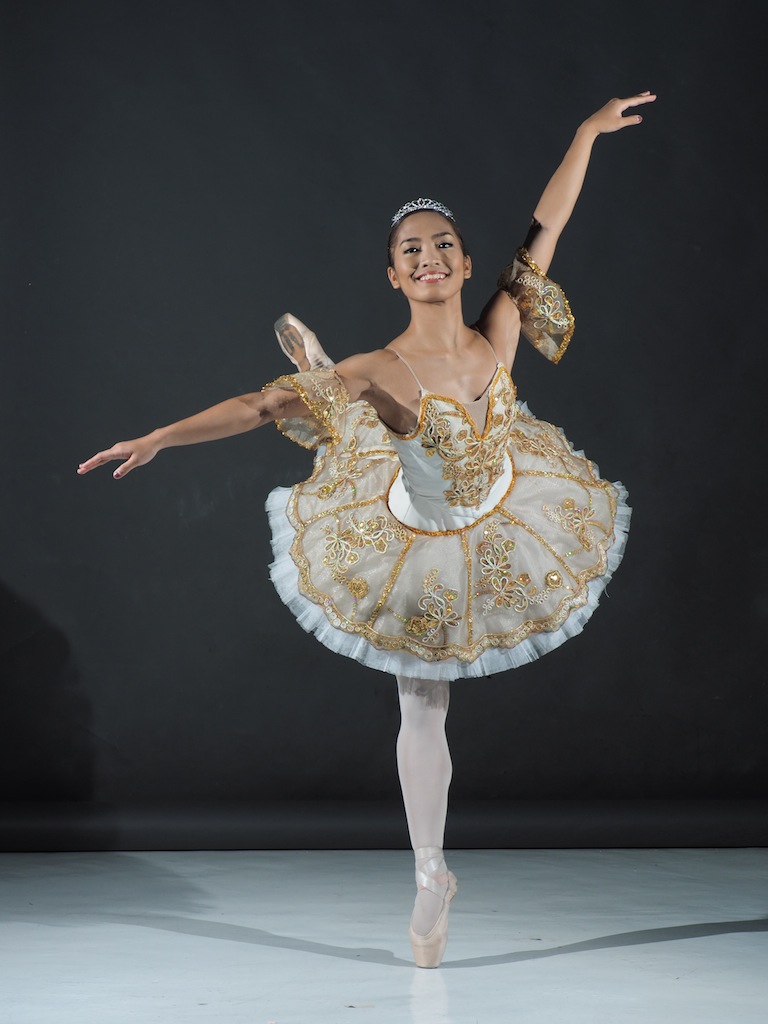 Philippine Ballet Theatre Restages La Bayadere
Philippine Ballet Theater (PBT) restages "La Bayadere" to open its 31st season. This 19th century classic has been regarded as one of PBT's trademark performances and Philippine audience has been waiting for its return to the stage.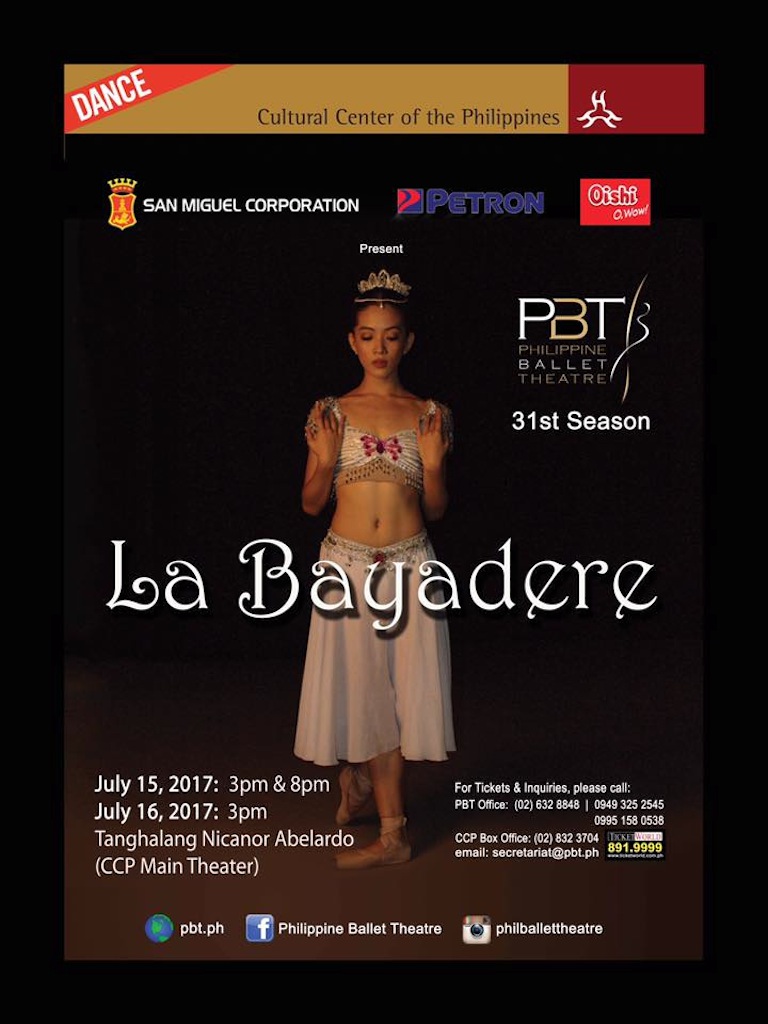 About the Show
The word "bayadere" is a French word that translates to "temple dancer", but the word was rooted from a Portuguese word that means "dance." Indeed, this ballet makes the dancers dance to the bone. Marius Petipa's choreography demands pristine lines and tempered dancing from the corp de ballet, and the exact opposite from its leads. The title roles are made to dance a spectacle of sorts while displaying a wide range of emotions. Indeed the technical and artistic requirements of this ballet is sky high.
La Bayadere or the Temple Dancer centers on 3 main characters– Solor, the brave warrior, Nikiya, the beautiful temple dancer, and Gamzatti, the daughter of the Rajah. Set in Imperial India, the story is about vengeance, justice and fate.
It has been performed several times before by PBT and has consistently reaffirmed the quality of the Company's dancers. It has ably showcased and has even launched the careers of different generations of dancers, including international star Jared Tan (former soloist of Philippine Ballet Theatre) who has come home to join the production.
Jared Tan
Jared Tan is a homegrown talent who was lucky enough to have found a solid spot in Atlanta Ballet's roster. Critics abroad are now zooming in on his career. He was recently given ample praise for his performance in AB's "Firebird" and "Vespertine." The favorable reception of the two pieces that showcase both his classical and modern technique are good indications of where he is going as an artist.
He comes full circle this time around as he revisits a ballet that helped him rise through the ranks when he was with PBT. In 2004, he first tackled the ballet when he performed the epic character "Golden Idol". In 2008, he performed the lead role of "Solor"  and was finally baptised as one of the Company's reliable constants. Equipped with improved technique and richer experience, he now returns as an international guest star.
When asked how he thinks this performance will be different from his previous attempts, he says "I approach this performance in a different manner. I am more confident with my technique, so I have the opportunity to deepen my artistry. I am not performing with my sister this time so I can assume the role in a different way. I'm also very intent on making sure my partnership with my partner translates well to the audiences." If there is one thing on his mind it is that he wants his shows to make a difference for PBT and emphasized that he comes back periodically because he wants to contribute to the dance community. "I may not be a big star in my Company yet but I do hope that my performances can inspire people. I'm giving my 100% to make sure that people leave satisfied with the Filipino artist."
While Tan's familiarity to the ballet is a plus, the rest of the cast will be entering the stage as debutantes. He will be partnering with two of PBT's rising stars– award-winning dancers Kim Abrogena and Veronica Atienza. They will debut as "Nikiya" and "Gamzatti" in their first lead roles in a full length ballet. Matthew Davo will take on the role of "Solor" in his first principal role. He will be partnered by PBT's dynamic duo Lobreza Pimentel (Nikiya) and Regine Magbitang (Gamzatti).
Show Details
PERFORMANCE SCHEDULE:
July 15, 2017 (Saturday) | 3:00PM & 8:00PM
July 16, 2017 (Sunday) | 3:00PM
You can buy tickets HERE.
For more details about what's happening in the Manila theater scene, please view our Theater Calendar.
Comments