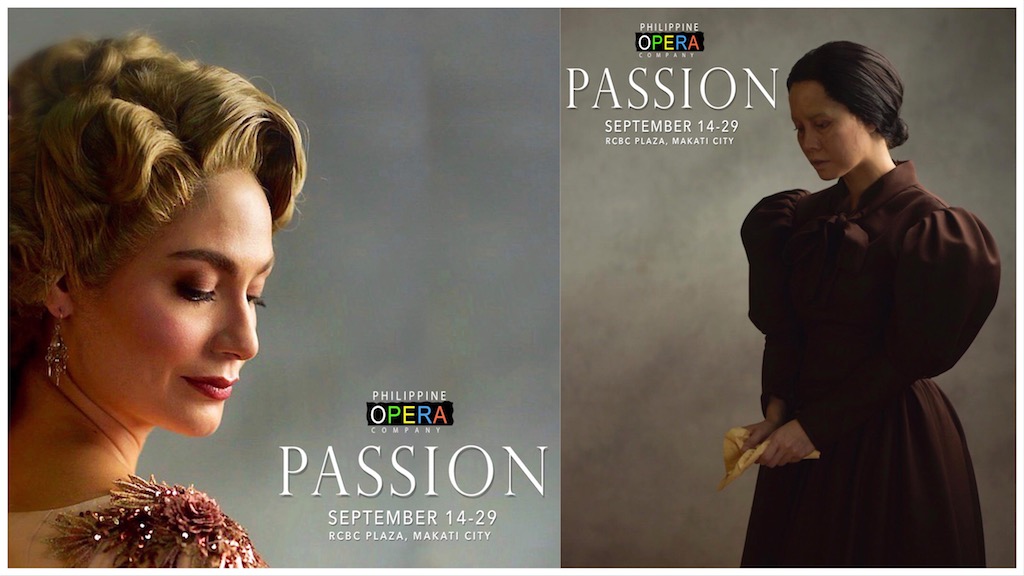 "Passion" Musical Announces Full Cast
As previously reported, the Philippine Opera Company will be staging Stephen Sondheim's "Passion" from September 14-29 at the Carlos P. Romulo Auditorium of RCBC Plaza.
Based on the 1981 Italian film 'Passione d'amore', written by Sondheim (music and lyrics) and James Lapine (book), "Passion" is a one-act chamber opera about a man's relationship with two women.
Italian officer Giorgio is engaged in an exciting affair with a married lover, Clara, when he's transferred to a provincial outpost. There, his commanding officer Colonel Ricci and the company doctor Tambourri encourage his friendship with Ricci's ailing cousin Fosca, as she's desperately in need of friendly companionship. At first pleased to be of help, Giorgio is pained by Fosca's unwanted advances and her attempts to turn their relationship into a romance. In frustration, he turns his back on her, but through his dealings with both women in his life, learns some deep lessons about love and commitment.
Jasmine Fitzgerald, Vien King, and Shiela Valderrama-Martinez will be playing lead characters Clara, Giorgio, and Fosca respectively. Joining them are Lorenz Martinez (Doctor Tambourri), Raul Montesa (Colonel Ricci), and Noel Rayos (Lt. Torasso).
The cast also includes Jonel Mojica (Major Rizzolli), Lorenzo Mendoza (Pvt. Augenti), Jos Jalbuena (Ludovic), Timothy Racho (Sgt. Lombardi), Joshua Cheng (Lt. Barri), Vyen Villanueva (Fosca's Father) Lorraine Lisen (Mistress) and Jasmin Salvo (Fosca's Mother).
The production will be directed by Robbie Guevara. Other members of the artistic team include Karla Gutierrez (Artistic Director – Philippine Opera Company), Daniel Bartolome (Musical Director and Conductor), Jason and Jo Tecson (Set Designers), Shakira Villa Symes (Lighting Director), Zenaida Gutierrez (Costume Designer), Myrene Santos (Hair and Make-Up Designer), Venger S. Marquez (Vocal Coach), and Sunshine R. Domine (Production Manager). The score will be performed by the Philippine Opera Orchestra under the baton of musical conductor Daniel Bartolome.
"Passion" opened on Broadway in 1994 and won four Tony Awards– Best Musical, Best Book of a Musical, Best Original Score and, Best Performance by a Leading Actress in a Musical for Donna Murphy.
You can buy tickets HERE.
Comments