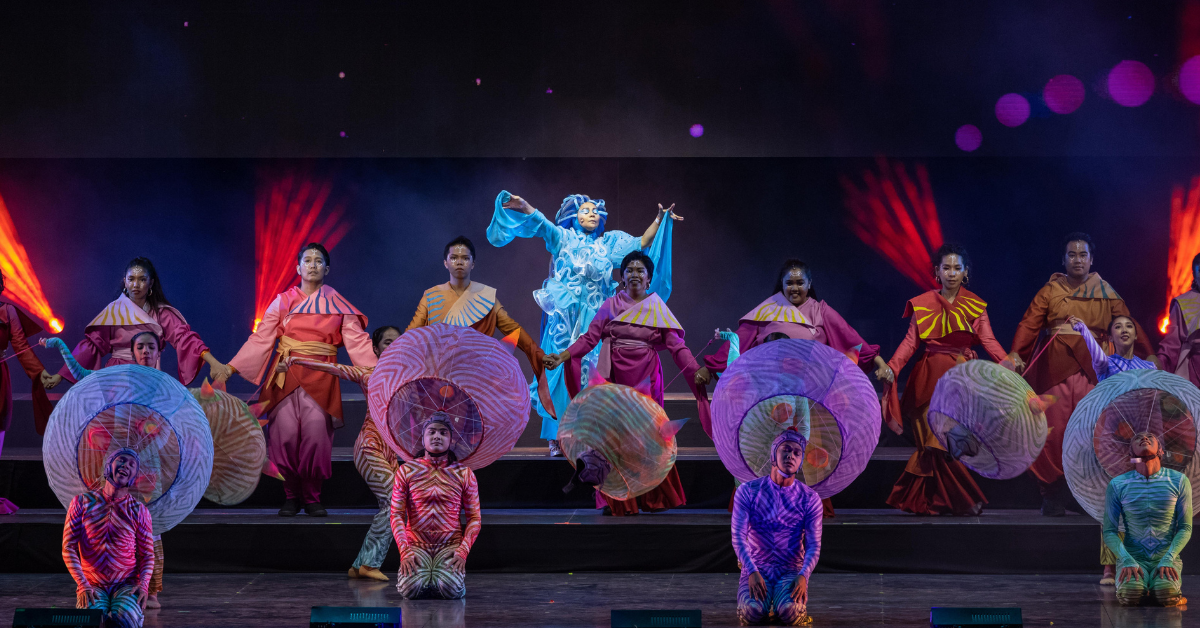 Now Streaming: 'Tides of Our Soul' Musical from Dubai World Expo
In celebration of the Philippines National Day held at the Dubai World Expo, Filipino artists performed the one-hour original musical spectacle, Daluyong ng Diwa (Tides of Our Soul) last February 11, which tells the story of the Philippines through song and dance.
The production traces the 4,000-year story of the Filipino people, told in six suites, with music and lyrics by Ejay Yatco, choreography by JM Cabling, and costumes and production design by Leeroy New. The story is told through the eyes of a mystic being who represents the Filipinos' soul, a being who was there from the very beginning, and is continued through a child who carries the Filipino soul with her as the nation moves towards the future. 
The cast features Bayang Barrios (Diwata), Alexa Salcedo (Young Girl), Paw Castillo (Rapper), Arman Ferrer (Ulan/Rain), Abi Sulit (Araw/Sun), Mikee Baskiñas (Buhangin/Sand), Paula Paguio (Buto/Seed), Red Nuestro (Tubig/Water), Joshua Cabiladas (Bahaghari/Rainbow), Carissa Adea (Mother Bird), Micheal Que (Dance Soloist), and Abbey Carlos (Dance Soloist).
They are joined by Roxy Aldiosa, Raflesia Bravo, Maia Dapul, Rhapsody Li, Eizel Marcelo, Ian Hermogenes, Juancho Gabriel, Elliot Eustacio, and Arion Sanchez. The dancers include Rudy De Dios, Sarah Samaniego, Jourdan Bartolome, Marveen Lozano, Minette Maza, Pio Opinaldo, Honey Juntila, Mark Anthony Grantos, Maila Habagat, Carlos Deriada, Jai Nacionales, Raul Raquitico, Rose Panuelos, JP Ortenero, Chloe Alcid, Kirby Teraza, Mikaela Samson, Dingdong Selga, Lili Macatangay, Maw Planes, Danica Calapatan, Dan Nagal, Stella Mee Estriber, Francis Gatmaytan, Michaella Carreon, Joshua Bajado, Eli Balleras, JL Celecio, Louis Grace Meneses, and Brian Moreno.
The show is produced and directed by Bart Guingona. Also in the Artistic Team are Mark Dalacat (Creative Director and Dramaturg), Krina Cayabyab (Vocal Arranger), Meliton Roxas Jr. (Lighting Designer and Technical Director), Steven Tansiongco (Multimedia Designer), Philip Franco (Multimedia Designer), Luna Griño-Inocian (Script Consultant and Copywriter), Rardz Corpus (Sound Engineer), Marveen Lozano, Jourdan Bartolome, and Sara Samaniego (Assistant Choreographers), Carissa Adea, Abbey Carlos, MC Maza, and Micheal Que (Dance Captains), John Nicholo Katipunan (Poster Designer), Aina Ramolete (Illustrator), and Mikko Angeles (Layout Artist).
You can watch the whole production below.
Comments