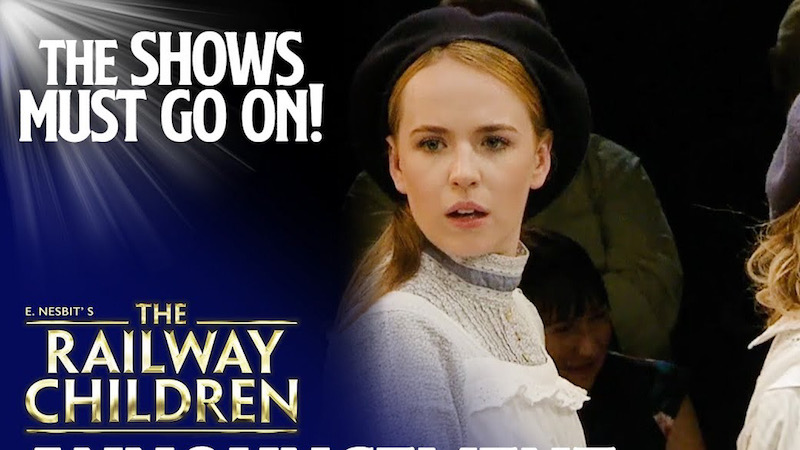 Now Streaming: 'The Railway Children' by York Theatre Royal
The filmed stage production of The Railway Children is the next show that's streaming on The Shows Must Go On! YouTube channel.
Adapted from E. Nesbit's novel of the same name, the production by York Theatre Royal is directed by the company's Artistic Director, Damian Cruden. The story follows Roberta (Bobbie), Phyllis, and Peter, three sheltered siblings who suffer a huge upheaval when their father is falsely imprisoned. The children and their mother, now penniless, are forced to move from London to rural Yorkshire into a new home next to a railway line.
Dealing with themes of justice, the importance of family, and the kindness of strangers, the event is filmed from the National Railway Museum in Yorkshire, featuring the train from the original 1970 film. It has been adapted by Mike Kenny and directed for the screen by Ross MacGibbon.
The cast features Rozzi Nicholson-Lailey (Roberta), Izaak Cainer (Peter), Beth Lilly (Phyllis), Andrina Carroll (Mother), Rob Angell (Father), Jacqueline Naylor (Mrs. Viney), Elianne Byrne (Mrs. Perks), Martin Barrass (Mr. Perks), James Weaver (Butler), Michael Lambourne (Old Gentleman), and Alex Wingfield (Jim).
The Railway Children will only be streaming for 48 hours on The Shows Must Go On YouTube channel. The online medium has been streaming musicals and concerts for free as early as April this year, including Joseph and the Amazing Technicolor Dreamcoat, Jesus Christ Superstar, The Phantom of the Opera, Love Never Dies, Cats, The War of the Worlds, and The Wind in the Willows, among many others.
It is currently streaming its Tony Award-winning season, which has featured the West End productions of An American in Paris, Red, 42nd Street, Gypsy, and Kinky Boots.
You can watch the full show below.
Comments