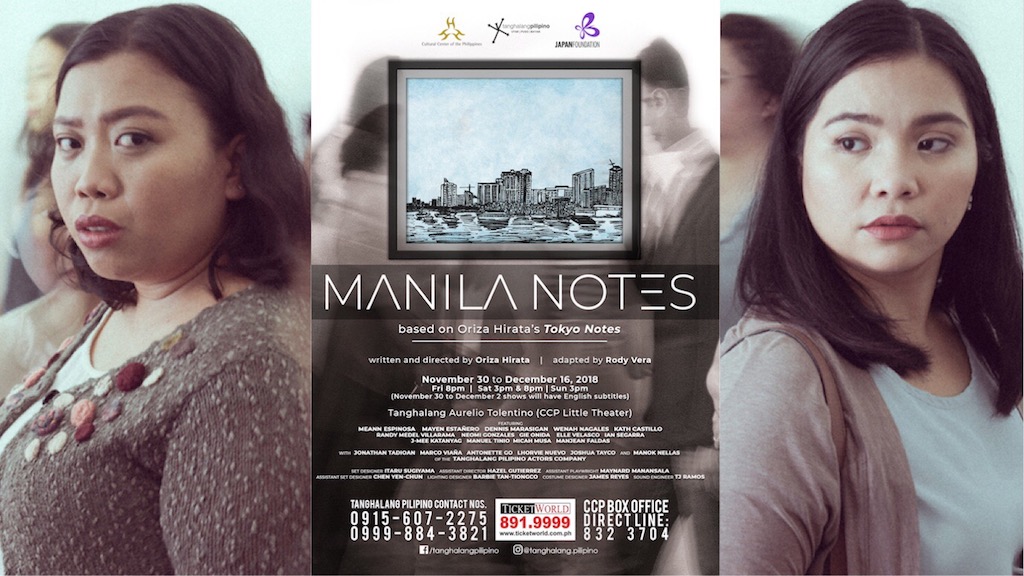 Now Streaming: 'Manila Notes' by Tanghalang Pilipino
The full production of Tanghalang Pilipino's Manila Notes is currently streaming on the kXchange.org website and will be available for only 48 hours.
Adapted by Rody Vera from Oriza Hirata's play Tokyo Notes, Manila Notes, which was also directed by Hirata, was staged at the CCP Little Theater in 2018. The play is set in a museum lobby in Manila sometime in the near future, all while a major war is brewing on the other side of the world. Amidst the vague uneasiness because of a distant war, the lives of the characters play out, through everyday dialogues and every silence in between.
The cast features Meann Espinosa, Mayen Estañero, Dennis Marasigan, Gie Onida, Ian Segarra, J-Mee Katanyag, Neomi Gonzales, Wenah Nagales, Kathlyn Castillo, Randy Villarama, Elle Velasco, Joshua Tayco, Micah Musa, Manuel Tinio, Manjean Faldas, and members of the Tanghalang Pilipino Actors Company– Jonathan Tadioan, Marco Viaña, Lhorvie Nuevo, Antonette Go, and Manok Nellas.
kXchange.org is a website run by Komunidad X, the anti-disciplinary collective arm of Sipat Lawin Inc. It is the first virtual center for contemporary performance in the Philippines and the world. It also showcases a series of performance sharing streams, panel discussions, and recorded interviews.
Aside from the full performance of Manila Notes, audiences can also watch interviews with Mayen Estanero, Antonette Go, and John Carlo Pagunaling, who talk about their involvement in the play's production. These interviews are part of the website's UTSUROI Live Archives, a series presented by Komunidad X and co-organized by The Japan Foundation, Manila, featuring the cultural exchanges and performances of Filipino and Japanese artists developed in the Philippines and Japan.
You can watch the full production below.
Comments