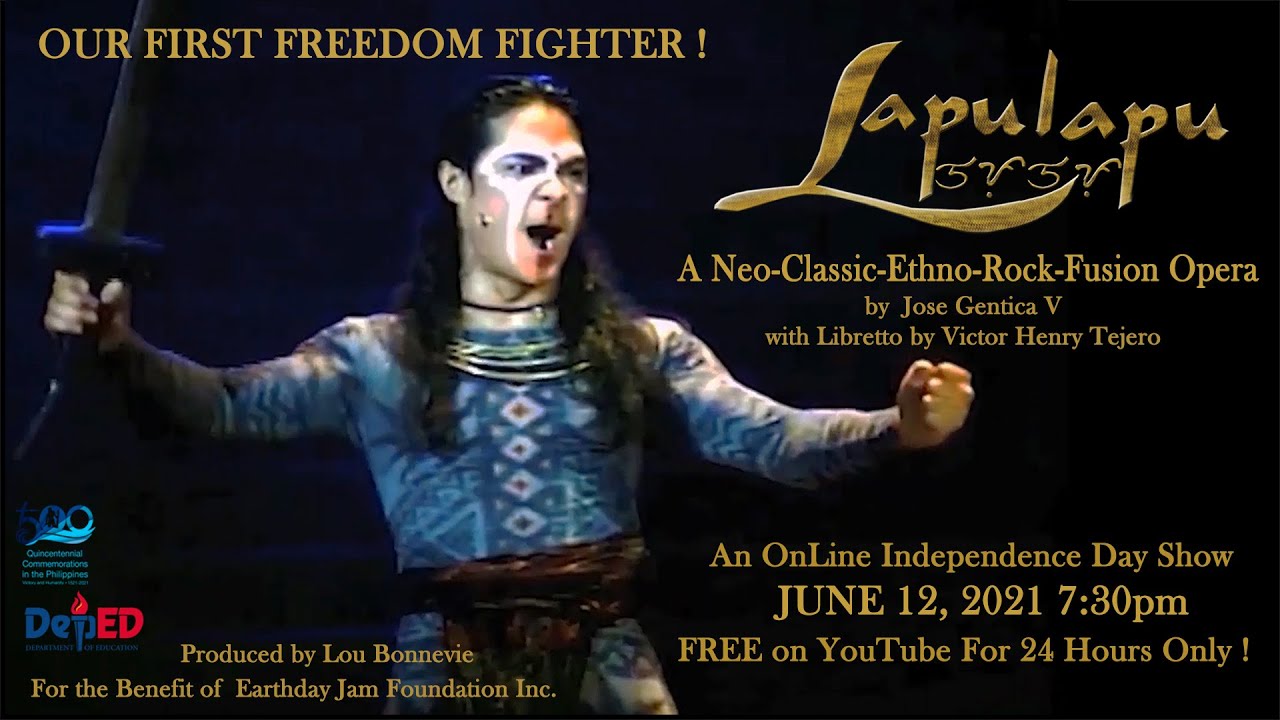 Now Streaming: 'Lapu-lapu, A Neo-Classic-Ethno-Rock-Fusion-Opera'
The 1997 production of Lapu-lapu, A Neo-Classic-Ethno-Rock-Fusion-Opera is currently streaming online for 24 hours only in celebration of our country's 123rd Independence Day.
Directed by the late Behn Cervantes, with music by Jose "Toto" Gentica V and a libretto by Victor Henry Tejero, the opera is about the mystique that enshrouds the first native to defy imperialistic power; the basic conflict between Lapu-lapu and Magellan—between dweller and invader; between native son and alien explorer in 1521.
The opera uses Bisaya, Spanish, English, and Tagalog, and the music is a mix of modern technology, using synthesizers with ethnic, percussive, chinese, and rock live instruments.
The production design is by the late National Artist Salvador Bernal, with lighting design by Shoko Matsumoto, and choreography by Denisa Reyes. It is produced by Lou Bonnevie.
The cast features Miguel Vasquez as Lapu-Lapu; Tenor Dodo Crisol alternating with Ric Segreto as Magellan; Karla Gutierrez alternating with Pinky Marquez as Beatriz, the wife of Magellan; Audie Gemora alternating with Popong Landero as Enrique de Tropabana; Grace Nono as Bathalumang Manggugubat; and Fides Cuyugan-Asencio as Reyna Juana la Loca, accompanied by a cast of 60.
The online stream is also a fundraiser for Earthday Jam Foundation Inc.'s ongoing campaign, Arte-Likhasan, whose mission is to provide a creative outlet in these trying times as they promote greater awareness on environmental care.
You can watch the full production on Lou Bonnevie's YouTube channel below.
Comments