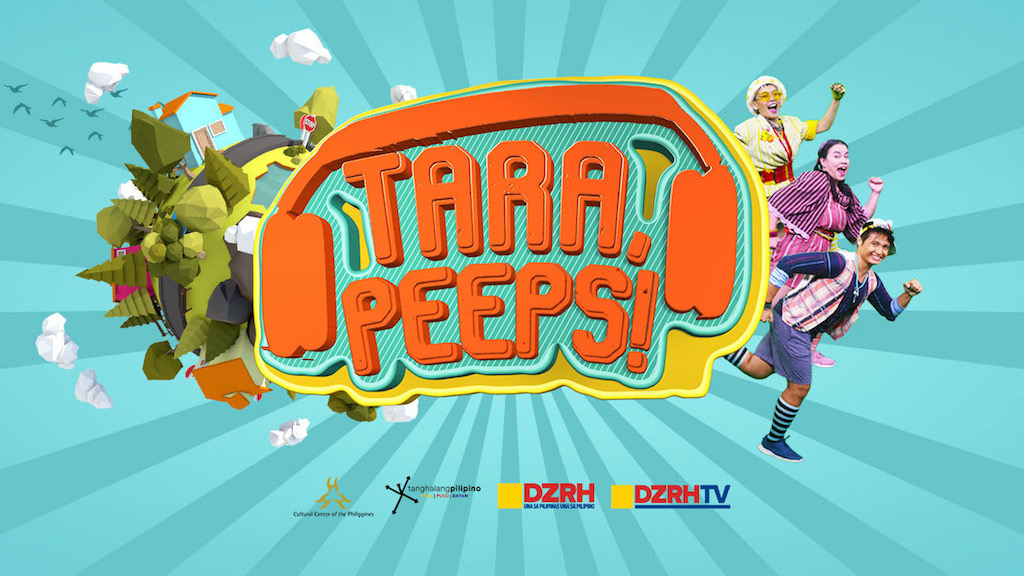 Now Streaming: Children's Show "Tara, Peeps!" is Online
The new multimedia children's program by Tanghalang Pilipino and DZRH, Tara, Peeps!, is now streaming online.
The program provides entertainment and shares important lessons to the residents of Barangay KAPWA. In Barangay KAPWA, humans and other creatures live harmoniously. Audiences will get to know DJ Pipoy, the handsome jokester, DJ Pipay who possess both beauty and brains, and Kwagie, the beloved Brgy. KAPWA influencer who is always willing to help. Each episode focuses on the problem of a certain member of the community, which is solved using the shows from Tanghalang Pilipino.
The cast features Nicholas Valdez as DJ Pipoy, Aggy Mago as DJ Pipay, and Mitzi Comia as Kwagie. They are also be joined by the Tanghalang Pilipino Actors Company.
The series is directed by Lhorvie Nuevo. The artistic team also includes Antonette Go (assistant director/ head stage manager), Heart Puyong (second assistant director/ assistant stage manager), JV Ibesate (head writer), Gracetine D. Magpantay (writer), Edrick Alcontado (writer/ composer), Judie Dimayuga (arranger), Daniel Gregorio (production manager/ production designer), Marco Viaña (production designer), Queny Joy Subong (animator), Ricky Orellana (animator), Justin David Santiago (editor), Jo Ann Requiestas (assistant production manager/ safety officer), Chi Navarra (deputy production manager), and Ann Abubo (assistant production manager).
The first episode premiered last December 12, 3:30pm. A new episode will be released every Sunday at 3:30pm via the Tara, Peeps! Facebook page until June 2022. It will also be airing simultaneously on the DZRH radio station and on cable TV (Channel 3 for Cablelink, Channel 14 for Converge Vision, Channel 18 for Cignal, Channel 39 for G Sat, Channel 129 for Sky Cable, and Channel 140 for SatLite).
You can watch the first episode below.
Comments