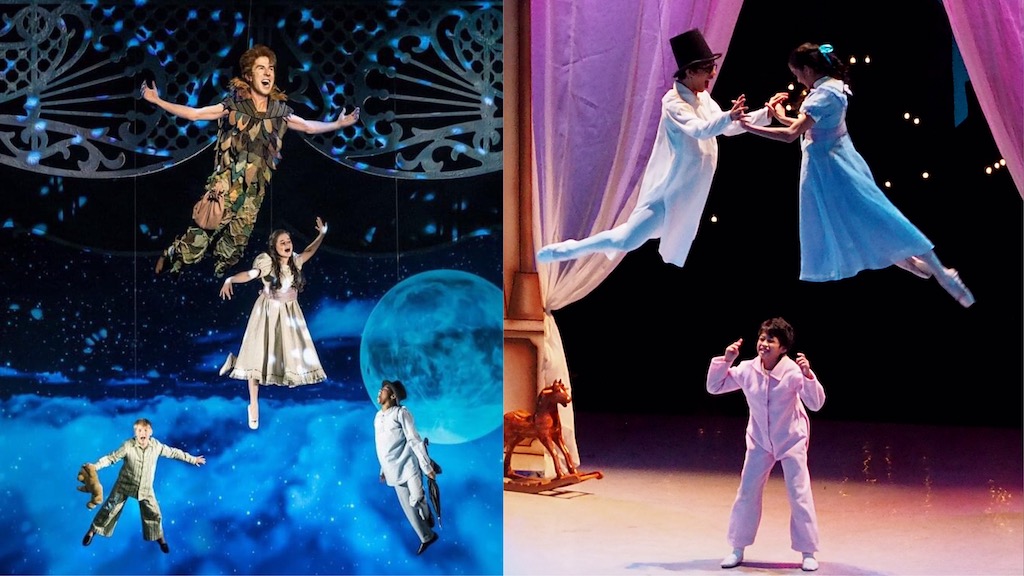 Now Streaming: 2 'Peter Pan' Shows are Online
Audiences can now watch two Peter Pan productions online.
The first one, which started streaming last December 15, is Ballet Philippines' 2015 production, choreographed by Edna Vida Froilan and restaged by Ramon Victoria and Edana Mae Labitoria.
The streaming cast features Victor Maguad in the titular role, Monica Gana as Wendy, Janine Arisola as Tinkerbell, Ricmar Policarpio as John, David Andes as Michael, Paul Alexander Morales as Father Darling, Sarah Alejandro as Mother Darling, Bryan Abano as Nana, Lester Reguindin as Captain Hook, Ace Polias as Smee, and Jimmy Mateo as the Crocodile. The production was filmed from the December 13, 2015, 6pm show at the CCP Main Theater.
The music is by Mark Charlap and Jule Styne, et al., with lyrics by Carolyn Leigh, Betty Comden, and Adolph Green, scenario by Edna Vida Froilan based on the play by J.M. Barrie, set and costume design by Salvador Bernal, lighting design by John Batalla, and set consultancy by Ricardo Cruz.
You can watch the full production below.
The second one is a musical by Chicago Shakespeare Theater entitled 
Peter Pan: A Musical Adventure.
Filmed from the company's 2018 production, the 80-minute, newly re-mastered show will be streaming for free worldwide from December 19 to January 1.
Based on J.M. Barrie's tale, the music and lyrics is written by George Stiles and Anthony Drewe respectively, in a new version by Elliot Davis based on the original book by Willis Hall. It is directed and choreographed by Amber Mak, with musical direction by Kory Danielson, scenic design by Jeff Kmeic, costume design by Theresa Ham, lighting design by Greg Hofmann, projections design by Mike Tutaj, sound design by Ray Nardelli, wig and make-up design by Richard Jarvie, orchestrations by Matt Deitchman, fight choreography by Jerry Galante, dialect coaching by Susan Gosdick, and associate direction/choreography by Megan E. Farley.
The cast stars Johnny Shea in the titular role. Joining him are Elizabeth Stenholt as Wendy, Cameron Goode as John, Carter Graf as Michael, Rengin Altay as the Storyteller, James Konicek as Mr. Darling/Captain Hook, Roberta Burke as Mrs. Darling/Cecco, Jonathan Butler-Duplessis as Nana/Bill Jukes, Sean Patrick Fawcett as Smee, Christina Hall as Starkey, Michael Kurowski as Tootles, Colin Lawrence as Curly, John Marshall Jr. as Slightly Soiled, and Travis Austin Wright as Nibs.
You can watch the full production HERE.
Comments