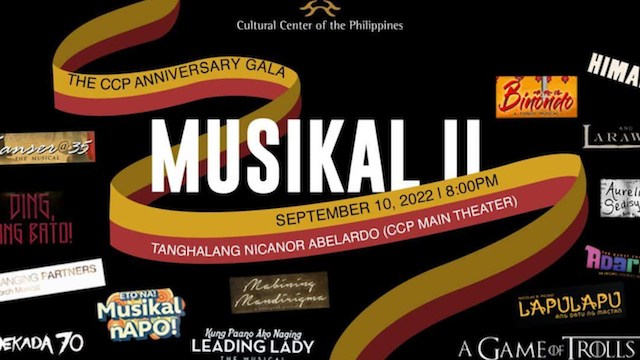 'Musikal II' Concert of Filipino Musicals to be Staged this September
A sequel to Musikal! A Musical Theater Celebration, which was staged at the CCP in 2014, Musikal II will run for one night only on September 10, 8pm at the CCP Main Theater in celebration of the CCP's 53rd anniversary.
The anniversary gala will consist of excerpts of original Filipino musicals from 2015 to 2021 in vignettes, featuring artists across different theater companies. Shows that are part of the line-up include Himala: Isang Musikal, Ang Huling El Bimbo, Binondo: A Tsinoy Musical, Ang Larawan, Aurelio Sedisyoso, The Quest for the Adarna, Lapulapu: Ang Datu ng Mactan, Mabining Mandirigma, A Game of Trolls, Kung Paano Ako Naging Leading Lady, Eto na! Musikal nAPO!, Dekada '70, Changing Partners, Ding, Ang Bato!, Guadalupe the Musical, Awitin Mo at Isasayaw Ko, Felix Starro (Off-Broadway), Friction, Daluyong ng Diwa, and Kanser the Musical.
The show is directed by Menchu Lauchengco-Yulo, with Vincent A. DeJesus and Ejay Yatco serving as co-musical directors. Two original songs both for the opening and closing numbers have also been composed by DeJesus, while Yatco has arranged for the orchestra. Yatco will also be serving as the evening's conductor.
CCP's 53rd anniversary also marks the beginning of the 3-year renovation plan of the CCP main building.
The event is invitational but certain sections are free and open to the public. Tickets for the public will be released at the CCP Main Ramp two hours before the performance on a first come, first served basis. The event will also be livestreamed on the CCP Facebook page.
The 2014 Musikal! concert was staged at the CCP Main Theater for 2 nights last September 5 and 6, with excerpts from musicals that were also performed from the past 5 years of its time– Rak of Aegis, Sa Wakas, Care Divas, Katy!, Maxie the Musical, ZsaZsa Zaturnnah Ze Muzikal, Rama Hari, Magsimula Ka, Rock Supremo, Sandosenang Sapatos, Bluebird of Happiness, Toilet the Musical, Rivalry, Sinta, Noli Me Tangere, Walang Sugat, Mga Kababaihan ng Malolos, Stageshow, San Andres B, Himala, Batang Rizal, and Lorenzo, in celebration of CCP's 45th anniversary.
Audiences can check the health and safety protocols at https://bit.ly/staysafeatCCP.
Update, 8/28/22, 6:25pm: An earlier version of this article did not include Ang Huling El Bimbo and Guadalupe the Musical in the line-up. We have corrected the error.
Update, 8/29/22, 12:15am: An earlier version of this article did not include Awitin Mo at Isasayaw Ko, Felix Starro, Friction, and Daluyong ng Diwa in the line-up. We have corrected the error.
Update, 8/29/22, 6:24pm: We added the information about when and where tickets will be released to the public as well as the information on health protocols.
Comments