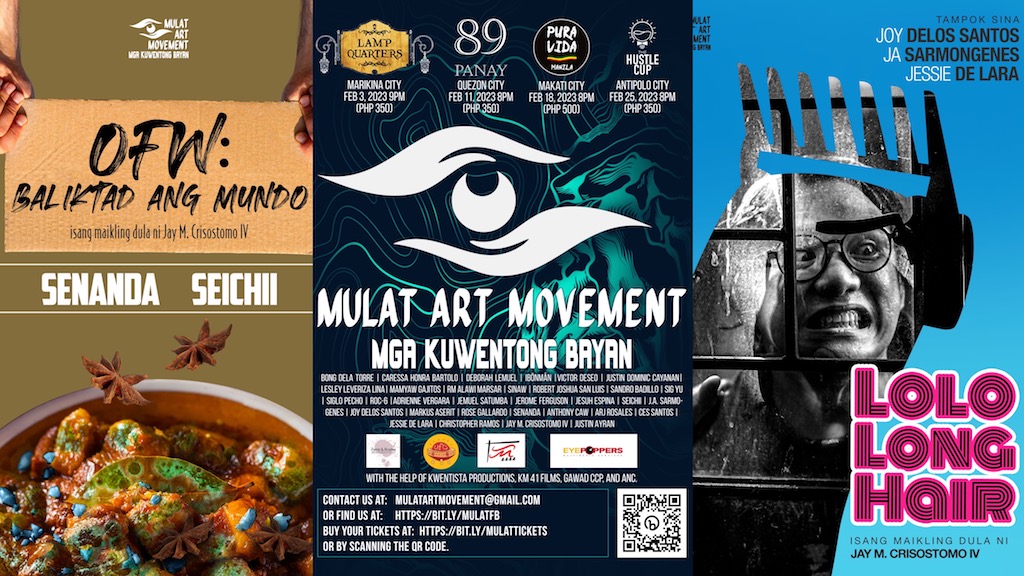 'Mulat Art Movement' to Begin Shows this February
Spearheaded by playwrights and directors Jay M. Crisostomo IV and Justin Ayran, the Mulat Art Movement aims to bring artistic performances to small communities in order to spark conversations and discussions about social issues, values, and the role each Filipino has to play in order to make the country better.
The group is composed of both veterans in the art scene (such as acclaimed filmmaker Ibonman) and young, up-and-coming artists (such as actor/dancer Deborah Lemuel, fresh off from Mula sa Buwan). The plays that will be part of the upcoming run include 4 plays by Crisostomo and Ayran that tackle the different facets of the Filipino experience. From embracing simple, common-sense truths such as, "it is wrong to lie" and "it is wrong to hire incompetent people" (Di Ba?), to discussions on the effects of inflation and the barriers to employment (Tatlong Gabi), to the absurdity of fake news and manipulated facts (OFW: Baliktad ang Mundo) to the refusal to stop fighting for what is right in the face of all adversity (Lolo Long Hair), these works aim to make audiences think about what they can do to strive towards a better world.
The group will be taking the production to various cafes, bars, and art venues this February to bring awareness to the cause and raise funds for its operations. In March, however, the group will start visiting the smaller communities it originally planned to perform in, staging them in basketball courts, barangay halls, and open streets, all in its effort to reach more people and effect change in the country.
The Mulat Art Movement relies on the volunteerism of its artists and the support of people who share a common goal with the group. The movement is ready to accept more volunteers, collaborators, and financial supporters through its Facebook page.
Catch the Mulat Art Movement's February shows: Feb 3, 9pm, Lamp Quarters, Marikina City; Feb 11, 8pm, 89 Panay, Quezon City; Feb 18, 8pm, Pura Vida, Makati City; and Feb 25, 8pm, Hustle Cup, Antipolo City. Tickets are available at bit.ly/MulatTickets.
Comments