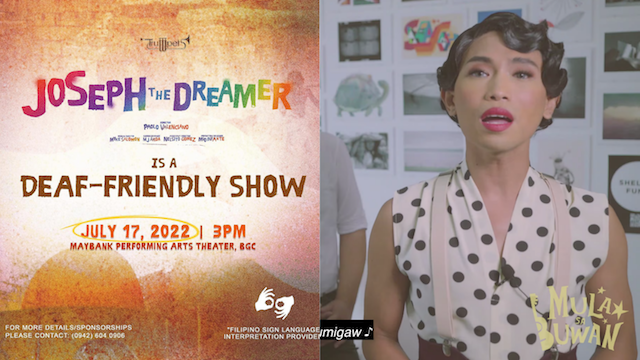 'Mula Sa Buwan,' 'Joseph the Dreamer' Announce Shows for Deaf Community
Upcoming musicals Joseph the Dreamer and Mula sa Buwan have set performances dates that are specially catered to the Deaf community.
For Joseph the Dreamer, the July 17, 3pm show will have a Filipino Sign Language Interpreter present off-stage. Interested parties can contact 0942-6040906 for more details.
For Mula sa Buwan, the Rose Section of the September 4, 7:30pm show will have Filipino Sign Language (FSL) interpreters together with surtitles. Interested parties can get additional discounts which may extend to two of their friends or family members.
You can learn more about it in the video below. For more details, check msbtickets.net/communityshow or send them a message.
Joseph the Dreamer
will be running from July 15-31, 2022 at the Maybank Performing Arts Theater at BGC while 
Mula sa Buwan 
will be running from August 26 to September 11, 2022 at the Samsung Circuit Performing Arts Theater in Circuit Makati.
Comments