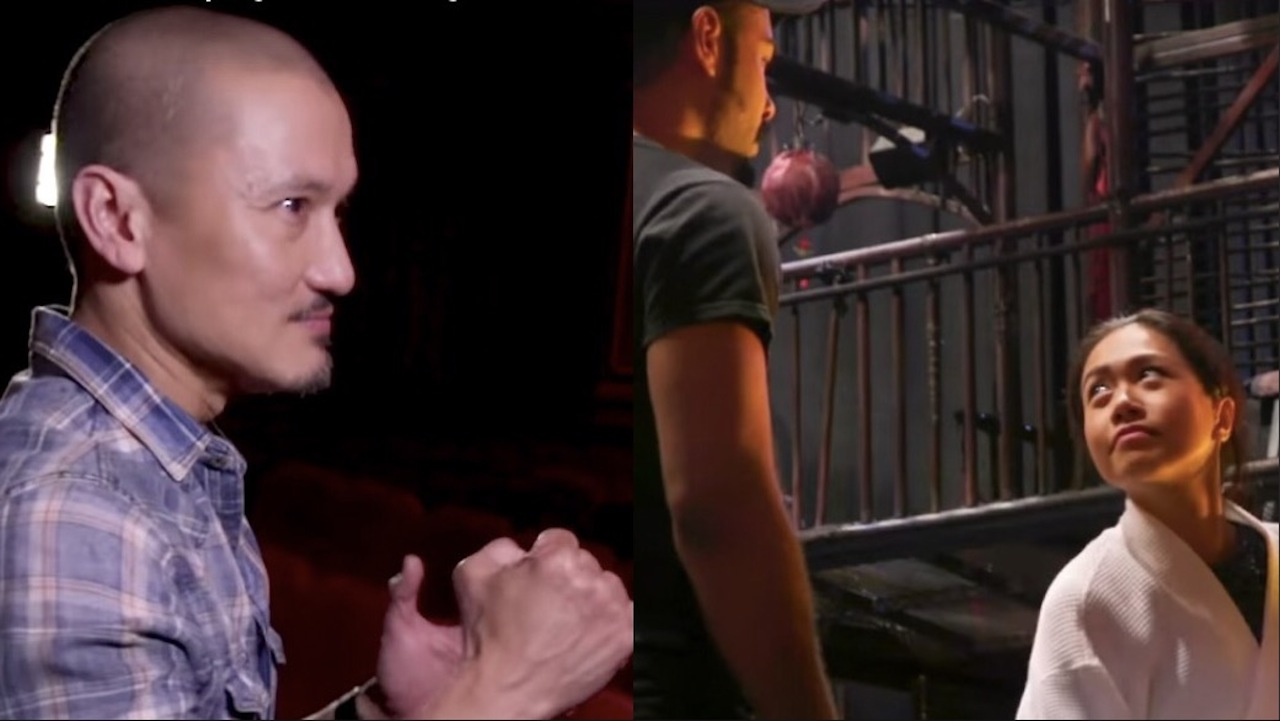 NEWS ROUNDUP: Miss Saigon Fight Scenes, Spielberg Remaking 'West Side Story', and more!
Briones, Go, And More —  Thespians-Turned-Action Stars In Miss Saigon
The musical phenomenon that is Miss Saigon isn't just made of one heart-wrenching ballad after another. To completely capture the grit of 1970's Saigon in the midst of war, the cast have more than a handful of realistic fight sequences up their sleeves. In a TheaterMania exclusive, JonJon Briones, Nick Christopher, and fight captain Julius Sermonia are seen rehearsing their respective fight choreography, to avoid any unwanted injuries on stage.

"The most elaborate fight sequence we have is the torture to Kim and the Engineer. We do everything slowly so that everyone hits their marks and then we'll do it at show value," Sermonia said, followed by footage of said torture scene featuring Eva Noblezada.

Even if everything is just choreography, Sermonia describes it as "brutal, in the sense that anything can happen." In fact, Briones told TheaterMania that he himself got hurt after hitting his head against a metal pole. "When that happens, we go 'Can we visit that again and peruse it?'," Briones added.

The rehearsal footage also shows Rachelle Ann Go and JonJon Briones rehearsing the momentous slap scene at the end of 'The Heat Is On', before Gigi sings her heart out with 'The Movie In My Mind'.

More than just the theater actors that they are, Briones playfully quipped that they "feel like [you're] an action star". You can find the video below.


Steven Spielberg Remakes West Side Story
Who'd like to be in America once more? Soon, West Side Story fans might be able to dance again to the vibrant Moreno-Chakiris hit, as a remake of the 1961 film is possibly on its way to the big screen!

In an interview with The Hollywood Reporter, Oscar-winning director Steven Spielberg confirmed that he has secured the rights to remake West Side Story, after trying to get them 15 years ago. Spielberg added that he had dreamt of redoing the film "for decades." As early as 2014, he had already hinted on his interest on the movie, in an interview on Good Morning America.

Tony Award-winning playwright of Angels in America Tony Kushner, on the other hand, had been reported to rewrite the screenplay for the remake. The legendary Leonard Bernstein score will remain unchanged, however. "I am not touching in any way the greatest score of a musical ever written," he told The Daily Beast in an exclusive interview.

While the film will still be set in '50's Upper West Side, Kushner's book will emphasize on love at first sight, instead of merely lust. "By the time they're singing 'Maria' and 'Tonight' things are at a much deeper plane than just two horny kids," explained Kushner.

Can't wait? Watch out for the International Tour of West Side Story live in The Theatre At Solaire, flying in next month, with shows starting August 10! Tickets are now available through TicketWorld.
Trailer For Documentary On Late Disney Lyricist Howard Ashman Released
Beginning in the late 1980s, lyricist Howard Ashman, together with composer Alan Menken, reinvigorated Disney's animated film industry upon the release of classics The Little Mermaid, Beauty And The Beast, and Aladdin, initiating then what is now known as the era of Disney Renaissance.
Beauty And The Beast producer Don Hahn helms the documentary on the legendary lyricist. He also produced the 2009 documentary Waking Sleeping Beauty which highlighted the Disney Renaissance which Ashman & Menken helped establish.
Sarah Ashman Gillespie, Howard's sister, confirmed the project March of this year to Playbill. Both Gillespie and Bill Lauch, Ashman's partner, will be seen in the documentary.
Ashman, who was openly gay, kept news of his HIV-positive diagnosis from colleagues, except his partner, his family, and Menken. Four days after the premiere of Beauty And The Beast, which Ashman missed, he died of complications due to AIDS.
Before achieving Disney fame, Ashman was known for musicals God Bless You, Mr. Rosewater and Off-Broadway gem Little Shop of Horrors.
You can watch the trailer below.
Comments