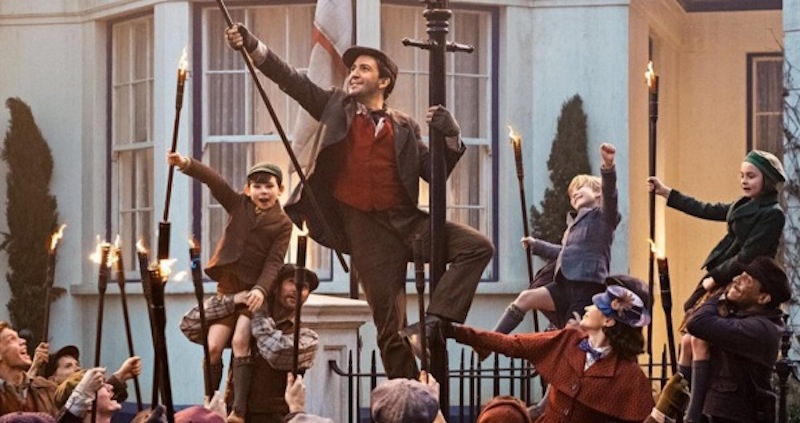 'Mary Poppins Returns': See the new photos!
Entertainment Weekly has released exclusive photos of the much-anticipated 'Mary Poppins Returns', and they're wonderful.
We get our first glimpse of everyone's favorite nanny (played by Emily Blunt) with her loyal companion Jack (Lin-Manuel Miranda) and her new charges, the children of the grownup Michael Banks:
We also learn two new pieces of information: that the title of one of the songs in the film is 'Trip A Little Light Fantastic', and that Miranda's Jack is actually a former apprentice of Bert (played by Dick Van Dyke in the 1964 movie).
Which is why the photo featuring Miranda with his band of lamplighters will give fans a dose of nostalgia, as it recalls one of the iconic scenes of Bert and his fellow chimney sweeps in the original:
Other photos show Jane and Michael Banks, some concept art for the film, and of course the beloved house on 17 Cherry Tree Lane, which reportedly prompted Van Dyke to say "I feel like I'm home". Director Rob Marshall told Entertainment Weekly that the cast and crew strove to be respectful to the original movie: "I feel a great responsibility and reverence every day…We're just lifting it up to get there with the right intentions behind it."
The cover features Emily Blunt in costume as the titular nanny, and we honestly can't wait for those eastern winds to bring her back to us.
She's (still) practically perfect in every way! ☂️ Your exclusive first look at #MaryPoppinsReturns is finally here: https://t.co/07fGL7eMkx pic.twitter.com/t0nTSUsJ6i

— Entertainment Weekly (@EW) June 7, 2017
'Mary Poppins Returns' is set for release in December 2018.
Comments