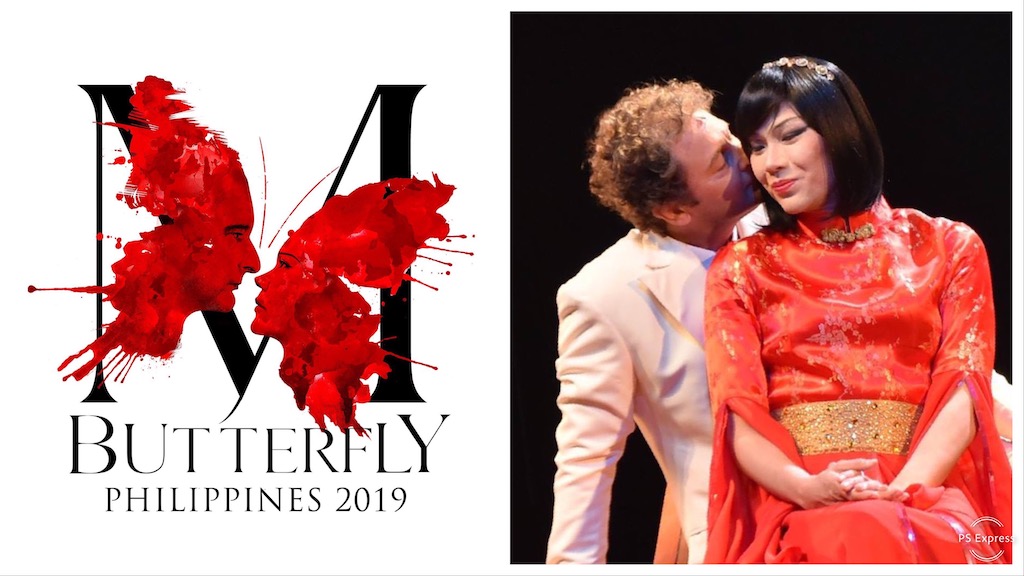 "M Butterfly" to Tour Around the Philippines
M. Butterfly, which ran at the Maybank Performing Arts Theater last September, is set to go on a national tour. The play, written by David Henry Hwang, is co-produced by Jhett Tolentino and Frontrow Entertainment.
Reprising their roles are RS Francisco as Song Liling, Olivier Borten as René Gallimard, Maya Encila as Renee and Pin-up Girl, Lee O'Brian as Marc, Norm McLeod as Manuel Toulon, and Mayen Estanero as Comrade Chin.
New cast members joining the run are Jenine Desiderio as Helga, Jasmin Salvo as the Opera Singer, and Sasal Cabalquinto as a kurogo. Aira Jay Igarta, who was part of the ensemble, alternates with Francisco as Song Liling.
'M. Butterfly''s artistic team includes Kanakan-Balintagos (Director), Joed Balsamo (Composer), Eric Pineda (Costume Design), Ohm David (Set Design), Jethro Joaquin (Sound Design), John Batalla (Lights), and Gery Penaso (Make-up Designer for Song Liling).
M. Butterfly tells the tale of René Gallimard, a member of the French embassy in China who meets and falls in love with a Chinese opera singer named Song Liling. Unbeknownst to René, Song Liling is a man who performs on stage as a woman.
The tour will begin in Iloilo on February 14 and will end in Baguio on June 2, with a rerun in Manila in May. The complete schedule of the tour is as follows:
February 14-17- Iloilo, SM City Iloilo Cinema 6
February 28- March 5- Dumaguete, Luce Auditorium Siliman University
March 14-17- Cebu, SM City Seaside Centerstage
March 28-31- Davao, SM Lanang Premier Cinema 6
May 8-19- Manila, Maybank Performing Arts Theater
May 30- June 2- Baguio, St. Louis University

Tickets can be purchased at SM Tickets.
Comments