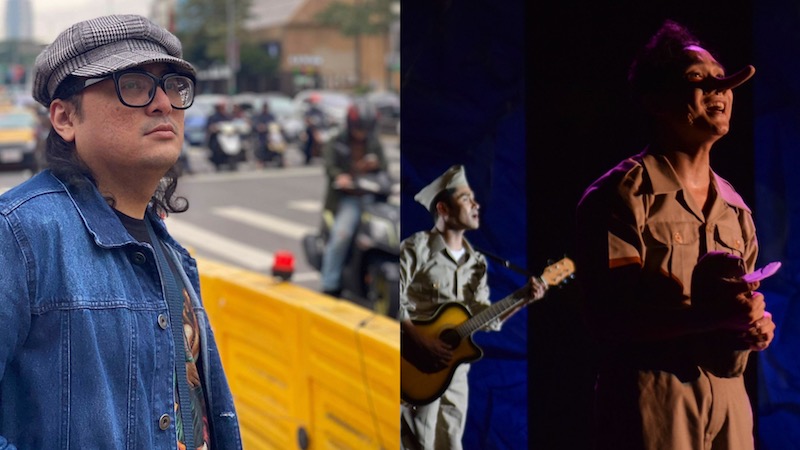 LISTEN: "Ikaw" from "Mula sa Buwan" Full Version Now on Spotify
Mula sa Buwan's composer and lyricist, William Elvin Manzano, just released the track Ikaw on Spotify and on Apple Music in time for the Valentine's season.
In the musical, Ikaw is the love song Cyrano sings to Roxane from afar. Manzano, who sings the track, added a newly written second verse.
"I always thought the song deserved more words," says Manzano. "I wrote it 30 minutes before Pat [Valera] needed it in 2010 (right before I went to our brainstorm session), and it just was stuck like that for the later stagings."
"So Pat asked me one day if I could add, but he decided to keep it as is muna. I kept my draft somewhere, so I decided to record it for this album for a 'poppier' version of the song."
When asked if he knew that Mula sa Buwan would be a success while he was writing the songs, "NO. I didn't expect it to be. It was just a thesis production. I'm very happy about how it became a success though. Very proud of what it has become."
Manzano and Mula sa Buwan creator, book writer, and stage director Pat Valera were batchmates in UP's theater program.
"We just wanted to work on something together, and he was a fan of my music with my band at that time – Happy Days Ahead. So he tapped me for Mula Sa Buwan (then called Cyrano). We did it first in UA&P before the thesis version at GSIS Theater in 2010."
You can listen to the track below.
Manzano's version of Ang Sabi Nila, Roxane's 11 o'clock number in the musical, is also available on Spotify. You can find the track below.
Manzano will also be launching his album entitled Faces and Phases, which includes the Ikaw track, as well as his new original songs, at Taumbayan, Kamuning on May 7, 2020. The first song entitled She's Not Taylor Swift is already on Spotify. You can find him on Facebook at Facebook.com/williamelvinwrites, on Instagram at happywilliamelvin, and on his official website at williamelvin.com.
Four songs performed by previous Mula sa Buwan cast members Nicco Manalo, KL Dizon, and Edward Benosa, are also available on Spotify.
A film adaptation of Mula sa Buwan is also in the works, to be directed by Alberto "Treb" Monteras II. Casting and further details have yet to be announced.
Based on the story of 'Cyrano de Bergerac', Pat Valera and William Elvin Manzano's "Mula sa Buwan" is about the love story involving Cyrano, Roxane, and Christian set in 1940's Manila. It was most recently staged in November 2018 at the Hyundai Hall of Aretè in the Ateneo de Manila University. The show featured Nicco Manalo and Boo Gabunada as Cyrano, Gab Pangilinan and Cris Go as Roxane, and Myke Salomon and Edward Benosa as Christian.
Comments