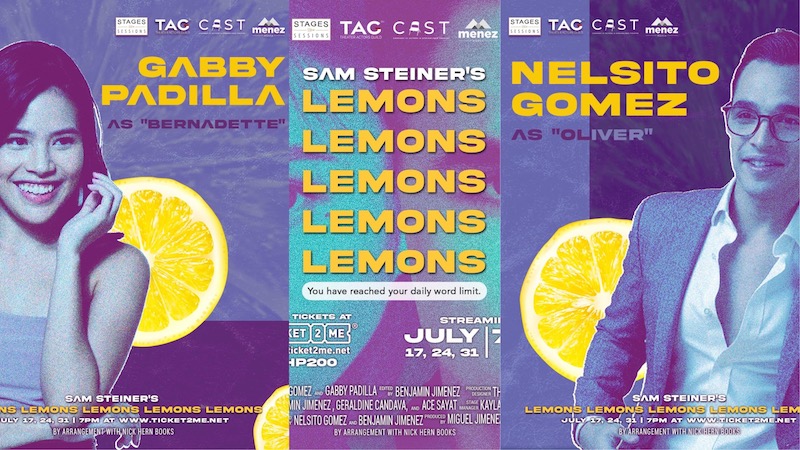 "Lemons Lemons Lemons Lemons Lemons" Play to Stream this July
"Would 140 words be enough to say everything that needs to be said in a day?"
This is the question at the heart of Sam Steiner's Lemons Lemons Lemons Lemons Lemons, as a couple struggles to communicate in a world that has literally limited their freedom of speech.
The Company of Actors in Streamlined Theatre (C.A.S.T.) will be streaming a production of this play this July, starring Nelsito Gomez as Oliver and Gabby Padilla as Bernadette.
Lemons Lemons Lemons Lemons Lemons was first performed in 2015 at the Warwick Arts Centre in the U.K. The play is set in a world where the government has introduced a draconian "hush law" that only allows people to utter 140 words in a day. If they try to say more than this, no sound will come from their mouths. 
The story centers on the lives of Oliver and Bernadette, a couple who meet at a cat cemetery and who soon move in together. As they deal with the typical trials of any relationship, they also have to learn to communicate within the constraints of the new law. Beyond exploring the intricacies of human relationships, the play also tackles the themes of censorship, oppression, and free speech. Lemons Lemons Lemons Lemons Lemons deftly illustrates that when we are deprived of our words, we are at our most powerless.
C.A.S.T. is composed of six professional actors– Nelsito Gomez, Sarah Facuri, Mako Alonso, Jill Peña, Maronne Cruz, and Reb Atadero, and one professional writer, Wanggo Gallaga. The group is known for regularly presenting staged reading performances both live and online.
Tickets are available for only Php200 on www.ticket2me.net
Streaming dates will be July 17, 24 and 31.
You can watch Nelsito Gomez and Gabby Padilla talk more about the show in the video below.
Comments