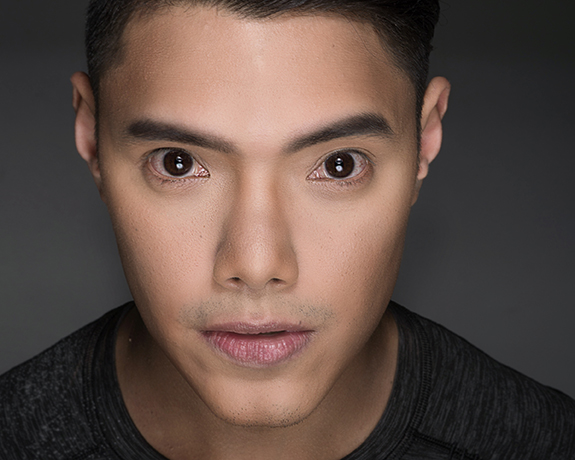 Judged Worthy: Joaquin Pedro Valdes Joins "Miss Saigon"
"My acting coach has told me that you can't play the character if you judge him. If you already have a fixed opinion about your character, you can't play him. Because to be able to play him, you have to empathise with them," states Joaquin Valdes.

It's this kind of insight into his craft that has landed the actor the much coveted part in the international production of the award-winning, globally-renowned, and much-loved musical Miss Saigon for the United Kingdom tour.

Valdes has garnered the role of understudy for Thuy—the cousin of Miss Saigon's protagonist Kim to whom she was betrothed at 13 years of age, only to be spurned for the love of an American soldier named Chris, and who later rises in rank to become commissar of North Vietnamese Communist Party who threatens to brainwash Kim and her Amersasian son in a "re-education" camp.

Credible threat

Valdes brings a new perspective to the character of Thuy: "We've seen Thuy from the time it was originated in 1989 and up until now to be this villain, the anti-thesis of Kim's Chris. But I think he has a lot of humanity. He's the result of the circumstance. He's in love, and for him to join that Communist movement was probably a way of survival as well. He was young, and if Kim was around 17, he would probably be around the same age. He was just a kid, just as scared, and just wanting to survive. He's not ideological. I don't think he's got political views at 17, but he needed to survive. If you look at all the characters in the story, they're all just trying to survive. I want to bring humanity and a dimensionality to him—that he is vulnerable, that he is broken, that he's just a kid. And while he has to play the villain in this story, he's just as broken and just as lost as all the characters in the story."

The 34 year old actor, with the chiseled brawn of Superman and the disarming demeanour of Clark Kent, also promises to bring a different physicality to the role of Thuy, one that is more than a match to his nemesis and romantic rival, the US soldier Chris. As Thuy, Valdes is not just some scrawny ideologue in a uniform. He is a credible threat both romantically and physically as well as a sympathetic anti-villain audiences would love to know more about.

New breed
Valdes joins a cast that is already chock full of Filipinos such as Red Concepcion, who currently plays The Engineer, and Aicelle Santos who will be playing the role of Gigi. In its 29 year history, Miss Saigon has introduced global audiences to Filipino artists such as Lea Salonga, Monique Wilson, Joanna Ampil, Rachelle Ann Go, Isay Alvarez, Jamie Rivera, and Jon Jon Briones, to name a few. More recently, the cast included Gerald Santos and Joreen Bautista.
"There's gonna be like an almost 80 to 90% overhaul. So very few are gonna get renewed," Valdes reveals in an exclusive interview with Theater Fans Manila, but he assures, "Red is gonna be renewed definitely."
"Our first day of rehearsals is last week of March, so we fly no sooner than March 20," he confides.

Body of work

You can't have missed Joaquin Valdes. He's everywhere. Theater fans know him best as Mr. Wormwood in Atlantis Theatrical Entertainment Group's Matilda, Spike in Repertory Philippines' Vanya and Sonia and Masha and Spike, and Jamie in 9 Works Theatrical's The Last Five Years. Telenovela fans know him as Louie and and Lt. Mendez in ABS-CBN's Till I Met You and The Good Son, respectively. And fitness buffs know him as Mr. Gold's Gym Philippines 2016 and winner of the first BodyCon. Valdes will be missed, having played so many roles both onstage and in real life locally. And it is his impressive body of work that won him the part on the world stage.

"Auditioning process here in the Philippines is so different from the international system. When I was applying for my masters in theater, they were thoroughly impressed with my 10,000 hours of theater that I've put in since I was a kid and that's what excited them the most. They look at my portfolio, they look at my body of work, and then they realized I'm really a child of the theater and it was nice to get affirmed that way. I realized how important my portfolio was. I needed to beef up my portfolio which was why I was just saying yes to any and every theater opportunity, because that went to my portfolio. I even did a short stint in a teleserye, just so I can put that in my portfolio that I was on TV. My very first role was in the ensemble of Evita in 1995, Repertory Philippines."

What it takes

Valdes also reveals other factors responsible for his success. "I am represented internationally by ICACM [International Casting and Creative Management]. They're based off of Australia. His name is Michael Turkic, and represents people of color, actors of diversity, of different special abilities, these include, different shapes and sizes, actors of what we should say disability, but they would say special ability, so it's a nice agency to be represented by because they really focus on non-white of non standard actors."

He advices, "If you're a full time actor, you really need to have thick skin, rejection is the norm, because when you walk into an audition, you have no idea what they're looking for, and you walk into the next, so as soon as you were out the door of the first audition, drop it, don't put your hopes into it, and then move on to the next, that's how you survive in the international one, that's what was advised to me. So when I gave my audition, I literally had no expectation. I just sang it the way I would have wanted it. I interpreted it the way I would have done it, and if they saw something there, I don't know what it would be, cause I don't think I'm similar at all vocally and physically to any of the ones that they have casted before so don't know what they're looking for currently, i just went into the audition, prepared, ready and eager and thats all, and I think if other actors would ask me, what did you do, to get the part, I have no idea, just come ready, just come in eager and come in prepared. That's what I did."
 
he recalls.
"I officially auditioned in the last big cattle call, which was probably around eight months ago—the one that Red [Concepcion] auditioned for. It was a big announcement open call for the UK and Ireland tour. So there's like a approximately thousand people in the Opera House, I'm one of those lined up. Everybody wanted to get into Miss Saigon. I had half the mind to audition to the 2014 one, the one where Rachelle Anne Go got in. But I was just engaged, my wife was about to take the bar, so that wasn't my priority, so when the UK tour happened, she's already a lawyer, she's like, 'Go for it.' I auditioned, made it to the call back. I got called back for Thuy. Then there was another set of callbacks for Thuy which I was no longer included then, I don't think I made the cut. Even those that made it, like Red, didn't hear until like eight months after, cause that's how they operate."
"In the middle of Matilda, during tech week, i got an email from an agent that London had wanted to see me, do certain songs for Thuy. I submitted three songs they asked me to sing: 'Thuy's Arrival,' 'Thuy's Death,' and 'The Ghost.' I sang that just with a piano. I honestly really wasn't putting all of my hopes into it because I knew I had been rejected before. So I didn't want to keep my hopes up. I shot it before rehearsals, submitted it. The next day, I got an email saying that they had wanted to see do two Engineer songs. So I had to learn The Engineer songs: 'American Dream' and 'If You Wanna Die in Bed.'"

"Two days later, I get an email, asking if I would like to be part of the UK cast for this. It was a little overwhelming. I got the call from my agent at 7am and I was half asleep. I wasn't sure if I was dreaming. The first thing I asked was, 'It this for real?' The second was, 'Can I take my wife with me?' And third was 'is the tour gonna be in English?' Because I don't think I have the bandwidth to study a different language for it, much less sing it. And it was all, 'Yes, yes, it's real,' 'Yes, you can take your wife,' and, 'Yes it's gonna be in English.'"

Tough love

Success has many mothers and fathers. Valdes names his mentors and inspirations: 

"Direk Bobby Garcia. We have a very tough love kind of relationship, He always tested how thick my skin is, how emotional i get. he is very very conservative in complimenting me, but when he gives a compliment, you know that he means it, because it happens so rare and I love that in a Director because he's a coach, don't wanna like hearing affirmations, because then it softens you up, what you need is you need to build up your muscle, because if you're gonna be in the real world outside, you're never gonna get the affirmations, you'll constantly be improving yourself and I got that kind of tough love from him."

"As far as support is concerned, I grew up in Repertory and in Trumpets and even a young kid I got that tough love from Tita Bibot, who would be very very selfish with her compliments. If you ever got a compliment, you're like the favored one, and the discipline that you have to show on time, ready, knowing your material, I knew that as a 10 year old kid, because if you were late for just one minute, you are fired. That's the discipline that I honed."

"And then Trumpets throughout the middle, and the most recent company I have been in was Atlantis. Trumpets gave me all of these affirmations and love and encouragement and support. So I think I got mentored by the some of the finest in the industry in as far as building my emotional quotient and building my artistic value." 

It is Joaquin Valdes' real life parents that deserve the most credit for his career in theater. "I'm an actor because of them. My mom surrounded us with theater and music. She managed and taught a choir in church. On my mom's side, I'm related to Margarita Gomez, who is one of the most famous Pinay sopranos, she's based in the States now, but she comes every so often, Anton Juan's favorite singer, to play all of the lead roles."  

"On my dad's side, there's my aunt who is Ana Valdes-Lim. She has those actors' workshops and got a full scholarship in Julliard School in New York. Every Christmas ,she and my mom would mount this big musicale in our house, in the big living room of my lolo.

"As far as I remember, the very first long playing disc that I would listen to all the time in the record player at home was Lea Salonga's "I Am But a Small Voice." Our house was constantly filled with Lea Salonga. I had a multiplex of Lea's "I Am But a Small Voice" so I could sing to that and we would get the four-cassette special edition of Miss Saigon. Les Miserables was already in our household. The Sound of Music would be a regular, yearly tradition. Watching Repertory plays at the Meralco Theater was a tradition for us."

Now, by boldly following Lea Salonga's footsteps by landing a role in the same musicale that made her an international star, Joaquin Valdes, the self-confessed child of the theater, is soon to shine for the world to see.
Comments