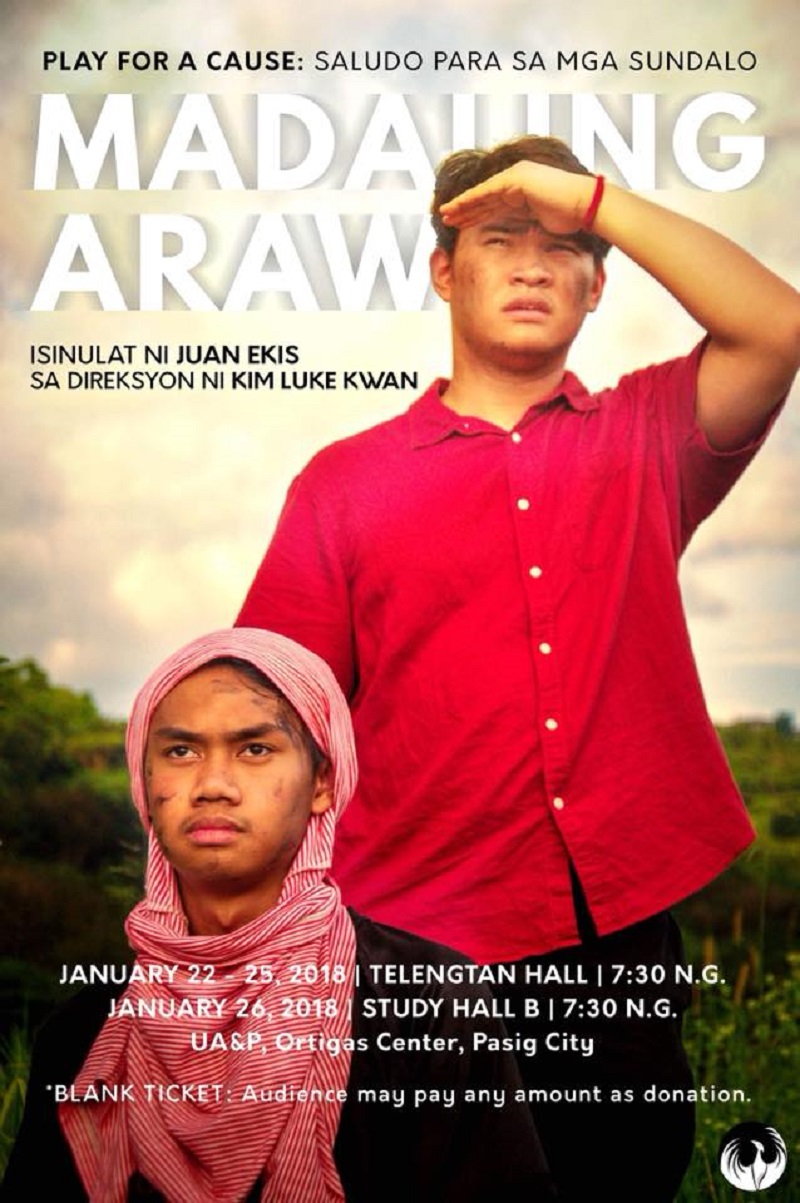 Juan Ekis' 'Madaling Araw' to be Staged to Honor Filipino Heroes
Apart from providing entertainment through theatrical works, UA&P's Dulaang ROC also recognizes its social responsibility. This year, Dulaang ROC will be staging a play entitled "Madaling Araw" as a fundraiser for their outreach program, "Saludo Para sa mga Sundalo", which aims to recognize, honor and help the country's soldiers who bravely fought for freedom and peace.
"Madaling Araw" written by Juan Ekis, a Carlos Palanca Award winner writer, and directed by Kim Luke Kwan, is a story about the Abu Sayad, a rebel group that yearns for equality in the Philippines. To achieve their goal, they hatched a plan to take hostages – a Chinoy, a taxi driver, and a student. In their time together, the hostages and the captors engage in heated discussions about what the nation means to them. As the story progresses, problems arise and the characters, in fear for their lives, go through drastic measures to escape. In the end, the sun rises and a new day begins; the survivors of the hostage are given a brand new hope to live again.
This production not only aims to showcase the talents of Dulaang ROC's members and promote the theater arts, but also to serve a more meaningful purpose, which is to give back to the country's esteemed heroes. This play also highlights the theme "hope" which is fitting to the outreach's motive of giving the soldiers hope for a brighter future. On February 3, 2018, the members of Dulaang ROC will spend an afternoon with soldiers who are currently recovering in the Armed Forces of the Philippines (AFP) Medical Center.
The play is blank ticketed, meaning the audience may pay any amount as donation.  All the proceeds from this play will be donated to the organization's beneficiary.  The play will be held on January 22-25, 2018 at the UA&P Telengtan Hall, and on January 26, 2018 at the UA&P Study Hall B.
Comments