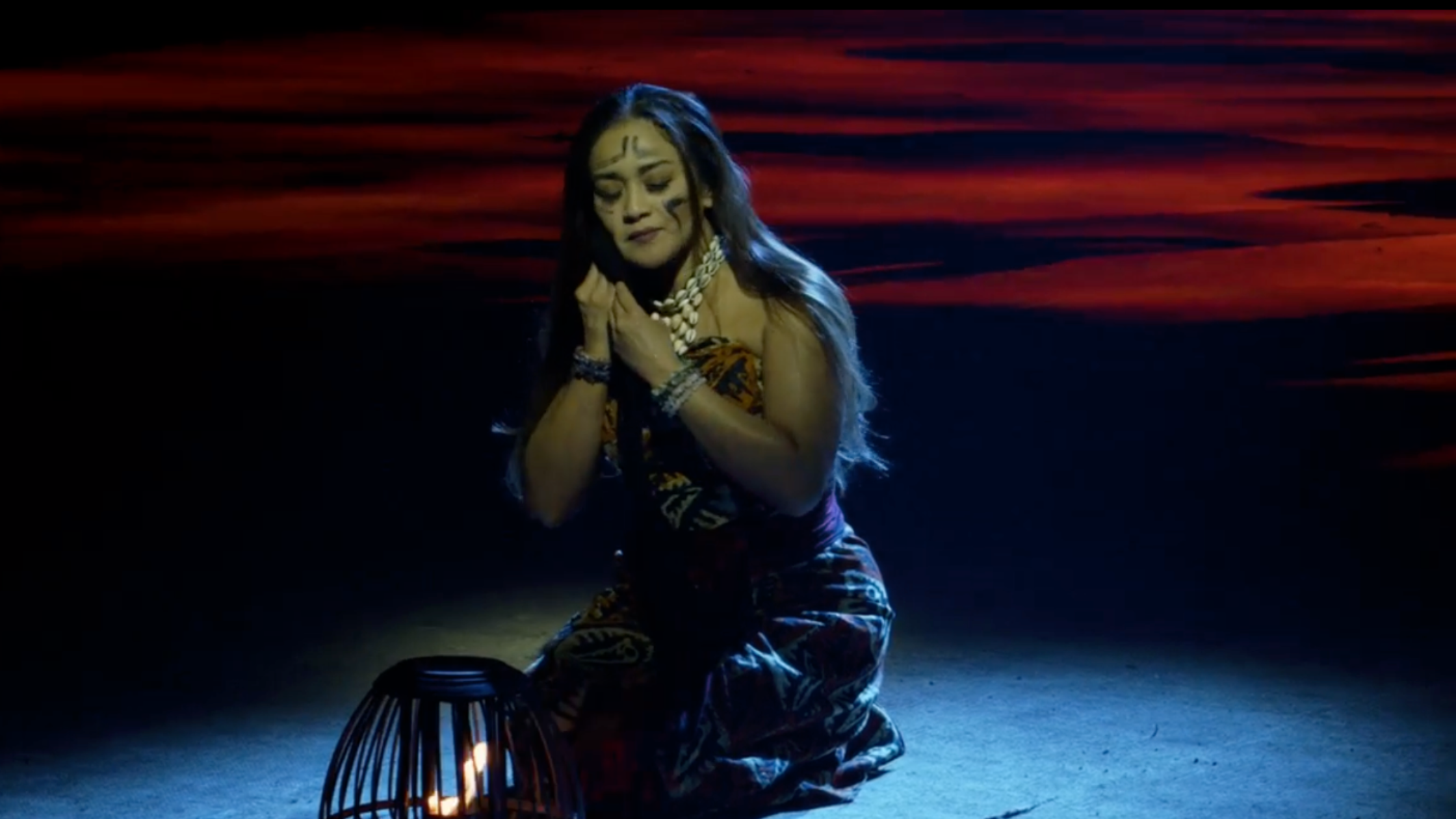 Joanna Ampil joins 'South Pacific' Musical UK Tour
The Chichester Festival Theatre production of Rodgers and Hammerstein's classic musical South Pacific will be going on tour in the U.K. and Ireland. The production features Joanna Ampil as Bloody Mary, a shrewd Polynesian who tries to outwit everyone else in her determination to exploit the foreigners on her island.
The show opened last July 16 at the Manchester Opera House and a July 27-August 28 engagement at London's Sadler's Wells will ensue. A 10-week tour will follow, set in Dublin, Newcastle, Birmingham, Glasgow, Cardiff, Nottingham, Edinburgh, Leeds, and Canterbury. The production streamed worldwide last year.
The musical is set in 1943 on an archipelago in the South Pacific Ocean. US troops are kicking their heels amid the cacao groves while restlessly waiting for the war to reach them. Nellie Forbush, a navy nurse from Arkansas, finds herself falling for the French plantation owner, Emile de Becque – a man with a mysterious past. The scheming sailor Luther Billis runs a makeshift laundry to earn a quick buck, but he's no match for the quick-witted Polynesian Bloody Mary who's intent on exploiting these foreigners. When young Princeton graduate Lieutenant Joe Cable is flown in on a dangerous reconnaissance mission, love and fear become entwined as the island's battle for hearts and minds begins.
South Pacific opened on Broadway in 1949 and won 10 Tony Awards including Best Musical. It features some of Rodgers & Hammerstein's most popular songs, including "Some Enchanted Evening", "I'm Gonna Wash That Man Right Outa My Hair," "Younger than Springtime," "Bali Ha'i", "This Nearly Was Mine", and more.
Joining Ampil are Gina Beck and Julian Ovenden, who star as Nellie Forbush and Emile de Becque, Rob Houchen who plays Lt. Joseph Cable, and Sera Maehara who plays Liat. More members of the main cast include Douggie McMeekin as Luther Billis, David Birrell as Captain George Brackett, Stephen John Davis as Commander William Harbison, Antoine Murray-Straughan as Stewpot, Charlie Waddell as Professor, and Olly Christopher as Sergeant Johnson.
The cast is completed by Iroy Abesamis, Feline Andersson, Charlotte Coggin, Annabel Edwards, Leslie Garcia Bowman, Sergio Giacomelli, Ellie Jane Grant, Josh Kiernan, Matthew Maddison, Rachel Jayne Picar, Kate Playdon, George Renshaw, Pierce Rogan, Charlotte Scott, Trezel Sergeant, Nikhil Singh Rai, James Wilkinson-Jones, and Eleanor Wainwright.
The production is directed by Chichester Artistic Director Daniel Evans. Other members of the creative team include Peter McKintosh (set and costume designer), Ann Yee (choreographer & movement director), Nigel Lilley (musical supervisor), Cat Beveridge (musical director), David Cullen (orchestrator), Robert Russell Bennett (original Broadway orchestration), Howard Harrison (lighting designer), Paul Groothuis (sound designer), Gillian Tan (video designer), Theo Jamieson (Additional Arrangements and Happy Talk Orchestration), Charlotte Sutton (casting director), and Verity Naughton (additional children's casting).
Watch the trailer here:
Comments