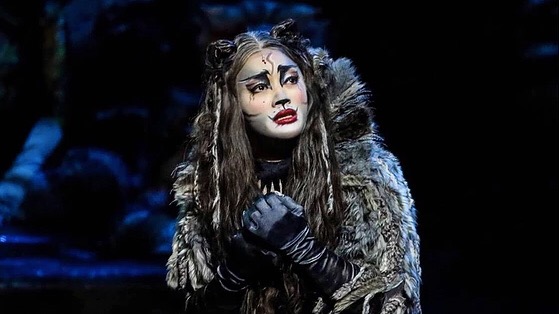 Joanna Ampil Joins 'Cats' South Korean Tour
The international tour of Cats in South Korea is pushing on, with performances running from September 9 to November 8 at the Charlotte Theater.
Joanna Ampil returns to play the role of the Glamour Cat Grizabella, a role she most recently played during the Manila run at The Theatre at Solaire and at the Singapore run in 2019. She also played the role in the musical's UK and European Tour from 2013-14, and in its World Tour from 2017-2018.
Joining her in the cast are Dan Partridge (Rum Tum Tugger), Xavier Pellin (Quaxo/ Mr. Mistoffelees), Ellie Nunan (Jennyanydots), Rafe Watts (Munkustrap), Brad Little (Old Deuteronomy), Suzie Melloy (Bombalurina), Karlis Zaid (Bustopher Jones/ Gus/ Growltiger), Hayden Baum (Skimbleshanks), Thomas Inge (Admetus/ Macavity), Dominique Hamilton (Rumpleteazer), George Hankers (Mungojerrie), Ella Nonini (Demeter), Fletcher Dobinson (Alonzo/ Rumpus Cat), Alice Batt (Jellylorum/ Griddlebone), Natalie Bennyworth (Cassandra), Emily Casey (Tantomile), Kade Hughes (Bill Bailey), Jal Joshua (Carbuckety), Tyler Lotzof (Victoria), Aaron Lynch (Coricopat), Holly Willock (Jemima), Anina Pletscher (Swing/ Electra), Taylor Scanlan (Swing/ George), Holly Meegan (Swing), Caitlin New (Swing), Benjamin Colley (Swing),  Andrew Dunne (Swing), and Thalia Burt (Swing), who also serves as resident director.
Cats is written by Andrew Lloyd Webber (composer and orchestrator) based on T.S. Eliot's 1939 poetry collection entitled Old Possum's Book of Practical Cats. It is directed by Trevor Nunn, with choreography by Gillian Lynne, set and costume design by John Napier, and lighting design by David Hersey.
The musical first opened in the West End in 1981, and on Broadway in 1982, winning two Olivier Awards including Best Musical, and seven Tony Awards including Best Musical.
A Cats feature film, directed by Tom Hooper, with a screenplay by Hooper and Lee Hall and choreography by Andy Blankenbuehler, was also released in 2019. It features Jennifer Hudson as Grizabella, Francesca Hayward as Victoria the White Cat, Taylor Swift as Bombalurina, Jason Derulo as The Rum Tum Tugger, Judi Dench as Deuteronomy, James Corden as Bustopher Jones, Rebel Wilson as Jennyanydots, Idris Elba as Macavity, Ian McKellen as Gus the Theatre Cat, and Robert Fairchild as Munkustrap.
You can watch a sneak peek of Joanna Ampil performing the song Memory, with the international touring cast in Manila performing Prologue and The Rum Tum Tugger, in the video below.
Comments