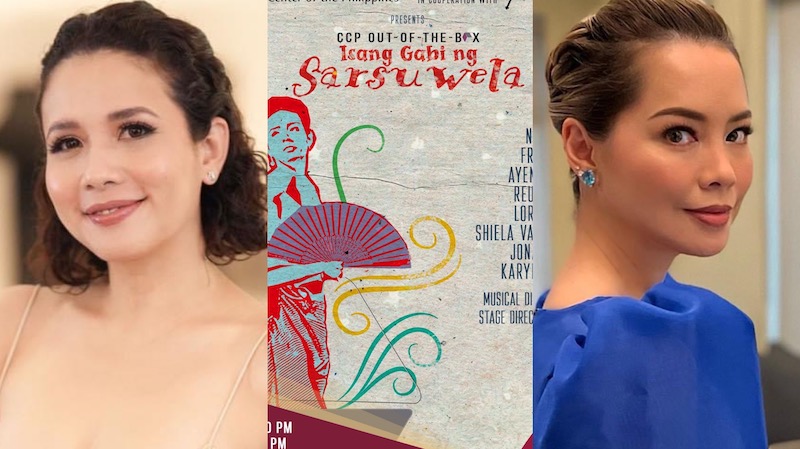 'Isang Gabi ng Sarsuwela' Launches CCP's Out-of-the-Box Series
The Cultural Center of the Philippines launches the CCP Out-of-The-Box (OTB) Series, a new series of concert productions that audiences wouldn't normally see in conventional programming.
Conceptualized by former artistic director Chris Millado, the CCP OTB aims to create a space "for adventurous audiences, artists, and ideas."
This new initiative premieres with Isang Gabi ng Sarsuwela, featuring excerpts and songs from classic and contemporary sarsuwela works, on June 30, 7:30pm, and July 1, 3pm, at the CCP Black Box Theater.
"When CCP was planning for this series, we thought about the things we have not yet done or haven't done in a long time," shared CCP current artistic director Dennis Marasigan. "We have had discussions on the possibility of producing another sarsuwela, particularly with Tanghalang Pilipino, which has done a number of sarsuwela revivals since the 1980s."
Owing its roots to the Spanish zarzuela originally brought to the Philippines in the late 1800s, the sarsuwela became the popular form of entertainment for many Filipinos, particularly in the early 1900s. "The best proof of this is, when cinema was first introduced to the Philippines, some of the first films produced were based on many of the sarsuwela, such as Dalagang Bukid. The actors of these films were mostly sarsuwela stars," enthused Marasigan.
The CCP artistic director tapped music director Joed Balsamo, who suggested to include excerpts not only from Dalagang Bukid and other classics like Walang Sugat, Paglipas ng Dilim, and Sa Bunganga ng Pating, but also contemporary sarsuwela productions like Pilipinas Circa 1907, Ang Palabas Bukas, Hibik at Himagsik nina Victoria Lactaw, and Ang Palasyo ni Valentin.
A typical sarsuwela generally revolves around a love story set in the context of social realism. Walang Sugat is set during the Spanish revolution and Philippine-American war; Paglipas ng Dilim tackles colonial mentality; Dalagang Bukid, poverty and arranged marriages; and Sa Bunganga ng Pating, the evils of usury.
Musical theater artists who will be performing in Isang Gabi ng Sarsuwela include Nenen Espina, Franco Laurel, Ayen Munji Laurel, Reuben Laurente, Lorenz Martinez, Shiela Valderrama-Martinez, Jonathan Tadioan, and Karylle Tatlonghari.
"It would be interesting to see the dynamics of the real-life couples in the cast– Franco and Ayen, and Shiela and Lorenz – as they perform love duets. Tad (Tadioan) and Nenen have done a number of sarsuwelas. Karylle and Reuben are excellent singers eager to immerse in the form. All in all, it will be an entertaining evening."
The CCP Out-Of-The-Box Series: Isang Gabi ng Sarsuwela will be staged this June 30, 7:30pm and July 1, 2023, 3pm at the CCP Black Box Theater. Tickets are available at Ticketworld for P1,500.
Comments