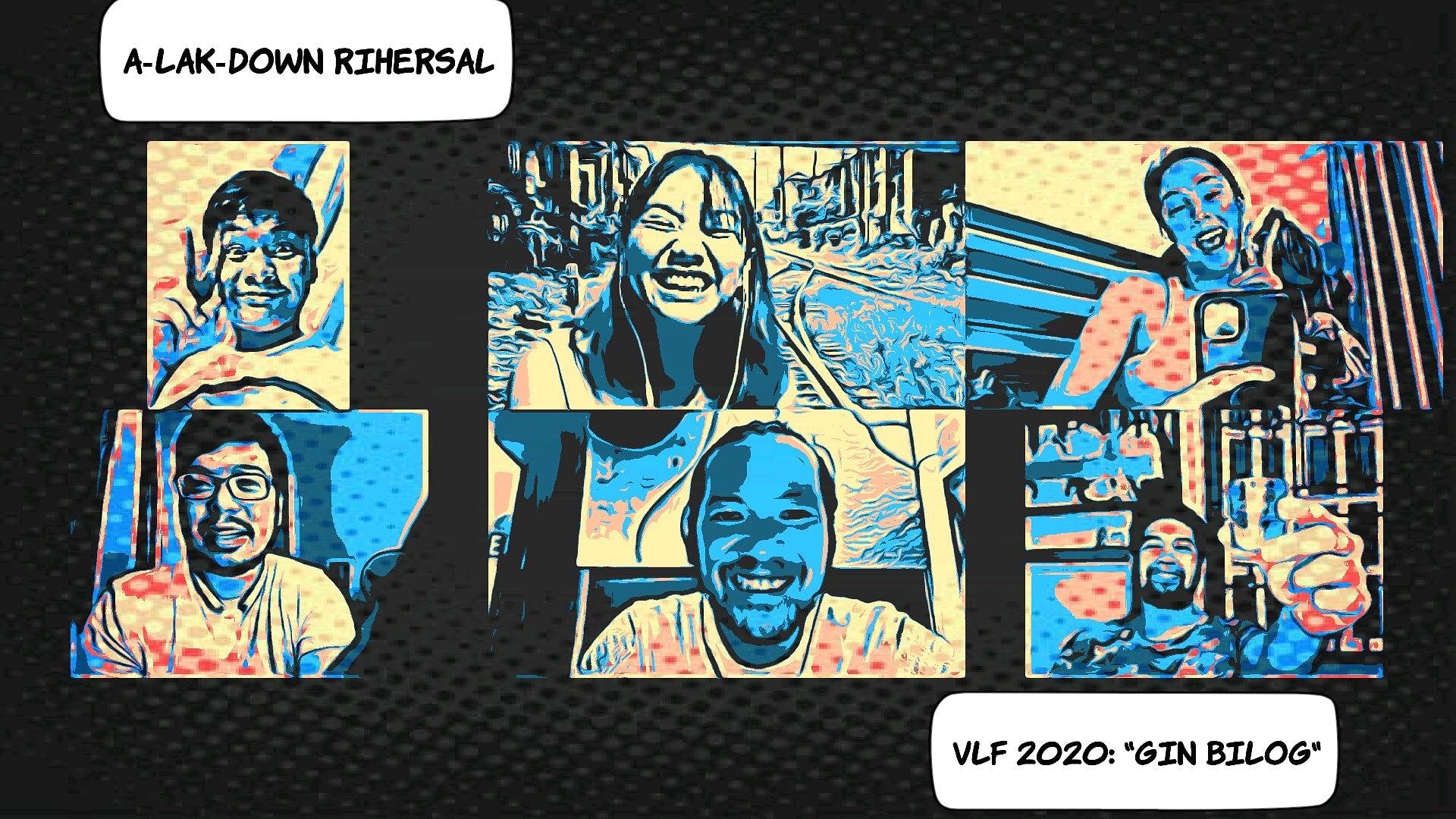 Inside VLF 2020: Could This Be the 'New Normal' in Theater?
A behind-the-scenes lowdown of the last festival standing.
JK Anicoche is making history in his first year as festival director of The Virgin Labfest (VLF). The much-awaited theater fête has always been experimental in nature — serving as a collaborative laboratory for staging untried, untested plays — but this year, thespians like him faced new queries: How can live shows materialize during a pandemic? How can performers hone their craft without violating social distancing policies? 
Far from the halls of CCP, they turned to digital platforms for answers. 
Thus, the first virtual edition of VLF was born. Dubbed "VLF 2020 Kapit: Lab in the Time of Covid", all operations from script submissions, to auditions, to rehearsals have been done online in preparation for their run from June 10 to 28. Apart from a lineup of new and revisited works, the festival will feature virtual roundtables, a playwrights' fair, and talkback sessions after every show.
"May mga kwento na kailangang ikwento. May mga laban na kailangang ilaban." Watch JK Anicoche's video announcement of the VLF 2020 offerings below.
With dozens of other events getting cancelled, Anicoche's initiative is what many in the theater community see as the "last festival standing", pioneering definitions of the industry's 'new normal'. 
"Theater is an agreement with audiences. Before the pandemic, [audiences] would go to a dedicated space at a dedicated time. Now, we're rethinking different ways of social engagement while doing physical distancing," said Anicoche. "We are challenging the notions of liveness and together-ness."
'Business unusual'
For the VLF community, the technicalities of tools like Zoom and OBS Broadcast were only the first of many challenges in staging virtual shows.
"Glitches, walang signal, naputulan ng internet — andiyan naman lahat yan. Pero in my practice, I just realized how physical I am when I direct. Ang kitikiti ko pala," laughed Guelan Varela-Luarca, director of the staged reading of "Mongoloida's Casa de Pun". "Lalapit ako sa aktor, I snap to indicate pace…parang konduktor sa orchestra. Ang hirap gawin sa [harap ng] camera! Minsan pa kailangan kong i-off yung video ko para hindi nakaka-distract sa actors." 
Written by Claro delos Reyes, "Mongoloida" follows an Afro-Filipina's journey as she confronts issues of cultural identity, isolation, and mental health. The experimental play is doubly daring now with the new form Varela-Luarca and his team are exploring. Their 'new normal' goes beyond rendering this pandemic an intermission for all theater, and instead focuses on designing alternative platforms for the shared experience live shows used to provide. 
"The goal is not to do theater online. Dapat this online platform is not derivative of theater. It's its own medium," he says. "Ano ba ang kayang gawin ng online stagings na hindi kayang gawin ng theater?"
Varela-Luarca's response is to work with tech support teams and data science students to present his play through an interactive website of its own, which audiences can view even after the live show on June 24. "That's one thing that theater cannot do; to create an interface na kontrolado ng audience. I-enhance natin [ang experience] via performances and the endless possibilities of graphic design, programming, and web design."
Similarly, this hybrid of film, tech, and theater is empowering actors to act as their own cinematographers and lights designers to improve their video quality — all adding to what the VLF community describes as 'business unusual'.
Online stagings, On-the-ground action
With a pandemic raging on, health remains the utmost priority for the VLF cast, crew, and staff. This bolsters the "guiding post" Anicoche follows in his curatorial venture: "The collaboration is [happening] online, but the human beings collaborating are 'on the ground'. We cannot deny their challenges; we have to be mindful of what is happening on the ground."
"You have these fluctuating emotional conditions, so we have to rethink our rehearsals. In the theater, we rehearse for four hours, but now, you have to tend to your children, kailangan mong magluto sa bahay," he added, noting that each rehearsal now lasts a maximum of 2.5 hours. "Theater requires emotional labor, kaya wellness ang priority ng lahat."
This year's season was aptly named "Kapit", giving theatermakers the chance to hold onto their craft and livelihoods. The Pass-the-Hat Fundraiser, for instance, was organized to provide financial support for displaced stagehands of the VLF community. "To cancel might mean less opportunities for our [peers] in the arts to earn. Guided by those two principles — the well-being of the community and livelihood — we shifted online," Anicoche explained.
Given the newfound role of the arts in providing normalcy, release, and connection, Anicoche and other VLF thespians are also brainstorming how to foster the well-being of their audiences. He pondered, "How can our online experiences [in theater] inform our on-the-ground experiences?"
Varela-Luarca responded with the hope that future shows' themes will grow to revitalize viewers: "If by some miracle, bumaba ang curve, at safe na ulit [para lumabas], parang hindi na ako magiging interesado sa mga plays na hindi makakapaghilom sa akin, na hindi makakapag-share ng collective healing," he mused. "I'm looking forward to the time our playwrights will do just that — remind us of human interactions and relationships; help us breathe, heal, or seek justice."
For performers, the influx of support brought about by VLF 2020 and other streamed productions is heartening. "Nagkaroon kami ng validation na hindi walang kwenta yung ginagawa namin. Hindi lamang hobby ito — its our way of life. This has changed our lives. This is a job. This is our passion," said Mayen Estanero, an actress for Herlyn Alegre's "Fangirl". "Meron naman palang mga ganitong grupo na hindi talaga sumusuko, na lumalaban pa, na gustong mag-create at ipagpatuloy ang arts kahit na may pandemic."
An open browser tab on iWant or Youtube might not compare to an evening at CCP, but the experiments continue — and theatermakers are embracing the changes that come with them. 
"When I first entered VLF as a playwright, it was because I knew the festival was to create 'brave new works'. And [ngayong] nag-peak siya, nasasanay na tayo doon sa groundbreaking playwriting ng mga Pinoy na parang nag-seset na siya ng bagong normal," says Varela-Luarca. 
"I think, for VLF to keep being true to its promise, its essence, its spirit, it should keep on pushing the envelope." he adds. "It's 'strange new works' like these — 'yan ang totoong spirit ng VLF."
The Virgin Labfest is a laboratory festival of new plays by emerging and established Filipino playwrights held annually at the Cultural Center of the Philippines (CCP). This year's festival is scheduled to run from June 10-28, 2020. See the full schedule here.
Comments