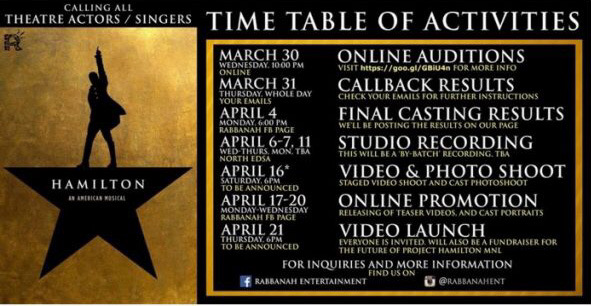 Important Update on the Hamilton MNL Passion Project
Last March 18, we published a post from Rabbanah Entertainment, asking to recruit Hamilton fans who were willing to work on a passion project for free.
Here's the link to the inital press release.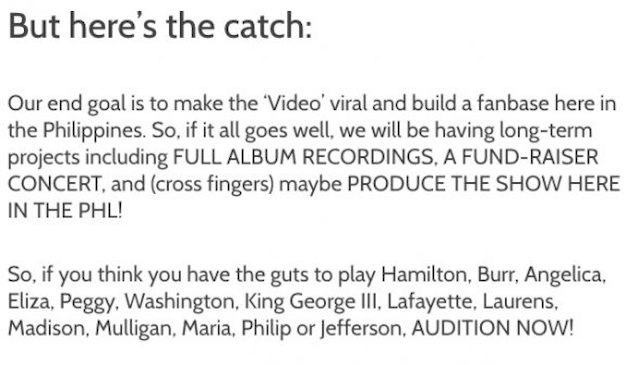 (Screenshot from the March 18 press release.)
On June 8, 2016, Mr. Panganiban messaged our team, asking if it was possible to delete all posts associated with his Hamilton MNL project:
We replied to ask him why, but he didn't respond.
We decided to do some research and look into the matter further. This is what we found out.
1. We started looking into what actually happened to the project. We checked Rabbanah Entertainment's Facebook page and saw this apology: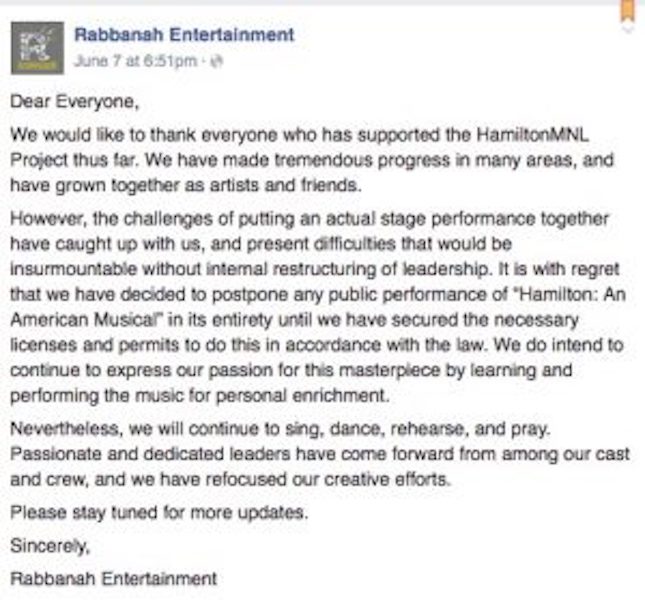 2. We looked back at our first correspondence with Mr. Ivan Panganiban of Rabbanah Entertainment. It was dated March 17, 2016. He reached out to us to request that we share their Hamilton MNL project. Here's a screenshot of the first messages he sent to us:
As you see from our above exchange, Mr. Panganiban explicitly states that they had the team, the sponsors, and the permission to produce their video project. For everyone's information, fan videos don't require legal permission from creators.
Note that on their apology, they mention a "stage performance" rather than the original viral video plan.
3. I met with the cast last June 9 to ask what happened and get their thoughts on the matter.
According to them, the timeline of events were never followed.
On the first day of rehearsals, Mr. Panganiban told the cast that they were going to stage a concert instead of the original video launch idea. According to him, this supposed concert would be held in Teatrino on June 11.
At some point during the rehearsal process, Mr. Panganiban also told the cast about securing permits to record a video in Intramuros, which they will also launch during said concert.
He would later move the alleged Hamilton MNL concert from June 11 to June 18. When asked about this, Mr. Panganiban said that it was because he felt that the cast was unprepared. What had actually happened was that the cast, after much trepidation on their situation, were forced to halt rehearsals due to Mr. Panganiban's failure to show any proof that they had legal rights to stage a concert.
In order to put up any kind of concert, a producer needs to acquire the proper licensing rights to stage it. In fact, rights are needed to even use the hashtag "#HamiltonMNL", a hashtag that Mr. Panganiban has been using since launching this project months before.
Mr. Panganiban has not shown any legitimate proof of rights. Every time the cast would ask him to show them that they had the rights to carry on with the concert, he would keep using delaying tactics.
4. I met with Mr. Panganiban last June 11 to get his side of the story. I asked him why he asked us to delete the Hamilton MNL posts.
Panganiban: "Because right now we're having some problems regarding this project if we're are going to do this legally. As for the past few days or weeks, we have talked to the cast and crew about this. I have committed some… there was a problem with regards sa professionalism. I admit may mali with that. I wasn't too open with my colleagues under Rabbanah. It caused a lot of problems with regard to the project and it caused us to hold the rehearsals."
According to Mr. Panganiban, he had an email correspondence with Lin-Manuel Miranda's team before launching the project and had allegedly acquired permission to stage a mini-concert with 15 songs.
When asked for proof of this supposed correspondence, Mr. Panganiban said that he has deleted all of the said proof because of a warning at the bottom of the emails saying that he's not allowed to distribute them.
What I have personally seen, however, is a Facebook message dated May 30 that Mr. Panganiban sent to the Hamilton Facebook page, asking for permission to stage a concert.
At this point, the cast had already been rehearsing almost everyday for nearly 2 months.
When pressed about this, Mr. Panganiban said that this was only meant as a refresher message from the email correspondence that he allegedly had with the people behind Hamilton last March.
When asked why he suddenly changed the project from viral video to concert, he said that it was due to a request from Mr. Miranda's team.
According to Mr. Panganiban, Mr. Miranda's team learned about the viral video project when he emailed them. But when Mr. Miranda's team saw that a post about the project on Rabbanah's Facebook page got 1000 shares, Mr. Miranda's team allegedly requested if it was possible for Mr. Panganiban's project to perform 15 live songs instead.
In addition to this, Mr. Panganiban claims that Mr. Miranda's team allegedly gave him written permission to perform a few excerpts.
We requested Mr. Panganiban to show proof of this correspondence, as well as the Facebook post that earned 1000 shares. As of this writing, he has not provided either.
When rights to musicals are properly bought and acquired, contracts, scores, or music sheets are sent. Mr. Panganiban has not been given any of these.
When pressed about why he thought it was okay to push through with this without proper documentation, he said, "Probably because of my lack of experience with this, at first, I was really confident of pushing through with the project."
We asked him if he considered the repercussions of staging Hamilton with no permission, he says, "Honestly I thought of it but not to the extent of having a formal letter." Whatever Mr. Panganiban means by this is not clear to us, either.
We sympathize with the cast who have poured their heart and soul, spending time, resources, and energy to participate in this project.
Comments