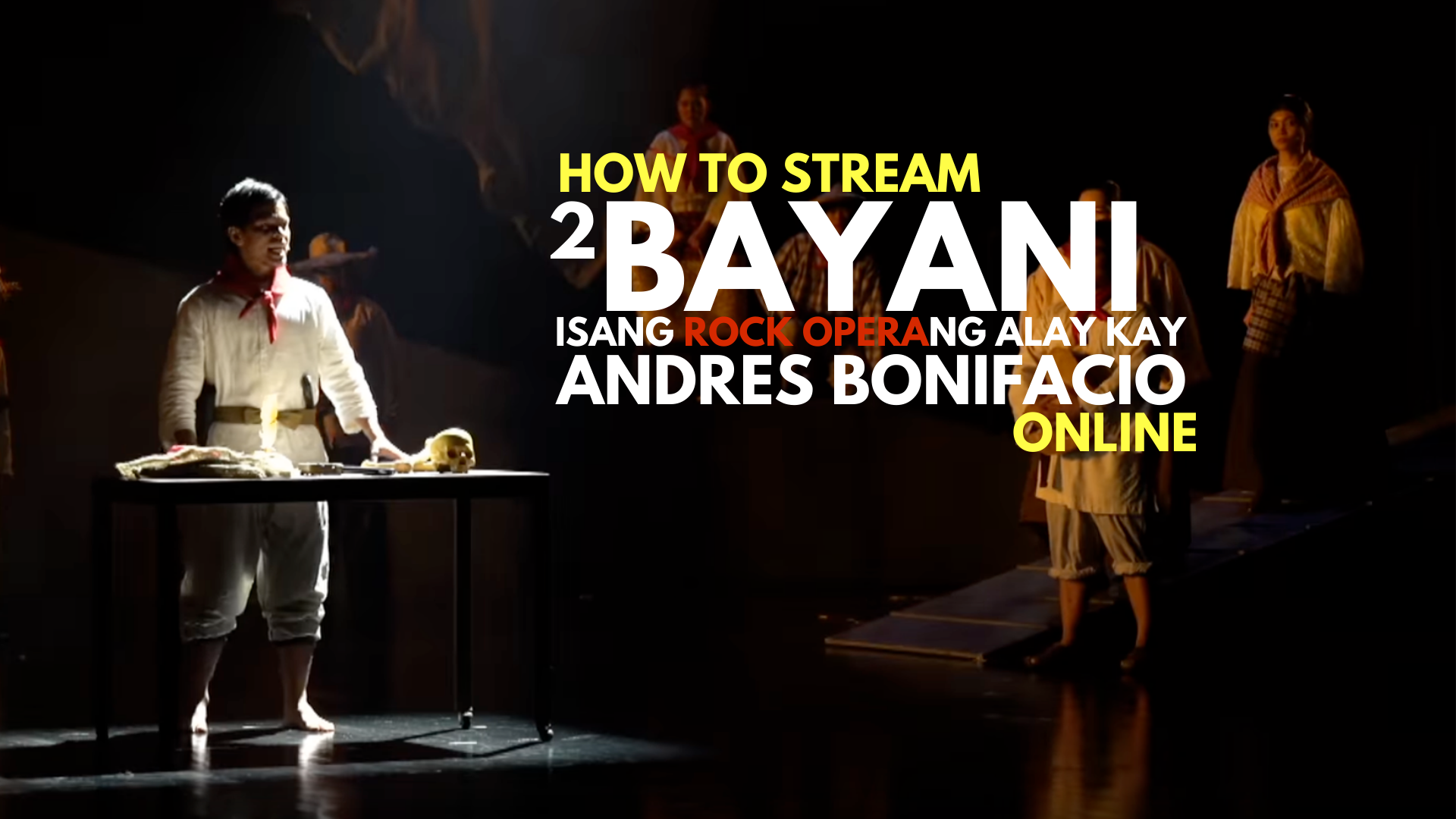 How to Stream '²BAYANI' Musical Online
Is the show streaming for free?
Nope! No free streams have been announced for ²BAYANI: Isang Rock Operang Alay Kay Andres Bonifacio.
How much is it then?
Php 450.00 for 24-Hour Video on Demand. You can buy a ticket for any date from April 9 to 23.
How do I buy a ticket?
The easiest way is through us!
We're selling tickets to 24-hour Video on Demand. You can message us on Facebook messenger (or even DM us via Twitter or Instagram), send us an email, or even shoot us a text (+63 917 891 2300).
Just tell us you'd like to buy ²BAYANI tickets and the date you want to watch and we'll walk you through payment. Super quick and easy.
Which mode of payment do you accept?
We accept GCash, BDO, or PayPal.
If you prefer other banks or options, just let us know and we'll help you out. Once payment has gone through, we'll email you your eTicket within 2 business days.
What is '²BAYANI: Isang Rock Operang Alay Kay Andres Bonifacio'?
It is a rock opera about Andres Bonifacio that was first staged in 1996. In 2022, Areté in partnership with Tanghalang Ateneo will be staging this as a new online theatrical production for streaming.
The play will still be directed by Ricardo G. Abad, with music and lyrics by Zosimo Quibilan, Jr. and Khavn, who will be reunited after 26 years.
Here's a teaser of the show.
What language is the performance?
It will be in Filipino, but it will also include English subtitles.
Who is the cast for the show that will stream?
The cast stars indie-folk musician Bullet Dumas in the titular role. He is joined by Alyana Cabral, Larissa Buendia, Ali Figueroa, MC Dela Cruz, Greg Abelardo De Leon, Angelo Galang, Matt Gador, Gabo Tolentino, Pat Libao, Norvin De Los Santos, Meyanne Plamenio, Jam Binay, Nashvie Magracia, Lance Soliman, Pio Bagnol, Austin Gonzales, Michael D. Fernandez, Tara Jamora Oppen, Jamie Papa, and Nanding Josef.
Is the show also staged live in person?
Nope, this is a pre-recorded stream of the show filmed by the production. Complying with strict health and safety protocols, the production team proceeded with a 10-day lock-in schedule and recorded a stage-to-screen performance of ²BAYANI: Isang Rock Operang Alay Kay Andres Bonifacio last November 2021.
After a month of online rehearsals, the production was captured from Areté's Hyundai Hall, the first theatrical performance in the venue after 18 months.
Who can watch this show?
It is suitable for all audiences.
I bought a Video On Demand ticket! When can I start watching?
You can start watching from the ticket date you purchased at 10:00 AM Philippine time (PHT). You will have access to the stream for 24 hours. For example, you bought an April 21 ticket from us, you will have access to the stream starting 10:00 AM PHT on April 21 until 10:00 AM PHT on April 22.
Is this accessible to people outside the Philippines?
Yes! It is available worldwide.
On which platform will it stream?
It will stream through ktx.ph's video service platform. Once you've purchased a ticket from us, we'll send you your eTicket to access the show on the date you chose.
Can I watch this on any device?
If you want to cast the film on to your TVs, use Google Chromecast or an HDMI cable.
For more technical questions, please contact ktx.ph directly.
Are you sponsoring any groups or schools for this show?
Just like our previous stream for Under My Skin, we are once again, with the help of donors, sponsoring tickets for the students of Ramon Magsaysay High School (Cubao branch).
If you'd like to help us sponsor even more students, just message us with how many tickets you'd like to sponsor. Each sponsored ticket is also Php 450.00
Are you a legit showbuyer?
You bet! You can always contact Arete and Tanghalang Ateneo to verify.
Comments