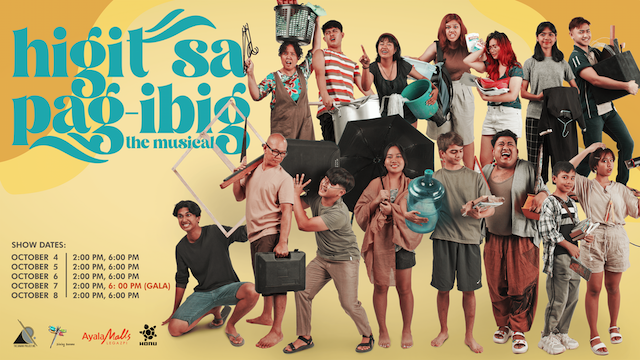 'Higit sa Pag-ibig, The Musical' to Run in Bicol this October
Higit sa Pag-ibig, The Musical, the newest collaborative project between Sining Banwa and The Dawani Project, Inc., is set to be staged from October 4-8 at Cinema 4 of Ayala Malls Legazpi.
The story is set at Barangay Eskwala, a sinking urban community that is constantly flooded by the rising tide that comes in many forms. Its residents, who are drowning in a sea of social cancer, blame games, and power play, try to survive the ultimate test of friendship, love, and sacrifice.
Taking the helm are two of Bicol's most prolific contemporary artists in theater and music– playwright, director, and cultural worker Sari Saysay, and teacher, composer, and Fulbright scholar Jan Aldrin Belisario. They are joined by Maynard Tarog (choreographer) and Jobert Landeza (dramaturg).
Higit sa Pag-ibig, The Musical, is a 90-minute musical that focuses on stories of coping, survival, and hope, as seen from personal and social standpoints. The show caters to all age groups and genders and is recommended to students, teachers, parents, cause-oriented groups, and youth organizations.
You can find the show schedules below:
Wed, October 4 – 2pm and 6pm
Thu, October 5 – 2pm and 6pm
Fri, October 6 – 2pm and 6pm
Sat, October 7, 2pm and 6pm (Gala)
Sun, October 8, 2pm and 6pm
Comments