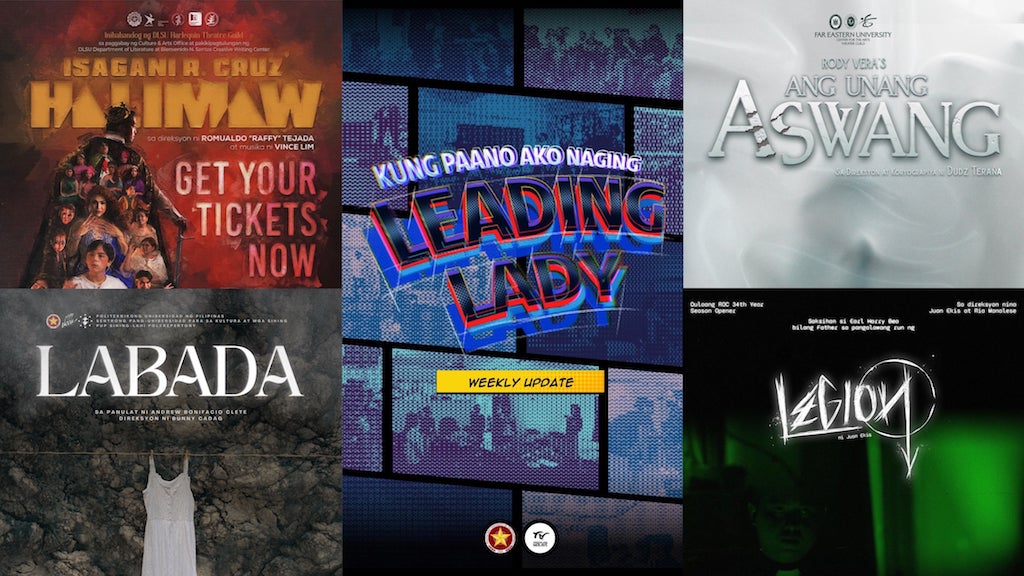 5 University-based Productions this October 2023
There are five university-based productions that you can watch this October– 2 from the Polytechnic University of the Philippines, 1 from DLSU, 1 from FEU, and 1 from UA&P.
1. Halimaw by DLSU Harlequin Theatre Guild
DLSU's Harlequin Theatre Guild (DLSU-HTG) will be staging Halimaw, a tribute to Filipino poet, playwright, and Lasallian educator Dr. Isagani R. Cruz, from October 4-7 at the Teresa Yuchengco Auditorium of DLSU.
Together with the DLSU Department of Literature and the Bienvenido N. Santos Creative Writing Center, DLSU-HTG will stage a modernized retelling of Cruz's 1971 script, Halimaw, as a contemporary rap-musical.
Halimaw is a satirical comedy surrounding the national and international socio-political climate during the time. It revolves around an adventure to save three princesses, daughters of a greedy and irreverent monarch. In this journey, the protagonist faces many versions of the Halimaw, representations of different corruptions of power in the Philippines.
The cast features Viñas Deluxe, Noel Comia Jr., Bene Manaois, and homegrown theater artists of DLSU-HTG.
The show is directed by Raffy Tejada, with musical direction by Vince Lim, production design by Leeroy New, and costumes and make-up design by Santi Obcena. Tickets are P1,500 (premium seating, inclusive of signed souvenir program and merchandise), P700 (orchestra), P500 (balcony 1), and P350 (balcony 2). Tickets are available through Ticket2Me.
2. Ang Unang Aswang by FEU Theater Guild
The return of Rody Vera's Ang Unang Aswang is FEU Theater Guild's (FTG) 89th season ender, along with the FEU Center for the Arts (FCA).
The play takes place in a dangerous forest ruled by the wilderness written by Palanca awardee playwright Rody Vera and directed by FTG's Artistic Director, Dudz Teraña.
Wander where the Aswang dwells! With sharp teeth, venomous stares, and the rabidness of a wild animal, the Aswang searches for her identity in a village she has not been to before. Will her curiosity towards her origin urge her to search for her identity? Will a gut-wrenching deed done by a boy bring out her true nature to consume her own offspring?
Ang 'Aswang' will alternately be played by Dianne Andallo (ITHM '26), Jazzie Alejo (ITHM '24), Brigitta Marilla (IAS '25), and Margarita Barrameda (IAS '26). Raffaele Pascua (IAS '24) and Arvin Jade Javier (IAS '26) as alternates shall essay the role of the 'Aso.' Davewyn Macawile (IAS '25) will play the role of the 'Pusa', and Jonas Cunanan (IAS '24) as The 'Baboy Ramo.' Aaron Bayani (FIT '25) is The Binata. The Asawa is played by Kesiah Aritao (IAS '25).
The show will run every Wednesday, Thursday, Friday, and Saturday from October 4 until December 9, 6pm at the FEU Center for the Arts Studio, Ground Floor of the Engineering Building, FEU Manila, Nicanor Reyes Street, Sampaloc, Manila, 1008 Metro Manila.
Tickets are P200 for the FEU Community and P400 for guests.
3. Labada by PUP Sining-Lahi Polyrepertory
PUP Sining-lahi Polyrepertory opens their 42nd theater season with Labada, a play written by Andrew Bonifacio L. Clete and directed by Bunny Cadag.
Labada explores life at its most raw and exposes it through what is authentic to us Filipinos: myths and mysticism.
Four labanderas experience a drought at a river where they ought to do their laundry routine. Water, as an archetypal image of life, is missing. Is this the end of living or the sweetest escape from the wounds that can't be healed?
As the 42nd Theater Season's major production, Labada will be staged from October 11-13 at Tanghalang PUP, College of Communication, PUP Sta. Mesa, Manila
4. Kung Paano Ako Naging Leading Lady by PUP Tanghalang Molave
As the new academic year begins in PUP, the academic organization, PUP Tanghalang Molave (PUP TM), will be staging Carlo Vergara's one-act play, Kung Paano Ako Naging Leading Lady this October 16-20 at the Tanghalang PUP (PUP Theater) at the PUP College of Communication (COC) Building.
The show will be directed by Erwin B. Gaspar, one of the faculty members of the Department of Performing Arts and the adviser of PUP TM. The production aims to showcase the talents of the current, previous, and incoming students of the department.
5. Legion by Dulaang Roc
After its sold out run last March 2023, Juan Ekis, together with Dulaang ROC, is bringing back 'L.E.G.I.O.N' this October. 
The one-act play follows a paramilitary unit that hides from an unseen enemy and occupies Agatha's bedroom, taking her as hostage. Despite their attempts to be inconspicuous, the phone in Agatha's room rings, revealing that their enemy has found their hiding place. The team, who calls itself LEGION, tries to survive the siege started by their unseen enemy. 
Directed by Juan Ekis himself, in collaboration with Greg Rodriguez III as technical director and scenic designer, the second production of Juan Ekis' L.E.G.I.O.N will be running on October 18 at 8pm, October 19 at 8pm, and October 21 at 3pm and 8pm (the show already began its run from September 21-30) at the University Student Commons/Dizon Auditorium of the University of Asia and the Pacific.

Tickets can be purchased for P400 each on Juan Ekis' Facebook posts and Dulaang ROC's Facebook and Instagram posts.
Comments