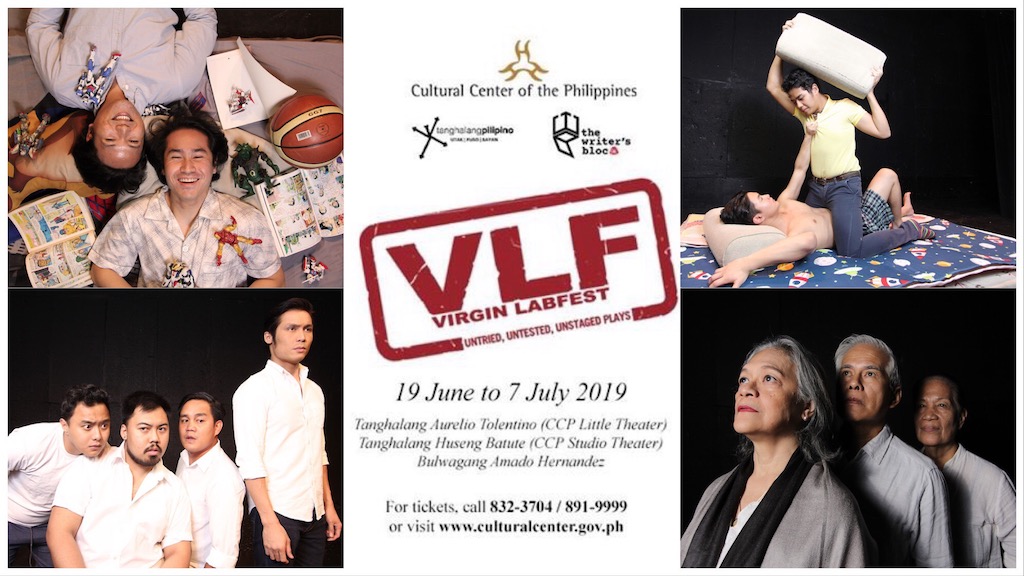 GUIDE: Virgin Labfest 15 Titibok-tibok
This year's Virgin Labfest (VLF), co-presented by the Cultural Center of the Philippines, Tanghalang Pilipino, and the playwrights' group Writer's Bloc Inc., will run from June 19 to July 7 at various CCP venues.
Taking the theme of "Titibok-Tibok," this year's festival will feature 12 one-act works, 3 revisited plays from last year's festival, and 6 staged readings. According to festival director Tuxqs Rutaquio, there were a total of 207 submitted entries this year, a new record for The Virgin Labfest.
CCP's Vice President and Artistic Director Chris Millado says that there have been a total of 257 new works (one-act plays and staged readings) that have been featured in the last 14 years, with an average of 100-150 entry submissions every year. It is "… singularly pushing the artform of one-act playwriting," he says, recounting how the festival was stimulated by the late veteran playwright Rene Villanueva, who was decrying the fact that "… nawawala na iyung art of one-act playwriting. Sabi niya iyung mga tao interesado na lang writing for television and film, at nawawala na iyung one-act play form." Villanueva was an adviser of the Writer's Bloc. at the time.
"A lot of directors have joined us, not only from theater, but even from film and television, because they got excited with the kind of stories and the kind of narratives that it was offering," he adds. "And because of that, these directors brought with them actors. So it's a merry mix of theater actors, television actors, and film actors who are stimulated by the whole storytelling that we do at the Virgin Labfest."
He also mentions that audiences have deemed the VLF as the de facto theater festival every year. "I think one of the appeals of the Virgin Labfest is that you don't know what you're gonna get."
The schedules of the different sets are as follows:
Click here for tickets.
SET A
1. Fangirl by Herlyn Alegre
Directed by Charles Yee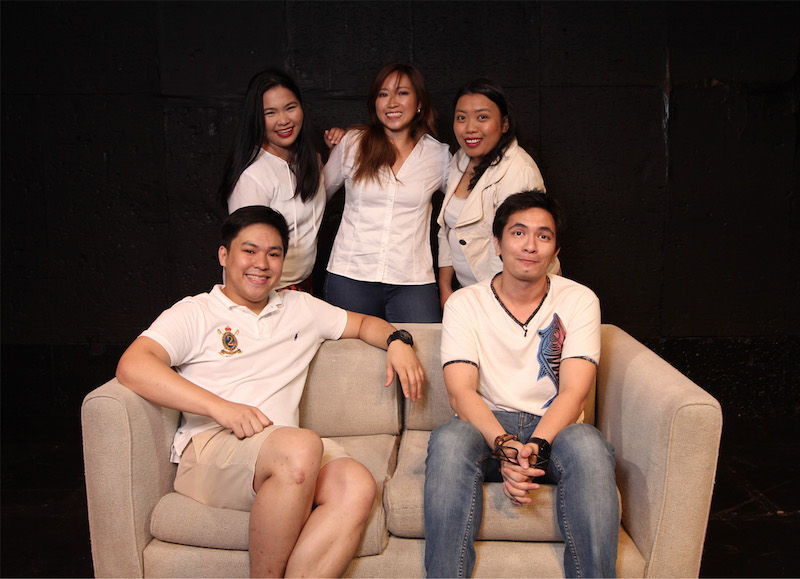 As one of the biggest boybands of the 1990s get together for a long-awaited reunion concert after 20 years, high school friends Barbara, Jessica and Angeline also reunite to book concert tickets to see their favorite boys. As the three friends reminisce their teenage years spent fantasizing about their favorite boyband, they also get to catch up with each other's lives, revealing years of frustration, anxiety and angst towards the roles they have been made to fulfill as women and bringing insecurities to the surface and previously unconfronted animosity against each other more salient.
CAST: Mayen Estanero as Barbara , Marj Lorico as Jessica, Meann Espinosa as Angeline
2. Huling Hiling ni Darling by Raymund Barcelon
Directed by Ricardo Magno
After Abet's wife fell into a sudden coma, he calls on his mother-in-law and sister-in-law to bid her goodbye. Much to the chagrin of Abet, his overbearing mother-in-law refuses to let her daughter go and insists that she's fighting for a reason. The sister-in-law then reveals to Abet that she and his wife made an agreement that their mother will live with them, an agreement that he only learned on that fateful day.
CAST: Renante Bustamante as Abet, Sherry Lara as Mama, Skyzx Labastilla as Susan,  Chase Salazar as Oryang, Kenjie Villacorte as Doktor, Liway Gabo as Nurse
3. Isang Gabi Ang Buwan ay Hila-Hila ng Gula-Gulanit na Ulap by Ryan Machado
Directed by Paolo O'Hara
In the dead of night when the moon is full, two men are secretly digging a waist-deep hole. It is uncertain whether they're burying something or digging up treasures. Before dawn, they will lock horns with the power driving their deadliest, most guarded secret, their hunger.
CAST: Ybes Bagadion as Egberto, Heber O'Hara as Elisimo
SET B

1. The Unreachable Star by Layeta Bucoy
Directed by Mara Marasigan
When self-assured Tatay discovers that his youngest child Ali is giving up on her dream of becoming an engineer, he has to persuade her that he can provide for her education through the help of their barangay captain's patronage and his wife's blind faith to their patron saint. He evicts his unapologetically gay older child from home as he is forced to hang on to his belief that he could fulfill all their dreams or risk the realization that his simplest of dreams has already metamorphosed into an unreachable star.
CAST: Raffy Tejada as Tatay, Tex Ordonez as Nanay, Lorie Figuerroa as Ali, Reynald Santos as Kuya
2. Anak Ka Ng by U Z Eliserio
Directed by Maynard Manansala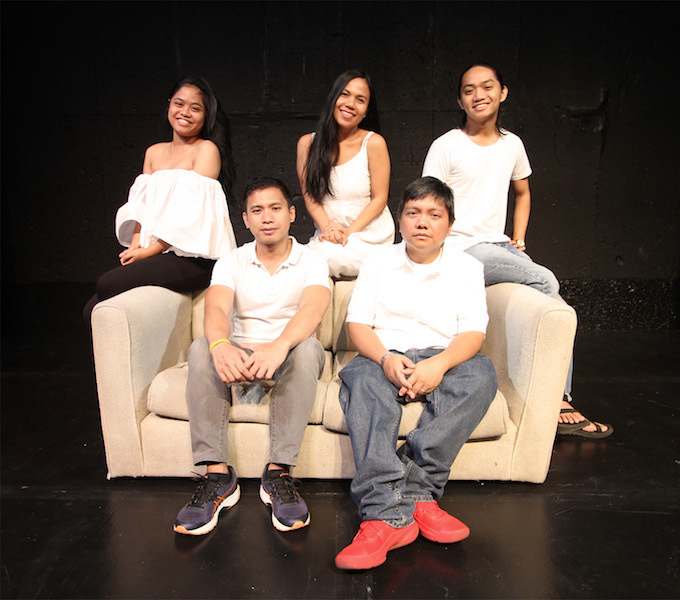 Pina has spent most of her life without a mother. She has learned to rely on and love only her father. But now her father is dead. Connie, her mother, came home from abroad seemingly just to attend to the details of the funeral and burial, not to grieve. Soon, Connie will leave the Philippines again. Pina has to decide: will she forgive her mother and try to salvage their relationship, or will she cast Connie completely out of her life?
CAST: Krystle Valentin as Pina, Skyzx Labastilla as Connie, Rafael Tibayan as Niko
3. Wanted: Male Boarders by Rick Patriarca
Director: George De Jesus III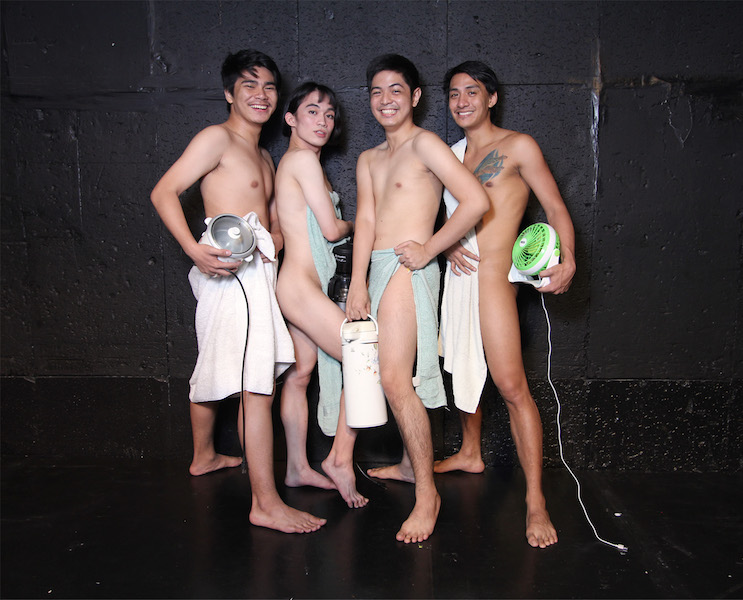 In Indang, Cavite, a trio of college students relearns the definition of desire as they try to coexist with a new enigmatic board mate.
CAST: Lance Reblando as Melody, Ross Pesigan as Marco, AJ Sison as Ian, Vincent Pajara as Andrew
SET C
1. The Bride and the Bachelor by Dingdong Novenario
Directed by: Topper Fabregas

In a moment of heightened emotion, i.e. the Bride's actual wedding, the Bride and the Bachelor meet up. Today it is extra-special because after ten years of being together, the Bride finally gets to tie the knot, albeit to her new fiancé. This provides both the Bride and the Bachelor one last chance to look back at their failed relationship and save what's left of it, or perhaps take their relationship one step forward. After all, ten years together is definitely a bond that's stronger than any marriage contract.
CAST: Via Antonio as Bride, Alex Medina as Bachelor
2. Surrogare by Dennis Teodosio
Directed by Roobak Valle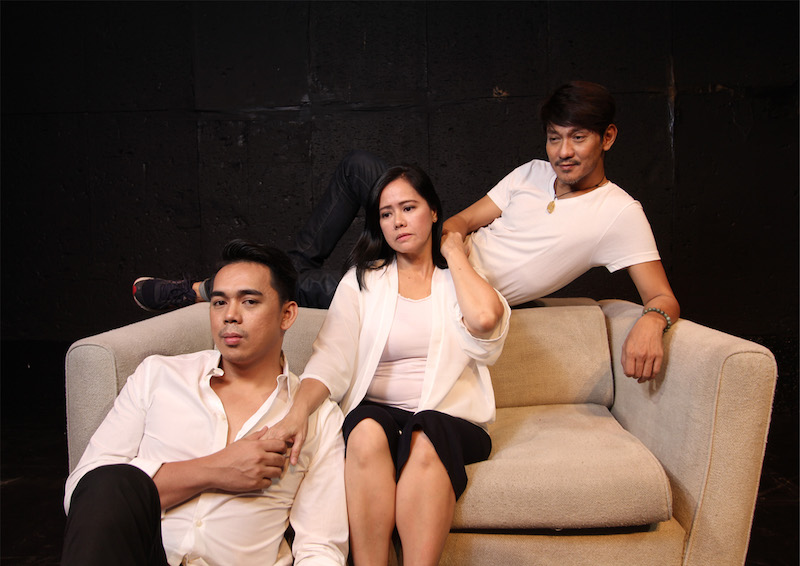 Adam and Eve live like a typical married couple, focusing whatever they do around each other.  They have committed to this fantabulous relationship for almost seven years now. Then, as they are about to feast on their anniversary dinner, Ana arrives, forcing them, not just to face their utmost fear, but, to fulfill their greatest fantasy as well. "Surrogare" is presumably about love and making things (sur)real.
CAST: TBA
3. A Family Reunion by Anthony Kim Vergara
Directed by Ian Segarra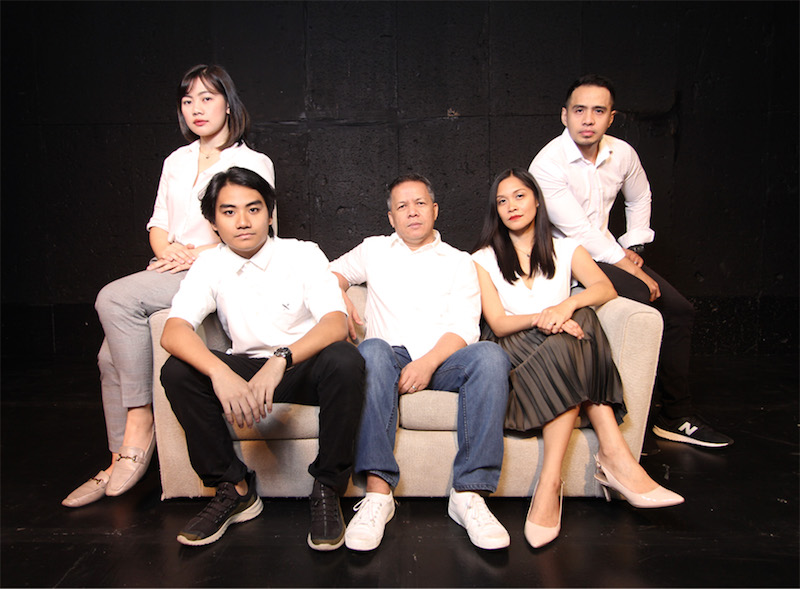 The family's bunso is visiting from Japan with fianceé in hand and the job of breaking the news of their engagement to the family. He rounds up Dad, Ate, and Kuya for an evening family gathering where his guest and their exciting news are supposed to be the stars. But ghosts of family past are dredged and dragged to the surface and threaten to steal the spotlight. This play is an uncensored close-up of the Filipino family reunion, in all its hilarity and reality.
CAST: Gie Onida as Dad, Chrome Cosio as Roch, Lesley Lina as Hershey, Joshua Martin Tayco as Nick, Sabrina Basilio as May
SET D
1. Ang Pag-uulyanin ni Olivia Mendoza by Rolin Migyuel Obina
Directed by Phil Noble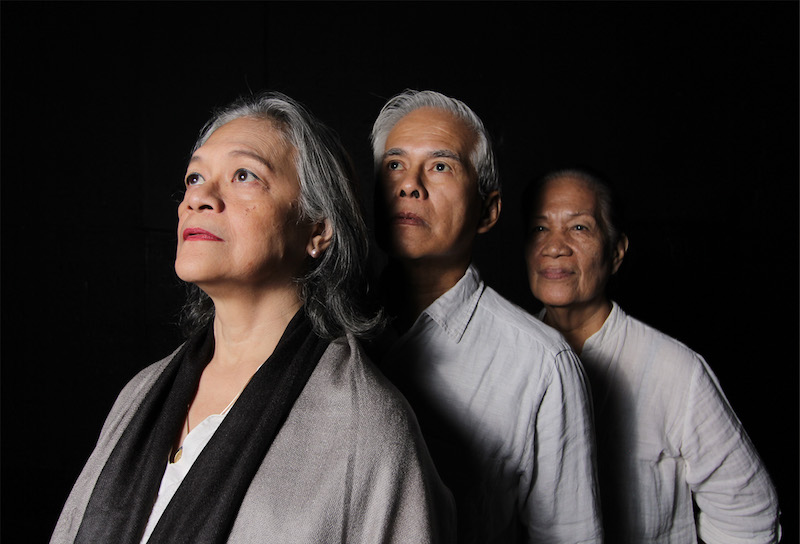 Olivia, a 75-year old woman in a home for the elderlies, keeps her dark past to herself in fear of losing the hard-fought relationship with the man she loves; among the coterie of the same senile, cranky, old people with once significant but now forgotten lives. Until one day, when Alzheimer's Disease reveals her deepest secrets, everything she holds dear falls apart, leaving a fractured memory she might never mend back again.
CAST: Edna Vida as Olivia, Nonoy Froilan as Andres, Celeste Legaspi as Julia, Crispin Pineda as Cesar, Erlinda Villalobos as Lika
2. Larong Demonyo by Nicolas Pichay
Directed by Jose Estrella
Napipilitang mag-apply ng trabaho si Efren sa dating kinakatakutan at ngayo'y kinasusuklaman Heneral ng Martial Law dahil kailangan niya ng pang-ospital sa kanyang lolo na na may malubhang karamdaman.
Makakatunggali ni Efren ang Heneral sa isang matinding talakayan hanggang sa umabot ito sa paglalaro nila ng chess na may nakakapangilabot na pustahan.
CAST: Leo Rialp as Heneral Videla, Johnny Maglinao as Efren
3. Wala Nang Bata Dito by Sari Saysay
Directed by Tanya Lopez
One early evening in a small fishing barrio in Bikol, a mother awaits the authorities who will take her nine-year old child to prison.
CAST: Venise Tolentino as Dolor
SET E (REVISITED PLAYS):
1. River Lethe by Allan Lopez
Directed by Chris Martinez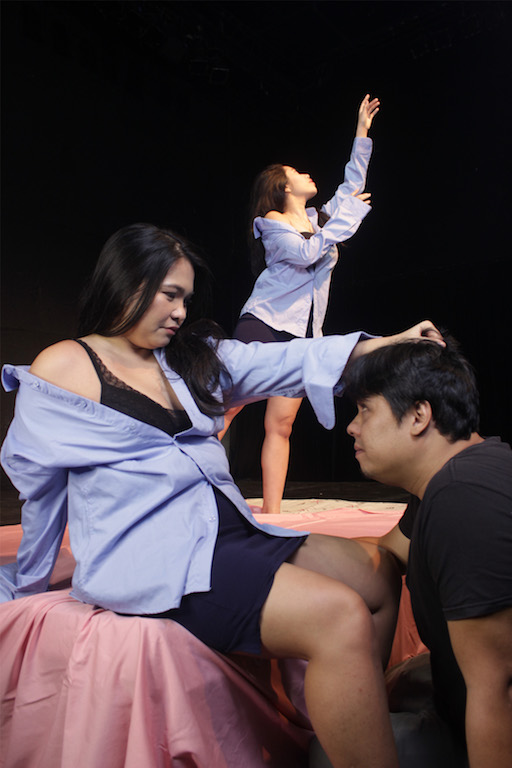 A room in a small lover's hotel is sanitized, preparing it for its next occupant. Abe and Mara, two cancer patients who just finished with their early morning chemotherapy sessions, check in before returning to their regular lives. In snapshots, we see the few hours they are together exploring fetishes, kinks, uncanny sex and hopeless medical conditions – the nakedness of their bodies shadowing intimacies that nobody outside the room will ever know. All is left in the cramped space to be forgotten – a dip in the mythical River Lethe, where one drinks to forget.

CAST: Paolo O'Hara as Abe, Mayen Estanero as Mara, Charm Aranton as Ensemble, Ian Formacion as Ensemble, Roco Sanchez as Ensemble
2. Edgar Allan Hemingway by Carlo Vergara
Directed by George de Jesus III
When a young man achieves a feat that many writers could only dream of, he's thrust into a hectic life of celebrity, one unabashedly embraced by his supportive lover. But when a childhood friend shows up hoping to have a slice of the same success, an unexpected revelation brings about questions on ethics, survival, and freedom.

CAST: Guelan Luarca as George, Rafa Siguion-Reyna as Levi, Ricci Chan as Barns
3. Mga Eksena sa Buhay ng Kontrabida by Dustin Celestino
Directed by Roobak Valle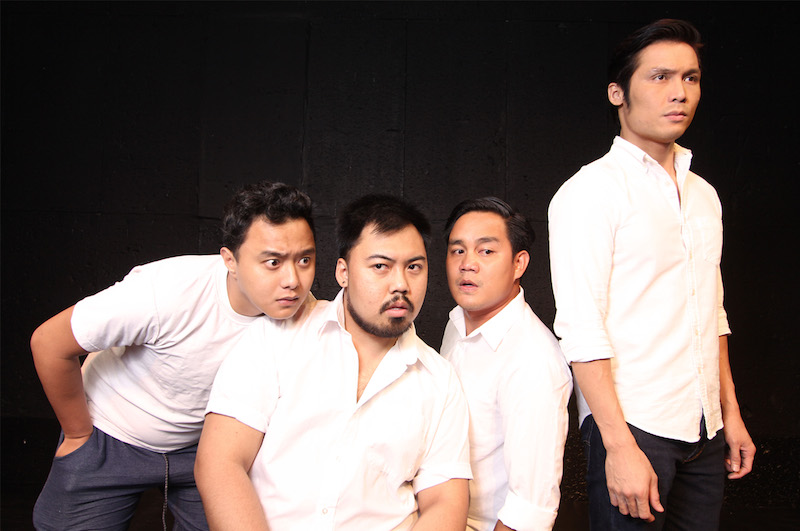 CAST: Jay Gonzaga as Jake, JV Ibesate as Mike, Fitz Bitana as Tom, Richard Manabat as Ricky, Lian Silverio as Joe

Set A and Set B of the Staged Readings are part of a new program dubbed "Once They Were Virgins," featuring the first works of established playwrights.
STAGED READINGS
(ONCE THEY WERE VIRGINS)
SET A
1. Rated X by Jun Lana
Directed by Dennis Marasigan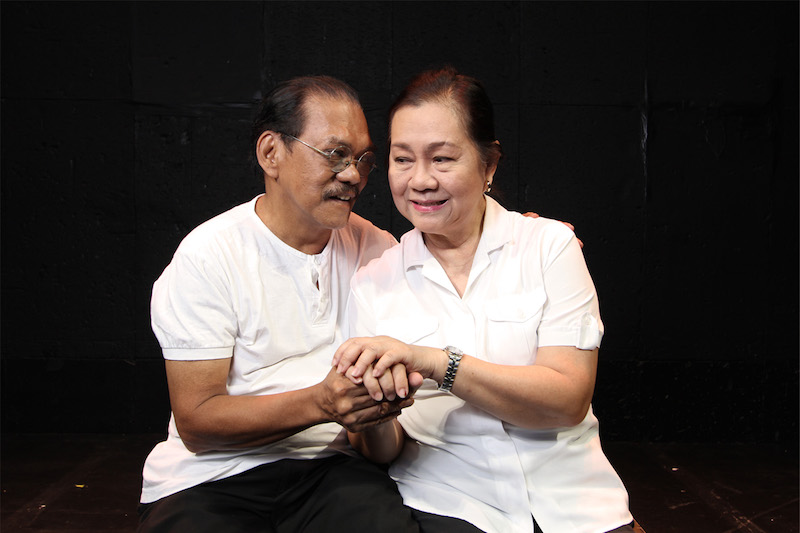 A septuagenarian woman talks about missing sex and cuddles while her husband is having a heart attack.
CAST: Sherry Lara as Elvira, Lou Veloso as Manolo
2. Freshman by Chris Martinez
Directed by: Kanakan Balintagos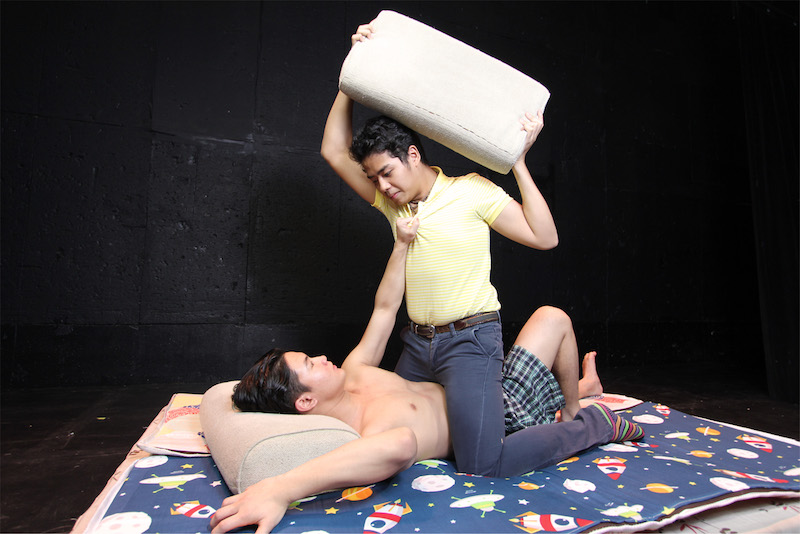 Two college freshmen (Ryan, a geeky artistic type and Bonn, a jock) study for their final Statistics exam. What is supposed to be a review night turns out to be more than they expected. Values are questioned. Innocence is lost. Desire is unleashed.

Chris Martinez's first one-act play was produced by UP Tropa in 1991 in UP Diliman. This year, it finds its way back in the hands of its original director 28 years ago – Kanakan-Balintagos.
CAST: Nico Nepomuceno as Bonn, Earvin Estioco as Ryan
SET B
1. Pagsasarili by Liza Magtoto
Directed by Olive Nieto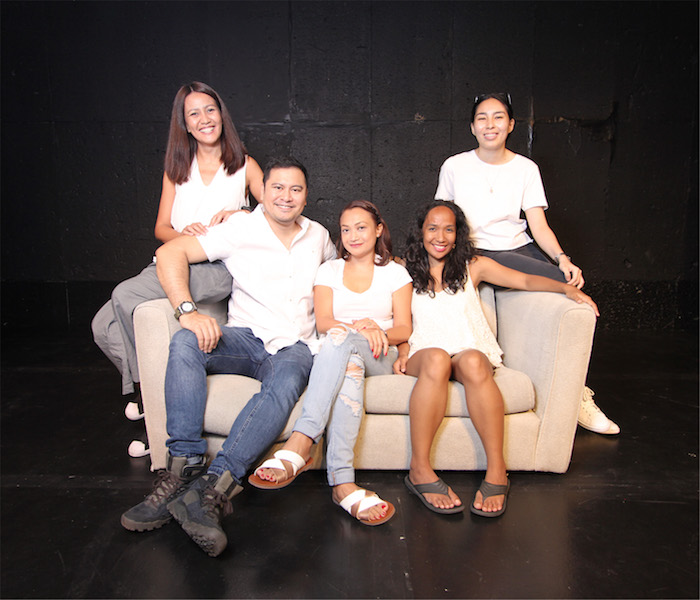 Two women share an apartment. Jobless Minoe thinks she is being independent from her parents but is still really dependent on them for support. (She just needs a place to bring a boyfriend.) Meanwhile, Cynch would rather stay away from responsibilities her family is asking her to do. Written during pre-internet times and when it was still taboo for single women to live independently from their parents, "Pagsasarili" examines how we look at single women and the choices they make to determine the course of their lives. 
CAST: Eric Villanueva Dela Cruz as Tata, Joshua and Kuya Nestor, Martha Comia as Minoe, Opaline Santos as Cynthia, Laksmi Quitevis as Naring and Daisy
2. Intermedyo by Chris Millado
Directed by Baha Vergara
Maeengkwentro ng isang bagitong SM ang beteranang aktres. Mauuwi sa tuksuhan, inisan at sakitan ang ensayo. Ang unang tangka sa pagsulat ng dulang may isang yugto ay liham ng pag-ibig ng manunulat para sa teatro.
CAST: Mailes Kanapi as Aktres, JC Santos as SM
(NEW WORKS)
SET C
1. Ang Pagbabalik at Paglisan by Karl Caminade
Directed by Bong Cabrera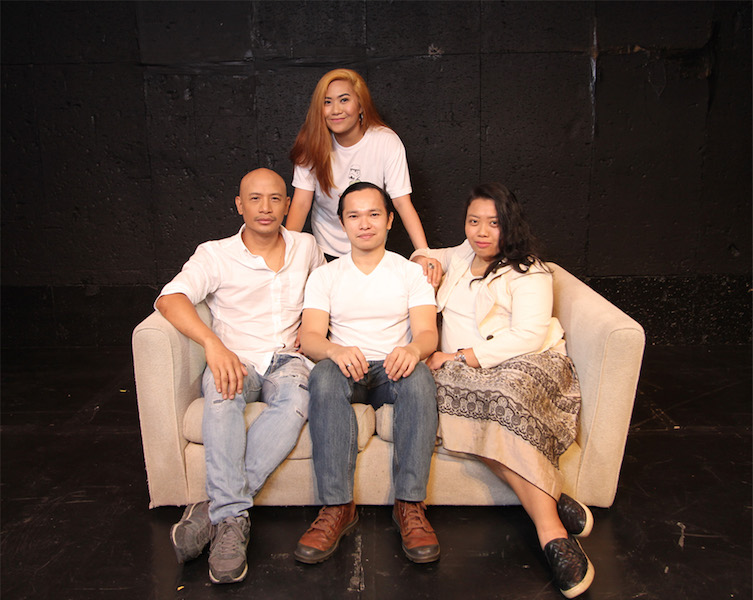 It follows the story of Lorenz Apostol, a 26-year-old policeman who  decides to return to his parents' home with a revelation that  would change their lives. It seems to be a heartwarming family reunion but things do not work out the way he wants them to.
CAST: Aldo Vencilao as Lorenz Apostol, Lao Rodriguez as Juan Apostol, Meann Espinosa as Tess Apostol, Jannah Bana Sia as Inday
2. Multiverse by Juliene Mendoza
Directed by Fitz Betana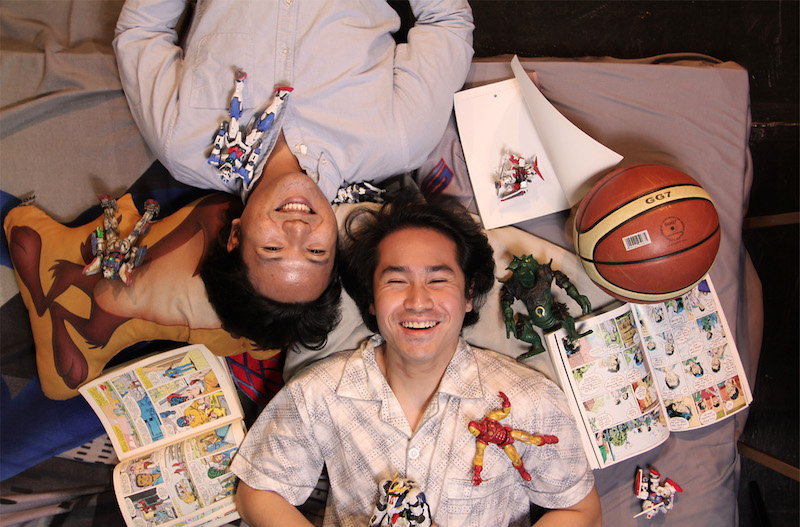 CAST: Dan de Guzman as Peter, Iggi Siasoco as Bobby
3. Mula Kina Cain at Abel by Mikaela Regis
Directed by Yong Tapang
Mato is a highly regarded death squad member from the city of Davao, but the voices of the people he has killed have become too many to ignore. After six months of self-imposed isolation, Mato meets with his closest comrade Turo in the hopes of convincing him to leave the squad with him. Turo arrives, but only with the sole purpose of convincing him otherwise. As they speak, both good and dark memories are recountedmany with contradicting narrativesand pleas and threats are made, for neither one will take no for an answer.
CAST: Soliman Cruz, Joel Saracho, Kath Castillo, Joy Delos Santos, Omar Uddin
SET D
1. Ang Pambansang Impiyerno ng Republika ng Pilipinas by Andrew Estacio
Directed by Sari Saysay
The gates of hell are wide open to men who committed crimes against their country. And in this year, the President of the Republic of the Philippines shall pay the price. Two demons, Ping and Pong, will haze the dictator until he reaches his maximum intelligence, or madness, perhaps. Will his iron fist stand the judgement of hell? Can he bear the greatest punishment in the underworld, that is to tell the truth and nothing but the truth? Hear then the laughter of the devil, maligayang tokhangan!

CAST: Carlos Ramos as Presidente, Ping as Transvestite, Pong as Transvestite
2. Lit by Emmanuel Feliciano
Directed by Eric Villanueva Dela Cruz
Ed is recovering at home after a recent hospitalization caused by complications of his condition. His former partner Vic visits to check on him, but what he discovers is a messy house and a less than enthusiastic Ed, idly letting time pass, seemingly uninterested in the future. But Vic's presence gives Ed energy to get up, and they play the game they used to enjoy when they were still lovers and teaching colleagues: guessing titles of literary works through lines lifted from the texts. But the game turns bitter when the lines become reminders of their bitter break-up, forcing them to confront their issues and resolve to an unexpected closure.
CAST: Renante Bustamante as Vic, Chesko Rodriguez as Ed
3. Mema by Joey Paras
Directed by Chunchi Cabasaan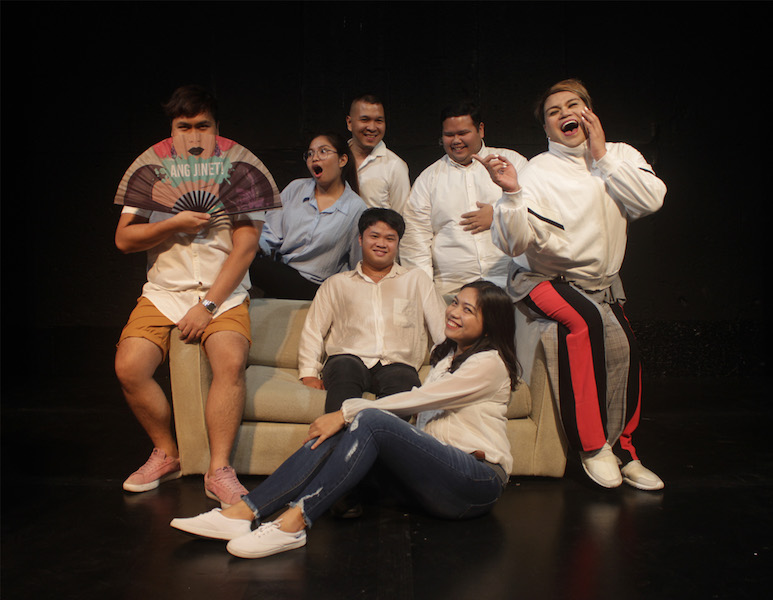 Pamela, a 19 year-old obese girl, is a victim of bullying in school. She is being ridiculed because of her immense physical looks. To escape from people's cruelty and bashing, she decides to commit suicide. She broadcasts herself via Facebook. Live streaming and cries out her angst and ire before she ultimately takes dozens of illegal slimming pills to finally end up her life. But Marcus, her ultimate childhood crush, suddenly appears online and stops her from killing herself. Pamela finally receives affirmation from Marcus as the young lad professes his love for her. She suddenly reverses her plans and takes the leap to save herself from dying but it is already too late.
CAST: Kiki Baento as Pamela, Paolo Gaspar as Marcus,Abet Abesamis as Boses ng Masa, Daisy Tasic as Boses ng Masa,Nikko Catena as Boses ng Masa
You can buy tickets to the festival HERE.
Comments