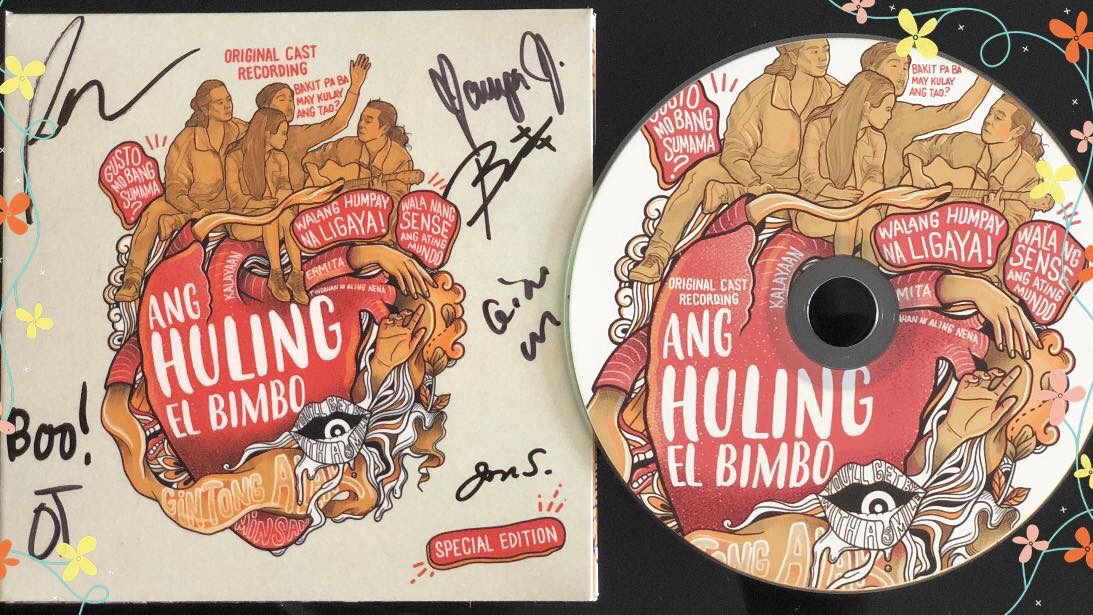 Full "Ang Huling El Bimbo" Cast Album Drops on Spotify!
The wait is finally over! All 15 tracks are now officially on Spotify!
As early as March 1 of this year, when the production started its final run at the Newport Performing Arts Theater, the cast album has already been available for sale in CD format. For the past few weeks, songs have been dropping incrementally on the streaming service. Now that the company is preparing for its closing weekend, it has made the full album available digitally.
The cast album includes 14 tracks performed by the original cast and one bonus track from the new cast. You can find the full track listing below:
1. Waiting for the Bus
2. Minsan
3. Tindahan ni Aling Nena
4. Pare Ko/ Yoko
5. Cha Dely Medley: Shirley/Tikman/ Bogchi Hokbu
6. Tama Ka/ Ligaya
7. Friendship Medley: Huwag Kang Matakot/ Sembreak/ Hey Jay/ Wishing Wells/ Fine Time
8. Alapaap/ Overdrive
9. Fill Her
10. With a Smile
11. Kilala/ Balikbayan Box
12. Confrontation Medley: Spolarium/ Waiting/ Sino sa Atin
13. Hard to Believe/ Ligaya
14. Ang Huling El Bimbo
15. Bonus Track: Magasin
The album is also available on Apple Music and Deezer. The physical album is also available anytime at the Resorts World Manila Redemption Store (available only to patrons 21 years old and above).
Based on the songs of iconic 90's rock band The Eraserheads, "Ang Huling El Bimbo" tells the story of three friends who have drifted apart in adulthood, until fate reunites them to confront their haunted past. It currently features Gian Magdangal and David Ezra as Hector, OJ Mariano and Myke Salomon (also musical director) as Emman, Jon Santos and Rafa Siguion-Reyna as Anthony, Menchu Lauchengco-Yulo (also associate director) and Carla Guevara Laforteza as Joy, Reb Atadero and Bibo Reyes as Young Hector, Boo Gabunada and Vic Robinson as Young Emman, Lance Reblando and Phi Palmos as Young Anthony, Tanya Manalang and Gab Pangilinan as Young Joy, Sheila Francisco as Tiya Dely, and Jamie Wilson, Jonathan Tadioan, and Paolo O'Hara as Banlao.
Apart from Salomon and Lauchengco-Yulo, other members of the creative team also include Dexter Santos (director/choreographer), Dingdong Novenario (playwright), Floy Quintos (dramaturg), Gino Gonzales (set designer), Monino Duque (lighting designer), Rards Corpus (sound designer), and Marlon Rivera (costume designer).
You can listen to the full album on Spotify below.
"Ang Huling El Bimbo's" will have its final show at 8pm tomorrow, August 18.
You may buy your tickets HERE.
Comments