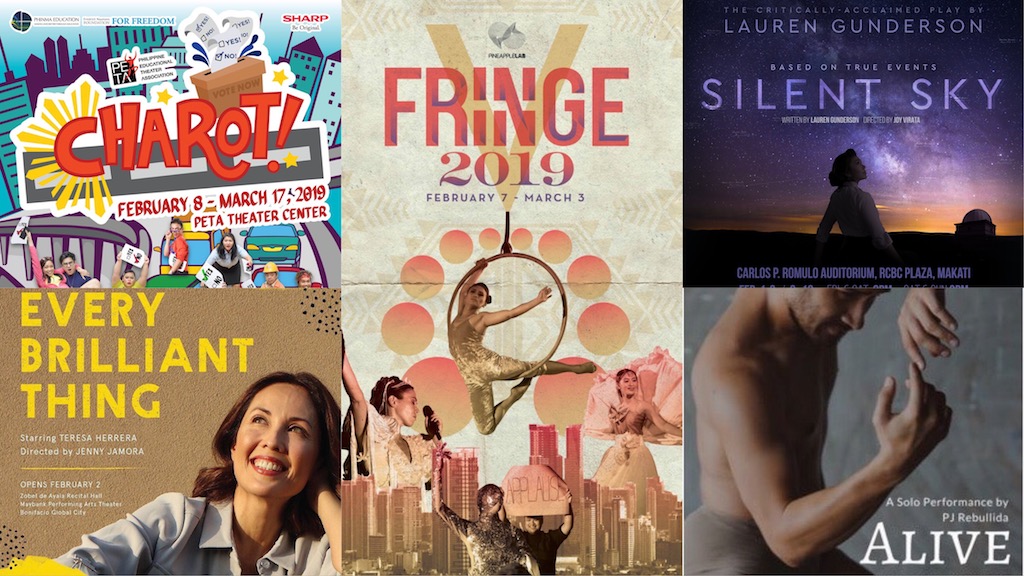 Fringe Manila Unveils 2019 Line-up
Fringe Manila celebrates diversity and inclusivity in its 5th year this 2019. Festival Director Andrei Nikolai Pamintuan brought the festival to Manila in 2015.
Fringe Manila was born out of the need to provide safe spaces for emerging artists and collectives, giving them a chance to produce experimental pieces, perform works they never had a chance to, while developing cross cultural exchanges, and engage with the local community.
"Fringe is necessary," says Fringe Manila veteran Daniel Darwin, who premiered his solo-piece "Dance Until You Shatter Yourself" in 2015. "It's important in any city, especially in a place like Manila where the industries are so small – that we have a platform for new voices to express themselves."
This year's festival will run from February 7th to March 3rd 2019. Festival-goers can expect the comeback of Fringe artists from the inaugural festival such as long-time festival partners The Sandbox Collective with their production of Every Brilliant Thing starring Teresa Herrera as well as PETA with their comedy Charot! presenting Philippine current events for the freak show that it is, imagining the future and consequences of a new charter. Repertory Philippines partners with Fringe this year with the restaging of Silent Sky, and SPIT debuts at the Yuchengco Museum. The Dance Collective led by contemporary performance artist Brian Moreno comes back to the Fringe fold as his alter-ego in Lucinda's Big Opening at the PARC Foundation. It is an autobiographical and experimental show that looks inside a drag transformation process. Combining elements of drag, dance, aerial arts and cabaret, Lucinda Sky (Brian Moreno) breaks the fourth wall and tells "herstory" of love and self-discovery, and opens up discussion about recent affairs of the country and the world in this most ambitious one man/woman show extravaganza.
Gawad Buhay-winning choreographer PJ Rebullida debuts his solo work ALIVE (Alliance Francaise de Manille), a theater of stories and poetry, a dance of people, places, and ideas. As the body tries to make sense of it all, Alive leaves room for surprises. Theater-actress and dancer Raflesia Chiarra Bravo performs K'RAZE (Yuchengco Museum) a new work discovering the K[orean]-Pop phenomenon within Filipinos. Through the medium of dance, Raflesia will not only embody this current craze, she will also try to break the aesthetic standards of the phenomenon to see if it will still capture the hearts of Filipinos. Burlesque PH's hit cabaret Bodabil at Pineapple Lab explores the localization of vaudeville in the Philippines and feature acts that highlight the heart of Filipino culture infused with the spirit of vaudeville (with a sexy burlesque twist, of course!). Experience a variety show like no other. Gayborhood goes to Quezon City at The Addlib Dance Studio featuring LGBTQIA artists battling it out in movement, style, and A.T.T.I.T.U.D.E.
The magical UNICORNS of Nordlys x P-Noise Vol 2 – Manila Fringe Edition, a collaboration between Nordlys Festival, P-NOISE Festival and Fringe Manila, brings together performing artists from Denmark, Norway, Sweden and the Philippines. The project results in three performance evenings, divided into three creative and unique venues in Poblacion, Makati – Dulo, The Ruins, and Pineapple Lab, from February 28 to March 2, 2019. It will feature Lilibeth Cuenca Rasmussen (DK) // Russ Ligtas (PH) // Martin de Mesa & Maan De Loyola (PH) // Th' Line with Kristine Søetop Wallace & Ida Wigdel (No) // Mitch Garcia & Taratak Collective (PH) //Sebastian Pyo & Caroline Bystorm (SE) // Ea Torrado (PH) // Daloy dancer with Arcelyn Lualhati, Kennard Insigne, Jaime Paraiso, Jamie Montserrat, Julliene Pearl Depatillo, Joy Christian deAsis-Adorable, Jan Lloyd Brent Celecio, Jovin Lazaro (PH) // Daniel Darwin & Perky Parong (PH) // Tengal Drilon (PH)// Leeroy New (PH) Nordlys collective with My Grønholdt (DK/SE) Julie Rasmussen (NO) Tine Østergaard (DK).
Canadian female artists flock back to Manila as Fly Lady Di performs Third World, a solo dance project created by Fly Lady Di that explores the journey of a dancer grappling with her Filipino-Canadian identity through various video-game like worlds.  When street dance meets Filipino folk dance, what ensues is a high-impact experience that will make it difficult to sit still. Move Your Dreams features Diana David, a multi-disciplinary performing artist that performs with prop-manipulation, movement storytelling and motivational speaking about self-discovery and life transformation. She weaves inspiring monologues around moving performance pieces eventually inspiring the audience to manifest their own dreams by making moves together. Interdisciplinary artist Maylee Todd collaborates with Heresy, a Manila-based art platform for women with sound and interdisciplinary media, to conduct an Ableton Workshop where students will learn the fundamentals of Ableton for recording and sequencing audio and midi. Tattoo Artist Ilona Fiddy comes back for Tusok-Tusok Vol. 3. Focusing on tattoo for the last 4 years, and with a decade of experience in multidisciplinary art and design, Ilona Fiddy has explored themes of identity, isolation, and strength in community, of othering and perpetual occupation of liminal spaces. In her tattoo practice especially, she is protective of the indistinct borders between cultural appreciation and appropriation.
The 2019 Fringe Festival also includes city tours for festival goers to get to know parts of Metro Manila. Street artist DeeJae Paeste takes foodies on the streets of Poblacion at the Starving Artist Tour food and street art tour. Manila Art Deco Weekend by Old Manila Walks celebrates the city's rich and diverse heritage of 1930s modernist architecture, while community partner Bambike explores one of a kind pit-stops, showcasing various creative spaces and the neighborhood's hidden and not so hidden gems while on their iconic bamboo bikes in Intramuros, BGC, and Poblacion, Makati.
Jodinand Aguillon, the festival's Creative Producer and Fringe artist himself reiterates, "Fringe is a powerful platform for artists to tell their narratives on their own terms. As an uncensored, unrestricted, and open-access festival, it leaves plenty of room for surprises. That is the magic unique to Fringe Manila." The 2019 Fringe Festival is made possible through the support of our festival partners: MyTown, Don Papa Rum, The Sandbox Collective, Glorious Dias, DTI-Design Center of the Philippines, Design Week 2019, CINKO PH, Bambike, and Barangay Poblacion, Makati City.
Tickets will be made available at TicketWorld 891-9999 or at www.ticketworld.com.ph for some performances. For more details and updates, like them on facebook.com/FringeMNL, follow them on Twitter and Instagram at @fringemnl. or visit fringemanila.com.
Comments