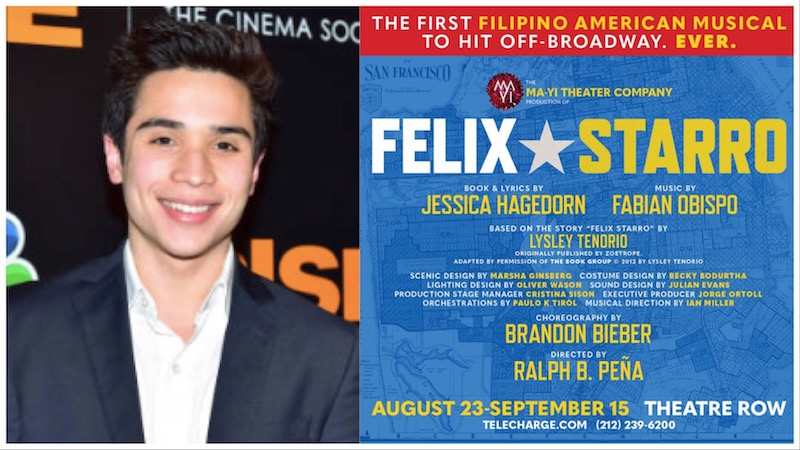 First Off-Broadway Fil-Am Musical "Felix Starro" Stars Nacho Tambunting
According to Playbill, Filipino homegrown theater artist Nacho Tambunting will star in Ma-Yi Theater Company's "Felix Starro." Tambunting will play a 19-year old undocumented Filipino immigrant in San Francisco who plays the assistant to his famous faith healing grandfather. 
Co-starring with Tambunting is Alan Ariano, who plays his grandfather Felix. Joining them are Caitlin Cisco as Crystal, Francisca Muñoz as Mrs. Delgado, Ryan James Ortega as Bobby/Ramon, Diane Phelan as Charma, and Ching Valdes-Aran as Flora.
Directed by Artistic Director Ralph B. Peña, the musical is based on a short story by Filipino-American writer Lysley Tenorio. The music is composed by Fabian Obispo, with book and lyrics by Jessica Hagedorn, choreography by Brandon Bieber, scenic design by Marsha Ginsberg, costume design by Becky Bodurtha, lighting design by Oliver Wason, sound design by Julian Evans, orchestrations by Paulo K Tirol, musical direction by Ian Miller, and production stage management by Cristina Sison.
Tambunting was most recently seen as Francis Russo in NBC's Rise. In Manila, he performed featured roles in various theater productions, such as John Darling in REP and Stages' Peter Pan, Nate Gray in REP's Camp Rock, and the White Rabbit in REP's Alice in Wonderland, among others.
The show will run from August 23–September 15 at Theatre Row in New York.
Comments