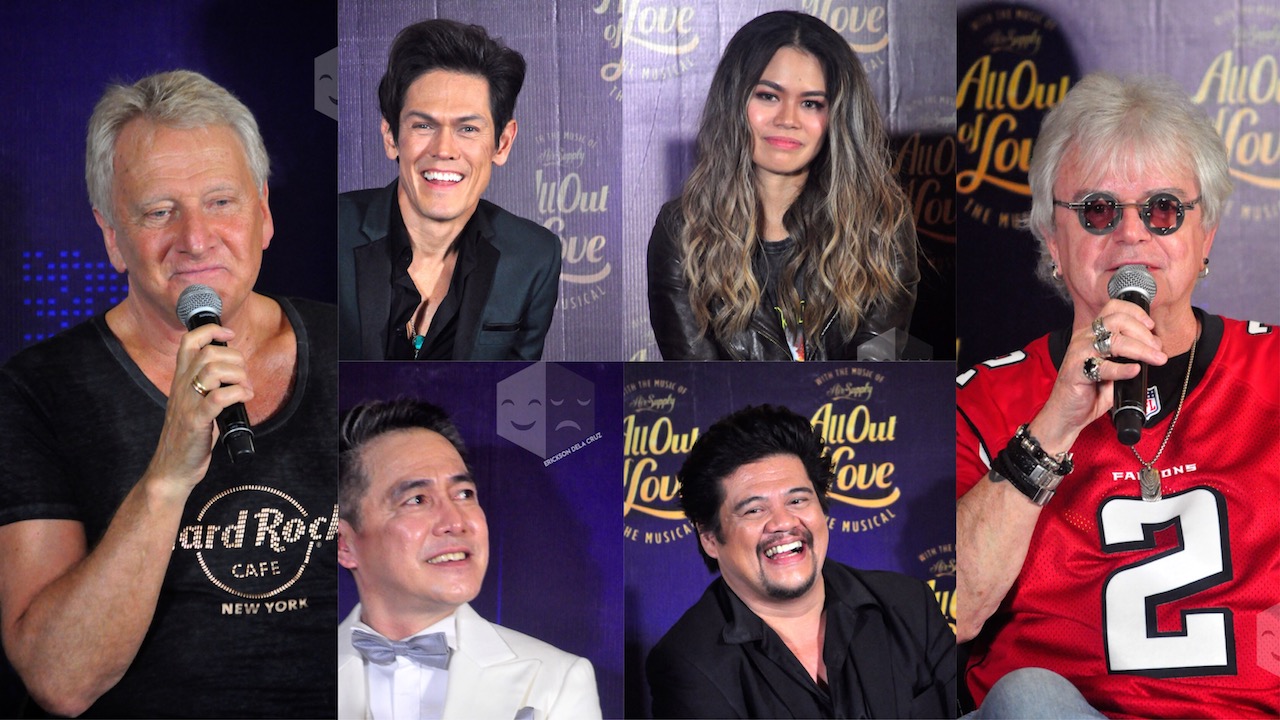 FIRST LOOK: Hit Songs from All Out Of Love the Musical Performed by MiG Ayesa and More!
Nearly four decades after the iconic "All Out of Love" first hit the airwaves, it hits the theater stage for the first time this October! Along with 16 other songs from Air Supply's discography, get ready to relive the '80s with the world premiere of All Out Of Love, The Musical.
All Out Of Love, with book by award-winning Canadian playwright Jim Millan, is a collaboration between an Australian creative team and an all-Filipino cast featuring MiG Ayesa (Rock of Ages, Rent), Rachel Alejandro (Ang Larawan), Tanya Manalang (Miss Saigon), Jamie Wilson (Matilda, Kinky Boots), and Raymund Concepcion (The King and I, Bituing Walang Ningning, The Musical).
At the helm is director Darren Yap, who previously directed for Cameron Mackintosh; he was associate director for Miss Saigon in particular when it toured all over Asia and the West End from 2011 to 2014. Joining him is musical arranger and orchestrator Stephen Amos, choreographer Yvette Lee, associate director Jacinta John, local musical director Joe Tolentino, and set designer Bob Brunton.
Set against the crazy recording industry of the '80s, All Out Of Love is about struggling rock star Jamie Crimson (Ayesa) who is torn between rekindling old flames and embarking on a world tour to save music mogul Tommy King's (Concepcion) record company. While Jamie is struggling to reconcile with his song writing partner—and love of his life whom he'd left behind—Rayne (Alejandro), Tommy deals with his own struggles, that of his wife whom he'd lost and of his daughter (Manalang) who had grown distant.
During the press conference, the cast gave audiences a taste of what's to come by performing iconic hits from the upcoming musical. Raymund Concepcion, as Tommy King, performed Here I Am (Just When I Thought I Was Over You), while Tanya Manalang, as Stacy King, sang The One That You Love. Finally, the show's lead, MiG Ayesa, performed the titular song All Out Of Love. You can watch all three performances below!
Also in attendance during the show's press conference are no other than Air Supply's Russell Hitchcock and Graham Russell, who are in Manila for their Over Asia 2018 Tour. "It's a great opportunity for us to showcase Graham's songs which have been around for several years; we have a loving, caring relationship with the Philippines so it was a natural thing for us," said Hitchcock, when asked why they chose Manila for the show's world premiere.
Not here for the limited run? Don't fret, as there's already been "some interest from other countries in Southeast Asia," said Naomi Toohey, one of the producers of All Out Of Love. "The idea is that we will take, hopefully, the Filipino cast around Asia, because what better to promote the show than the local cast?"
The strictly limited run will premiere on October 18, 2018, running until October 28, 2018, at the Newport Performing Arts Theater in Resorts World Manila.

You can buy tickets HERE.
Comments