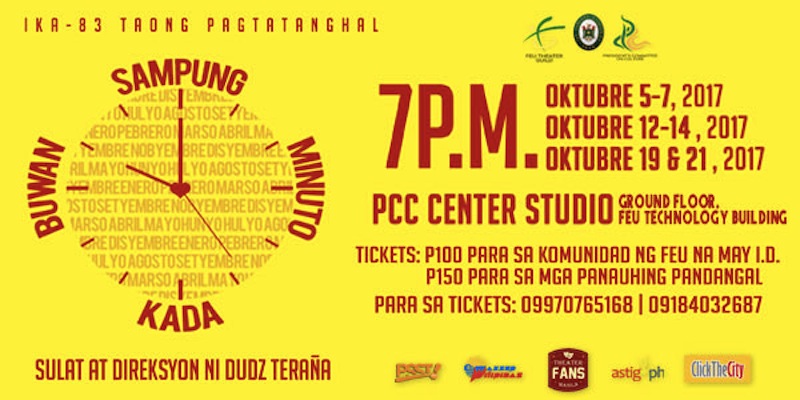 FEU Theater Guild Stages Dudz Teraña's 'Sampung Minuto Kada Buwan'
The FEU Theater Guild (FTG) opens its 83rd theater season with an original play entitled Sampung Minuto Kada Buwan, written and directed by the organization's artistic director,  Dudz Teraña.
Also a senior PETA (Philippines Educational Theater Association) artist and teacher, Teraña is known for writing "Confessions","Usapang X", and adaptations of plays such as Dominique La Victoria's "Ang Bata sa Drum", Rica Jopson's "Makikitawag Lang Ako", and Allan Lopez's "Anatomiya ng Pagibig." 
Sampung Minuto Kada Buwan consists of 12 different stories that represent the 12 months in a year, each revealed in 10 minutes. The stories will showcase the reality of how people pass through the minutes, hours, days and months without a second glance. But no matter how robotic life can be, there are these 10 minute segments in one's life that cannot be forgotten. Join their journey of self-discovery and find a deeper sense of reality.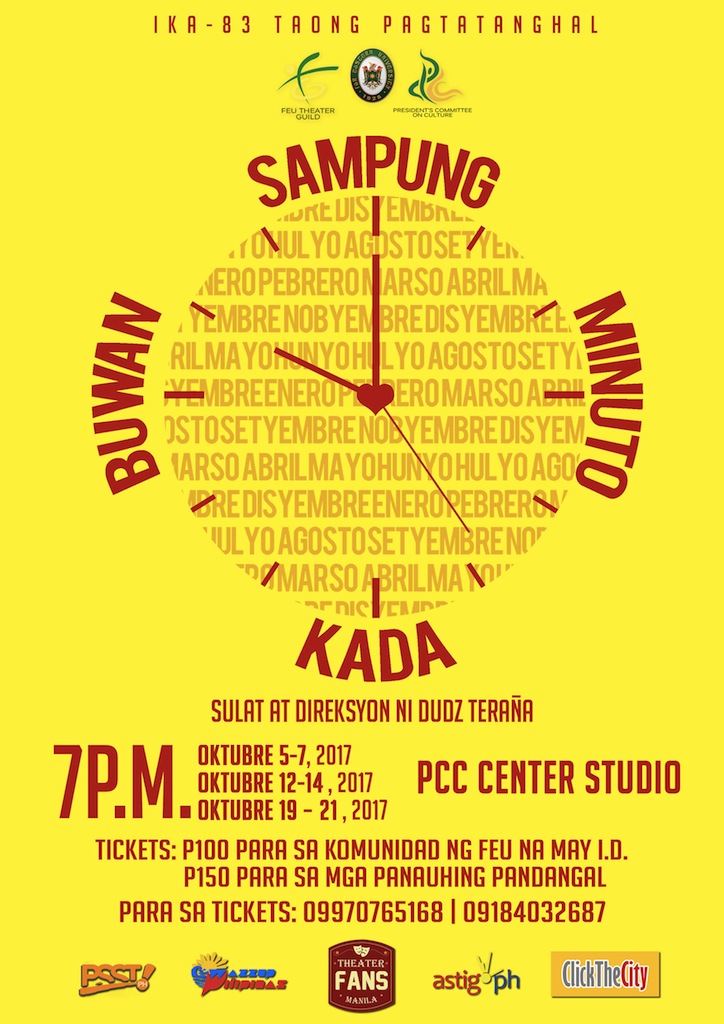 The show will run every Thursday, Friday, and Saturday this October from Oct 5 to 7, Oct 12 to 14, Oct 19 to 21, 7pm to 9pm. at the PCC Center Studio, Ground floor of Technology building of FEU Main.
The tickets will be sold at P100 for FEU students, alumni, and staff with valid ID, and P150 for guests. Due to the intimate staging of this production, seats will be limited.
For inquiries, contact Elle Barrios 09970765168/ Therese Ailes 09184032687. You can also contact the President's Committee on Culture at (02) 736-4897 or visit the FEU Theater Guild's social media accounts for more details.
Facebook: facebook.com/FarEasternUniverstyTheaterGuild
Twitter:@feutheaterguild
Comments